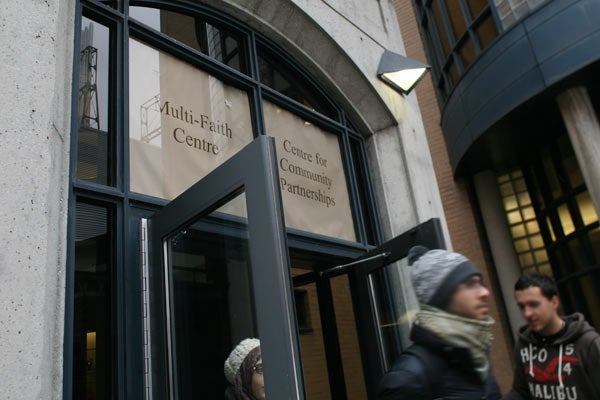 Reading Abrahamic Scriptures Together
Developing an understanding of other faiths is benefit of weekly program
At this time of year, amid the flurry of holiday shopping and end of semester bustle peace, understanding and good will toward one's fellow human beings maybe the last thing on people's minds.

But understanding is what a small group of undergraduate and graduate students on the University of Toronto's St. George campus seek throughout the year as they meet to discuss Abrahamic scriptures – scriptures from three religions that incorporate the story of Abraham into their beliefs -- and consider them from the perspective of other religious traditions.
"We don't solve the problems of the world," said John Egger, a doctoral candidate at Emmanuel College. "It is an opportunity to sit down together and talk about each other's scriptures and each other's traditions."
President Paul Gooch of Victoria University started the group, Reading Abrahamic Scripture Together (RAST) six years ago. One of the students he approached then was Susan Harrison, RAST's lead facilitator.
Today, the group meets every Tuesday evening for an hour over supper at the U of T's Multi-faith Centre.  Meetings are open to anyone interested in studying Jewish, Christian, and Muslim scriptures, regardless of religious or academic backgrounds.
Harrison, a PhD candidate in theology whose own research is concerned with peace, theology, theologies of pluralism and interfaith work, says RAST is meant to "expand on your own scripture study."
 "We become more responsible about how we talk and interact with others; it builds a way of being in society," she said.
Every month the group chooses a different theme for discussion. Each tradition addresses the theme over the course of the month through weekly discussions facilitated by a student representing one of the three faiths, with a multi-faith discussion closing out the theme at month's end.
"You never quite know what direction [the discussion is] going to take. The group responds to it in their own way," said Egger.
The facilitator gets the discussion going by addressing the theme and bringing in a passage from scripture related to the theme.  For example, for a discussion of divine love, Ateeka Khan, an alumna from the Near and Middle Eastern Studies master's program, recited a Rumi poem which started a general discussion about the theme, followed by a reading of a passage from the Qur'an. 
Attendees take turns talking about what they think of the passage and how it compares to their own traditions and personal beliefs. 
"People assume scriptures divide," said Harrison. "But learning about the other scriptures, the way [the followers of each tradition] sees it and how you interpret them is building capacity for society to live with difference. People learn to speak for themselves and not others."
Although most participants are engaged academically with their traditions, either through religious or cultural studies, they also attend for the sake of their personal practice. 
"I do consider it a spiritual exercise, I don't have a lot of time during the week to sit down and study scripture myself," said Ilana Newman, a fourth year undergraduate studying Jewish studies, anthropology and music. "It's especially interesting to do it from an inter-faith perspective and to study sacred texts that are not part of my own religious tradition."
The weekly meetings also provide a place where students can ask questions without feeling intimidated and are comfortable being open about their own religious practices.
"It is a space where you can be open about the fact that you are religious or you like studying religion.  There aren't too many spaces like that," said Khan. "It's really broadened my perspective of religion in general and in my own faith in particular."