Raptors, NHL, Jays execs and others to speak to U of T students at annual sports industry conference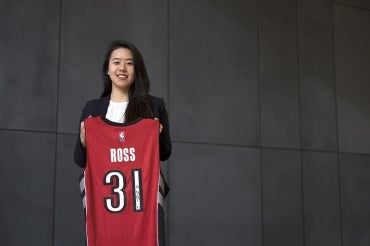 The business of sports can be just as competitive as sport itself. But what if you could kickstart your career with tips from the pros?
Since 2012, the student-led University of Toronto Sports and Business Association has invited some of the industry's big players to a conference at U of T's Rotman School of Management to discuss career development and new trends in the business. Last year, an estimated 400 students and young professionals attended the conference.
This year, the conference expands to two days (Feb. 10 and 11) and features executives from the Toronto Blue Jays, NBA Canada, NHL Enterprises and the commissioner of the Canadian Women's Hockey League. Students will have the chance to hear from the likes of Brendan Shanahan, president and alternate governor of the Toronto Maple Leafs, and alumna Neda Tabatabaei, the vice-president of business intelligence at the San Jose Sharks and a U of T economics graduate.  
The theme of this year's event, "positioning in sports," is meant to highlight the crossover between business and sports. 
"This year is going to be the biggest conference yet," said Melanie Yu, president of the U of T Sports and Business Association and a fourth-year commerce specialist. "We've taken on more of an educational lens. It's a good balance about learning more about the industry and getting to talk to people in the business.
"You get an insider's view and the big picture. "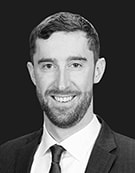 Matthew Logue, the executive vice-president and COO of S&E Sponsorship Group, is  one of the insiders slated to attend. His company has negotiated sponsorship contracts on behalf of brands like Canadian Tire, Sport Chek and Adidas with the NHL, the World Cup of Hockey and just about "any of the major sports teams and leagues in the country," he said.
U of T News spoke to the longtime Ottawa Senators fan about his career and how to make it in the sports industry.
---
A lot of students going to this conference may wonder how to break into the industry. Any tips? 
I think the key is to be persistent. There's a fine line between knowing what you want and being prepared to do what it takes to get into the business. The industry is incredibly competitive. I'm very fortunate because I ended up in the right place, right time. I didn't have to go through a lot of the different steps that many people today do.
Originally, I wanted to work at the NHL or with the Leafs or the Sens, or the Hockey Hall of Fame. I applied to a lot of those and never got the opportunity to interview.
I ended up joining the company I'm at now, and that was never something I aspired to do but I got the role, I learned it and adapted and now I love it. I think a lot of people may want something very specific and want to be X, Y and Z at the NHL, but you have to be prepared to adapt and give things a chance.
And then you have to work incredibly hard – because it's competitive.
What are some challenges you face on the job? 
The biggest challenge that anyone in my role faces is the requirement to continuously adapt. There are a lot of balls in the air at any given time, and a lot of different projects on the go. To be able to focus on the one at hand knowing that there are five more once this one's done and to be able to manage that and not get caught up in it – that's probably the biggest challenge.

What are the advantages? 
I think it's almost the flip side of that. There's so much happening right now and the pace at which things are changing and developing it's so rapid. So new technology is propelling the industry in such a way that things we never knew we could measure we can. 
The way social media has allowed brands to draw an association with something – whether they're a sponsor or not – presents advantages and disadvantages. Our company fundamnetally believes in the value of true [official] sponsorship and not just clever association through earned media.

What are some growth areas in the sports industry? 
In terms of key areas, analytics would be one for sure.  But it's not a clear path for anyone at this point.
Content is rapidly growing. To be able to create really great content is critical. 
And I do believe sponsorship is a very viable career path, especially for someone coming through a general business degree. It's the most natural path for a business student, in my opinion. 
It must be pretty fun getting close to your favourite teams. What was your most memorable day at the office?
That's something that comes up regularly when people ask me about my work. The caution I would always say is, it's a job. Sometimes the right thing to focus on is like winning a new account. That's really exciting. Getting approval to go ahead with your first negotiation and lock that in. 
But one very exciting thing for me, as a fan, was that I got to go on a road trip with the Ottawa Senators. I'm a big Sens fan and I got to take part in a three-game road trip with them and travel with the team. That was pretty incredible. 
But you're saying one shouldn't go into the industry for perks like that. 
Exactly. Honestly, you become almost less of a fan when you're in the business. Because it's work right? You watch a game and it's work, you go to a game and it's work. It's still pretty incredible. But it becomes incredible for reasons you didn't realize.
UTC