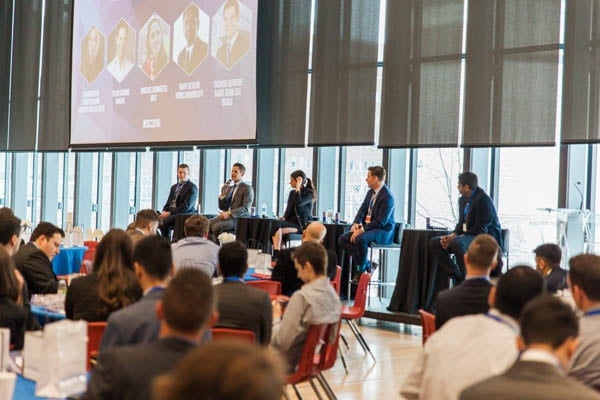 Student delegates were in a sporting mood
University of Toronto Sports and Business Association connects sports executives with students
"I like the atmosphere in here," Jack Armstrong, Toronto Raptors colour commentator and TSN blogger, told a crowd of more than 300 at the Rotman School of Management. "Your parents bought you nice dress clothes."
 
The look was distinctly high-end at the day-long fifth annual conference of the student-run University of Toronto Sports and Business Association. Most of the attendees in Desautels Hall were in their early 20s and gentlemen overwhelmingly favoured business suits.
 
But the energy in the room was far from sedate as delegates listened to sports executives talk about the state (and high stakes) of the sports industry and posed some competitive questions of their own.
 
"The quality of questions reflected the quality of the speakers," said Melanie Yu, a Rotman Commerce student and the vice-president of the UTSB, which organized the March 4 conference. "There were people from across the board and from across Canada. They were flying in."
 
The theme of the 2016 scrimmage, Behind the Game: Building the Playbook, was wide enough to encompass such subjects as mentorship, community outreach, basketball in Canada, data and analytics, head-office dynamics and NHL international expansion.
 
Armstrong was the moderator of the keynote panel on basketball, a sport that has enjoyed rapid growth in Canada, thanks to the surging Toronto Raptors, the first NBA all-star weekend outside the United States, the stellar example of Steve Nash and the prospect of a Canadian women's presence at the Rio de Janeiro Olympics.
Michelle O'Keefe, president of Canada Basketball, said that the proliferation of clubs with certified coaches has enhanced early training in basic skills, which was once a task entrusted less reliably to public schools.
 
"Kids can stay in the country," added former Phoenix Suns and Raptors general manager Bryan Colangelo. "The game is being taught the right way."
 
Hockey might remain Canada's principal pastime, O'Keefe said, but hockey "numbers" are static while interest in basketball is on the rise. Both O'Keefe and Colangelo issued a caveat: Too many basketball games played too early can result in battered bodies and short careers.
Armstrong lamented that media reportage in Canada does not always reflect reality: In January, when the Raptors set a franchise record for consecutive wins, television sports segments often began with hockey highlights, even though no Canadian team had playoff potential.
"How do you hold them accountable?" Armstrong asked.
O'Keefe replied: "Canadians have to ask for more basketball. Right now, I'm not sure that they are."
Five experts staffed a panel on data and analytics, which are  growing in both influence and popularity, as fan websites dedicated to metrics clearly show. Field analysis of baseball pitchers now involves wearable biometric vests and motion-capture software.
Parents are requesting high-tech evaluations of their aspiring stars, noted Meghan Chayka, co-founder of the Stathletes hockey analytics firm. And metrics at the professional level are more sophisticated.
"A decade ago, ability with spreadsheets set you apart," noted Jason Rosenfeld, director of analytics for the NBA. "Today that is not nearly enough."
Dean Oliver of Trumedia Networks predicted a "sea change" as stats-friendly young managers supplant veterans who do not question traditional axioms. Not everything, however, can be reduced to a number. Chakya cautioned that "the quality of the person off the ice" remains both critical and unquantifiable element in professional sports.
A session on the "pinnacle of sport" concentrated not on athletics but on ownership and management. Teresa Resch, vice-president of basketball operations for the Raptors, observed that employment as a sports executive is now a common career goal.
Johann Olav Koss, the Norwegian speed-skating gold medallist and Rotman MBA, questioned the perception that former athletes make good managers: "Do you have to be a player to be a good coach? I think this is rather unlikely."
The founder of the Right to Play youth organization told the crowd that in Europe "there were amateur leaders in pro sports, and [the leaders of] amateurs were worse." Competitive executive pay has happily made inroads on the kind of corruption for which FIFA, the international soccer governing body, was notorious.
Tim Bezbatchenko, general manager of Toronto FC, and himself  a retired soccer player, pointed out that executive expertise needs to be supported by passion for the game and an accessible image in the clubhouse.
"I need our players to be all in," he said. "They can't give 110 percent if they don't see you around and don't know they can trust you."
The final session was an interview of NHL deputy commissioner Bill Daly by hockey broadcaster Andi Petrillo. A lawyer by training, Daly said that talks were advancing on NHL expansion into Quebec City and Las Vegas.
Can there be too many teams? Yes, but the NHL is not at this threshold. Asked whether fans would soon see commercial logos on jerseys, Daly answered only: "We're not there yet."
While most of the student delegates were from Canadian universities, questions from the floor were also heard from visitors from Nashville and Miami.
Not all were in management programs. Alexander Hempel, a third-year Trinity College student of economics and European studies – and intramural hockey player – attended out of a combination of personal and professional interest.
"Statistics are my favourite part of economics and I've been a big sports fan my whole life," Hempel explained. "Part of why I'm in economics is that it tries to model human behaviour the way sport analytics try to predict sports behaviour.
"Is this something I want to do one day? Ideally, yes. But is it something I'm going to do one day? Probably not."
The conference, which included a raffle of jerseys, trips and sports paraphernalia for the benefit of the MSLE Foundation, made clear that competition for management positions in sports is sure to be as intense as the skirmish for positions on the field. In her concluding remarks, Yu recommended her fellow students accept lower initial compensation to pursue their dreams.
Bezbatchenko's advice was down to earth: "Show passion and expertise and be consistent about it."