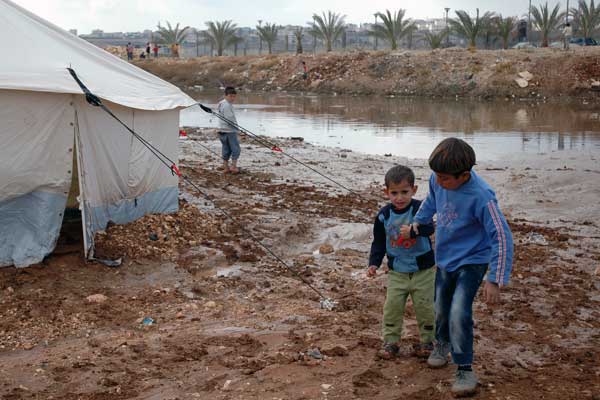 Quirky fundraiser for Syrian children: pies, profs, vintage slapstick
Unconventional Pie a Prof campaign raises funds for refugees
A pie in the face may seem the stuff of Charlie Chaplin, Laurel and Hardy or the Three Stooges. But Pie A Prof is serious about its cause: raising money for Syrian refugee children.
Six University of Toronto faculty members are taking part in the unusual campaign to raise money for War child Canada's education project for Syrian child refugees in Jordan. Professors Robert Austin, Paul Gooch, Jeffrey Kopstein, Clifford Orwin, Janice Stein and Nelson Wiseman are competing with each other to collect the largest sum of money from their supporters, with the goal of raising at least $12,000 in total.
Only the most successful fundraiser will go pie-free – the remaining five professors will be subjected to a public pieing at Hart House on March 11.
"I can't imagine how many of my students want to pie me," says Kopstein, who teaches an introductory course in political science. "Just think: I'm the one who made them read Max Weber's Protestant Ethic and the Spirit of Capitalism! Now is their big chance for revenge."
The campaign is the brainchild of Semra Sevi, a Master's student at the Department of Political Science. Last semester, her professor Michael Ignatieff asked her to write a policy paper on Syria. She was deeply moved by the stories of children displaced by the conflict, now entering its fourth year. More than 136,000 people, including 10,000 children, have died and nine million have been displaced.
"Children are paying the heaviest price as they are being exploited, maimed, killed, abused, tortured, and orphaned," Sevi says. "I didn't want to just submit another paper and put the topic aside. I wanted to walk the talk."
Paul Kingston, director of U of T's Centre for Critical Development Studies and a specialist on Lebanon who has lived in Syria, helped Sevi recruit volunteers from U of T faculty who share their concerns.
"The refugee flow has flooded across multiple borders and into multiple countries," he says, adding the conflict has generated the largest refugee crisis since the Rwandese genocide.
"Children are always the most vulnerable," says Stein. "Their life trajectories are being affected, as they are unable to go to school, get adequate food, and struggle with the dislocation, despair, and violence that is life in an overcrowded refugee camp."
For Kopstein, the implications are clear: "that [the government and rebel forces] cannot mitigate the human suffering in this conflict makes it incumbent upon all of us to help the most vulnerable."
The quirky campaign is aimed at attracting the attention of students, alumni and faculty members. Although the final event may not be very comfortable for the professors who volunteered, Stein says she hopes "the University of Toronto community will learn more about the conditions of refugees from Syria and be motivated to give generously."
For Sevi, the choice of the activity was simple: "I thought, wouldn't it be fun to pie your professor and not have any academic penalty of any kind… and do it for a good cause?"
The professors agree that their students may be interested in the campaign just for this reason. Kopstein is skeptical of his chances of escaping being pied but finds some solace in schadenfreude directed at his colleague Stein: "I think it's worth paying serious money to see Janice Stein get pied. Don't you?"
Stein herself is unmoved: "My favourite pie is apple. I like it no matter how it comes."
Although optimistic about his own chances, Orwin says: "The organizers have assured me that if there is a pie in my future it will at least be a good one. If, as is customary, the condemned man gets to choose his last meal, I'll opt for strawberry-rhubarb."
Gooch, president of Victoria College, makes an emotional appeal to his supporters: "Vic people are generous. They are also competitive in the nicest way, and would be distressed, not just to lose, but to see their president with pie in his beard."
At the end of the day, no matter who wins the fundraiser, it is all for a good cause.
"We'll all win when lots of money is raised," adds Gooch.
To donate, visit: https://www.giveffect.org/campaigns/246-pie-a-prof-educate-a-child.
Karol Czuba is a doctoral student in the Department of Political Science at U of T. His research focuses on the drylands of East Africa and the Horn, another region affected by the displacement of large populations due to natural and political shocks.