To promote diversity, U of T puts out special call for Canada Research Chair applications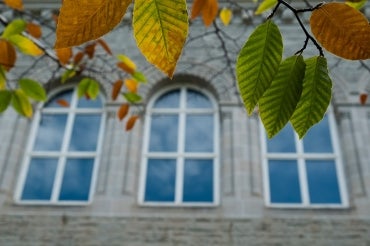 The University of Toronto has put out a special call for applications to the Canada Research Chair program in an effort to recruit more chairholders in underrepresented groups – a move in keeping with the university's own long-standing commitment to excellence and equity, and with federal priorities for the program.
U of T is inviting applications to the Canada Research Chair program from faculty who self-identify in one or more of four federally designated groups: women, visible minorities or persons of colour, persons with a disability and Indigenous people. 
The call is open to full-time faculty who hold an appointment as an assistant, associate or full professor in the tenured/tenure-stream, clinical or status-only categories at U of T. Those in the clinical or status-only categories must be employed by an affiliated institution. Individuals can also apply if they have a firm offer of employment in one of these categories at the university or its affiliated institutions that takes effect by July 1, 2019.
The university anticipates the posting will result in the selection of up to 19 candidates to the program, most of whom are expected to be Tier 2 Canada Research Chairs for exceptional, emerging scholars. The deadline for applications is Nov. 26. 
"Excellence is only achieved when everyone is welcome in the classroom, the lab and the field," said Vivek Goel, U of T's vice-president of research and innovation. "Equity, diversity and inclusion strengthen the quality, relevance and impact of research and training."
The Canada Research Chair program has asked universities to address the chronic underrepresentation of women and the other three groups. Of the 1,661 chairholders across the country as of last spring, 31 per cent are women. Although the percentage of Tier 2 female chairs has increased over time to 39 per cent, women's representation in the more senior Tier 1 group lags at 21 per cent.
U of T and its affiliated hospitals have the highest number of Canada Research Chairs in the country, with 247 active chairholders in disciplines ranging from ancient philosophy to galactic astrophysics. While the university exceeds national targets in representation of women, it just meets the targets for visible minorities and Indigenous people, and is behind by one per cent in the representation of people with disabilities. Ottawa has asked universities to meet these targets by December 2019.
"This special call will help us surpass the national targets – which are just the minimum – and help us fulfil the objectives in the university's Canada Research Chair Equity, Diversity and Inclusion Action Plan," said Goel. The progress will be sustained through the inclusive approach applied to the university's regular, ongoing bi-annual CRC nomination cycles, he added.
The Canada Research Chair program provides about $265 million annually to the country's universities to retain and attract top minds and spur innovation. For each Tier 1 chair, which is for world-renowned scholars, an institution receives $200,000 per year in funding for seven years. A Tier 2 chair, for an emerging researcher, comes with $100,000 in funding per year for five years. Each type of chair can be renewed once.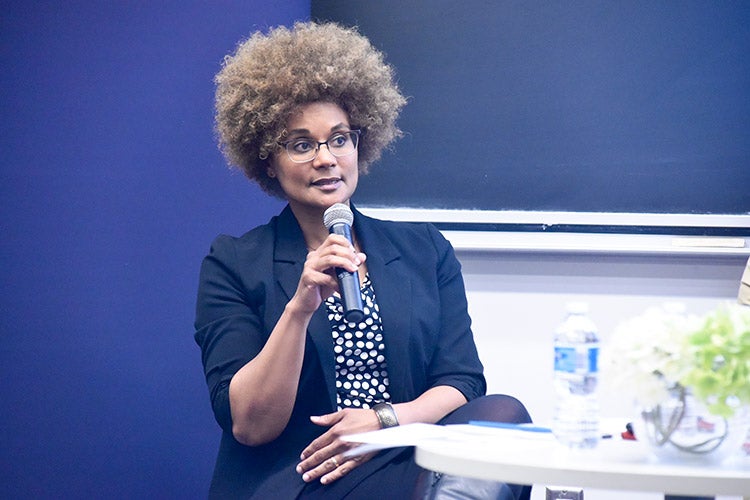 As the vice-dean faculty affairs and equity, Maydianne Andrade advises on academic equity issues, faculty advancement, promotions, mentorship and recognition (photo by Ken Jones)
Maydianne Andrade says her 10-year tenure as a Canada Research Chair in Integrative Behavioural Ecology allowed her to explore larger scientific questions that would have been impossible to investigate with only a short-term grant. 
Andrade, a professor in the department of biological sciences at U of T Scarborough, researched the mating systems of three species of spiders in different habitats. The species she was studying were living under drought conditions, raising interesting questions about how climate change influences behavioural processes – a topic that might have gone unnoticed without the continued support of the Canada Research Chair program.
Andrade, who is also the vice-dean of faculty affairs and equity at U of T Scarborough, said it is important to make a conscious effort to recruit more Canada Research Chairs from underrepresented groups because there hasn't been enough progress.
"We have been talking about employment equity for decades," she said, "and the needle just hasn't moved very quickly or very far. That's particularly true if you look at high-prestige positions or leadership positions."
Among the 26 Canada Excellence Research Chairs, which awards a university up to $10 million over seven years to support research, there is only one woman and few racialized scholars.
Increasing diversity among Canada Research Chairs can also foster new and better ideas, Andrade said. When describing the importance of diversity for innovation, she tells the story of the Google team that built the iOS YouTube app. They overlooked left-handed users when adding mobile uploads, which made videos recorded from a leftie's landscape perspective appear upside down. 
"That's a simple example about how your ability to problem solve in a really creative way, to be innovative, to be disruptive – it all depends on having a diversity of voices and ideas," she said. "If Canada wants to be competitive, that's important."
Cristina Amon, dean of the Faculty of Applied Science & Engineering, echoed Andrade's point.
"Diverse ideas, perspectives and backgrounds are essential in anticipating and addressing pressing global challenges," she said. "Taking active and deliberate steps to increase representation among chairholders, particularly for women and minority groups, is critical to reaching excellence within our university, across this country and around the world."
Bryan Gaensler, director of U of T's Dunlap Institute for Astronomy & Astrophysics, holds a Canada Research Chair supporting his work in radio astronomy. He has designed experiments for the Square Kilometre Array, a proposed multibillion-dollar twin set of radio telescopes in Western Australia and South Africa with the potential to shed light on how the universe looked shortly after the Big Bang.
"It has been shown over and over again that the best ideas come when you have a team with different viewpoints," Gaensler said. "Science doesn't happen with a lone genius anymore. It happens with lots and lots of talking, drawing on the white board, emailing back and forth, discussing, debating, arguing."
Chairholders wear two hats as innovators and role models for the next generation of scholars, he said, so it is important that they reflect the diversity in their communities. 
Young researchers need mentors, he added. "And you are more inclined to be inspired or motivated if your role model is someone you can relate to.
"It's not about giving anyone favourable treatment but about treating everyone equally," he said. "I think the University of Toronto has shown real leadership in not looking for quick fixes but addressing this as a structural problem."  
The university is committed to protecting the privacy of Canada Research Chair applicants. Forms will be received by one person in research services and the information will only be shared with the chair of the selection committee, Goel, and the committee's equity advocate. The Canada Research Chair program has its own privacy practices to protect the confidentiality of nominees and chairholders.
Canada Research Chair nominations from this call put forward by U of T will be included with other nominations from the university to be submitted in April.
Applicants must submit a two-page letter of interest describing their qualifications and research plans for the position, as well as a curriculum vitae. 
UTC