'A profound international experience': Carlos Vargas to focus on global engagement at U of T Scarborough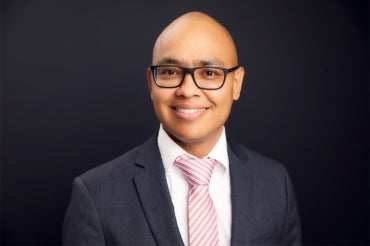 Carlos Vargas, who has spent more than a decade helping universities forge international connections, has joined the University of Toronto Scarborough as its first director of international and global engagement.
Vargas, who began his new role on Nov. 1, says his primary goal is to act as a bridge between the university and international partners, spanning academic and research opportunities, entrepreneurship and international initiatives.
He says that internationalization is about more than drawing students from around the world in the university context – and includes the capacity to engage internationally in ways that help schools better respond to the challenges and opportunities of an increasingly globalized world.
"Internationalization is one of those dimensions of higher education that touches the institution in a really impactful manner," Vargas says. "I enjoy the opportunity to have a positive impact in a large institution.
"I love those types of responsibilities where your actions have a long-term effect."
Vargas's role includes developing a co-ordinated approach to international activities that aligns with U of T Scarborough's five-year strategic plan, Inspiring Inclusive Excellence, along with U of T's three priorities and international goals. 
Co-ordination is key for Vargas. That's why he's forming a committee of leaders from across campus with the goal of improving and expanding global engagement for U of T Scarborough. He's also developing a website to highlight international outreach, including services, programs and initiatives. The virtual hub will help university members and global partners navigate the school from an international perspective.
These resources will "build on the already great international work taking place," Vargas says, adding that he also plans to find and support new international initiatives.
"All of our students expect that they're going to acquire an education that allows them to adapt to a world that's changing really quickly. Having a profound international experience where you explore many ways of looking at the world is really important to students.
"We need to be able to engage internationally in many ways, especially considering the number of global challenges we face today."
Vargas's work will take him across the campus as he provides research expertise and administrative help to departments offering international programs and services.
"I tend to use an evidence-based approach when it comes to internationalization, so I'm interested in supporting the university based on evidence to ensure that we do things in line with concrete and tangible outcomes," he says. "I really like to learn and I want to continue learning how this field continues to evolve."
As international outreach manager at Carleton University, Vargas was previously part of the team that created the school's guiding strategy for internationalization. He also held various roles related to the field at the University of Calgary, where he earned his master's degree in leadership in higher education, with a focus on internationalization. 
Vargas also draws on his own experiences as an international student. He immigrated to Canada from Colombia at age 17 and found there was much more to adjust to than the temperature.
"I sympathize with – and understand – what it is to be an international student. It takes some time to integrate successfully to the everyday things you do," he says. "I was kind of in the middle, I felt part of one group and I felt part of the other group. That's how we feel."
Vargas says Scarborough represents an exciting opportunity. As an avid hiker and foodie, access to nature and the local restaurant scene are obvious draws. But he says Scarborough's diversity offers unique opportunities to explore internationalization.
"You can walk around Scarborough and you really are exposed to many cultures. It's easy here to find international communities," he says. "I'm excited to be a member of the U of T Scarborough family. I think the institution is an amazing place and I am looking forward to working with colleagues across campus."
UTSC