Press passes and prime ministers: Inside Peter Mansbridge's archives at U of T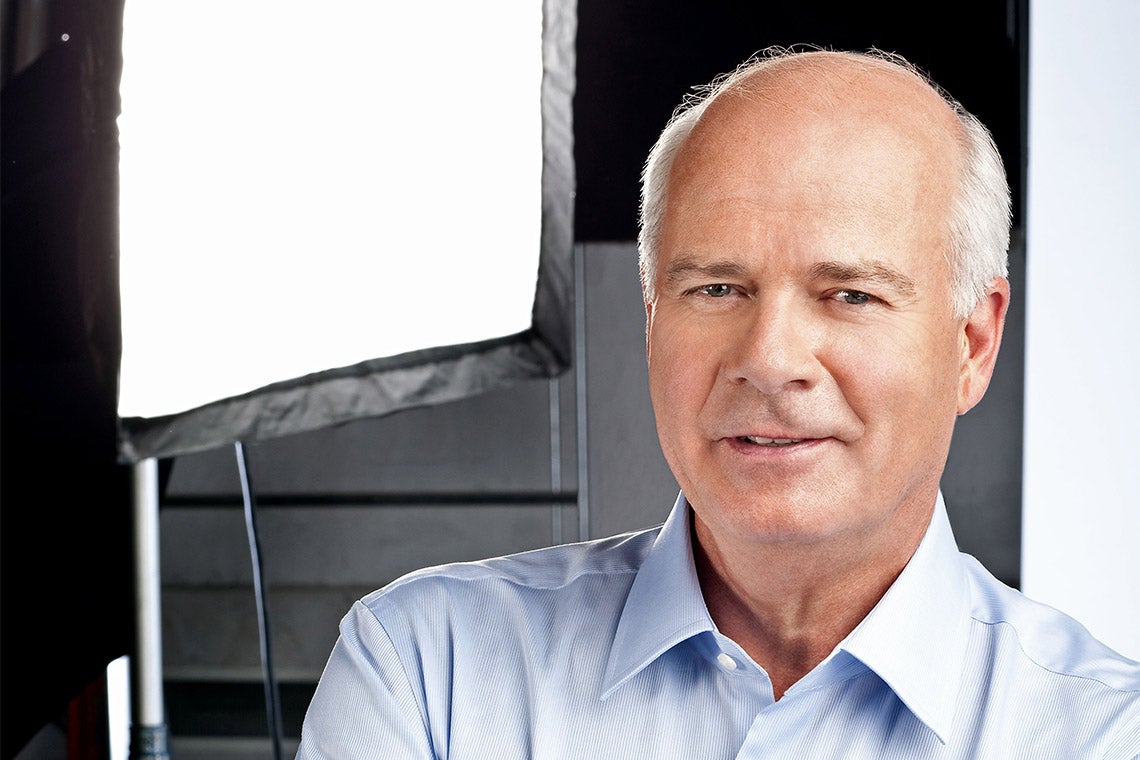 He's rubbed shoulders with Barack Obama, hosted eight Olympic opening ceremonies, and was the deep, commanding voice in Canadian living rooms, reporting on the most important news stories of the last half-century. Now, Peter Mansbridge's illustrious career will be immortalized at the University of Toronto.
U of T Libraries' Media Commons has acquired Mansbridge's archive of items related to his long career at the CBC. The treasure trove paints a picture not only of the famed anchor but of the news industry throughout the decades and the current events that shaped the world in that time.
When Mansbridge announced his retirement from hosting CBC's flagship news show The National in 2017, Brock Silversides, head of U of T's Media Commons, said he thought it was the perfect opportunity to ask him to donate his material to the library.
"When I heard he was deciding on retiring, I thought let's give it a try," said Silversides.
So he sent Mansbridge a letter – yes, a physical letter – with his request. Days later, Mansbridge's executive assistant got back to him to say he was on board.
That's how U of T ended up with 19 banker boxes of material from Mansbridge – now housed at the university's sprawling Downsview facility. The archives of Canadian journalists Michael Maclear and Patrick Watson are also housed at U of T.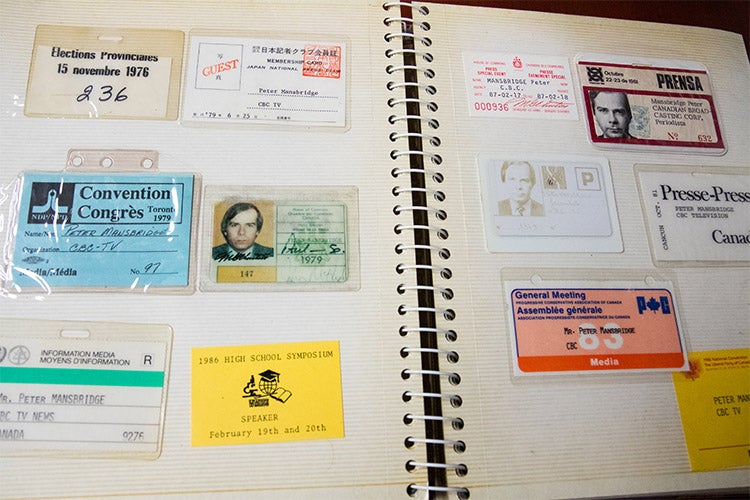 Mansbridge collected his press passes from various events and speaking engagements, all neatly organized in an album
When Mansbridge initially received Silversides's request, it was the first time he considered archiving his material on this scale.
"I couldn't think of anybody who would actually want anything from my almost 50 years at the CBC," he joked. "But I was wrong."
The archive's value comes from Mansbridge's meticulous collecting and filing of everything from press passes to letters and speech notes.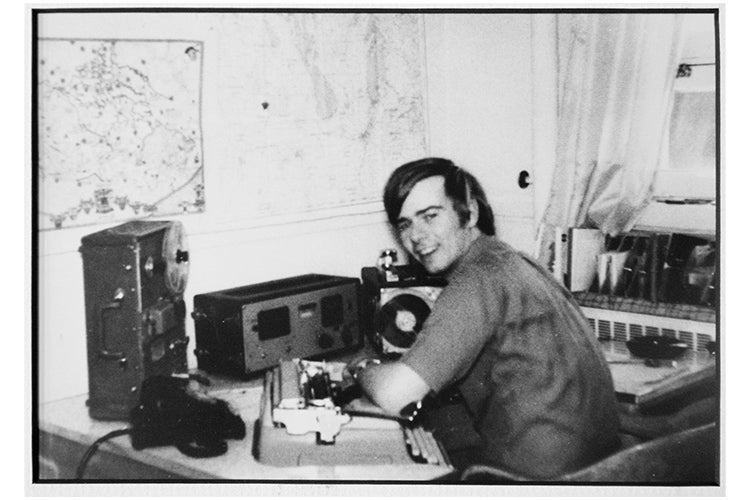 His collection of photographs illustrate the evolution of his career – from a picture of him (above) as a young disc jockey in Churchill, Man., in 1969, a year after he was discovered while making announcements on an airport PA system, to candid shots of him interviewing prime ministers, including John Diefenbaker, Stephen Harper and Justin Trudeau.
"I can remember the first time I interviewed Pierre Trudeau – I was so nervous about it because I was very young, he was a big deal, very smart, and rarely got trapped in an interview," recalls Mansbridge. "Most interviews with him were painful for the reporter – you usually would get beaten up pretty bad."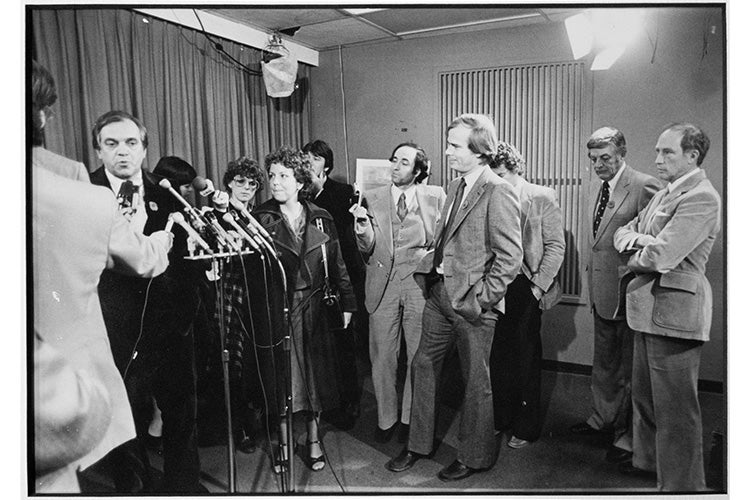 Mansbridge is seen here (fourth from right) standing in front of Pierre Trudeau (far right) in 1978 (photo by Rod MacIvor)
Mansbridge was also the first and only CBC journalist to conduct a one-on-one interview with a sitting U.S. president when he spoke with Barack Obama about a month after he was inaugurated.
"It was a big deal," he said.
Throughout his career, Mansbridge received letters from viewers across the country on a range of topics including his coverage of the Pope John Paul II visit to Canada in 1984, the Charlottetown Accord referendum in 1992 and the Iraq war in the early 2000s.
"There are obviously the extremes," said Mansbridge of the varying tone of correspondence he receives. "There are ones that really like you no matter what you do and there are some that really hate you no matter what you do. But in the middle, there's that fascinating part of Canada who will talk to you about things that are on their mind and perhaps how you could do better at reporting on those issues."
Mansbridge said he learned to take lessons from those letters – seeing them as a unique window into public opinion on what gaps needed to be filled in news coverage.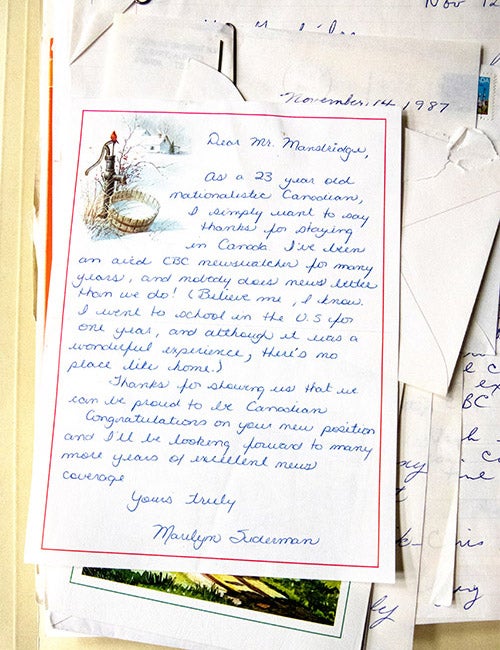 In 1987, Mansbridge was courted by CBS in the U.S. to host its morning show. He rejected the offer, instead becoming lead anchor at CBC and host of The National – much to the delight of Canadians.
Letters poured in praising him for his decision to stay, including one (pictured left) from a 23-year-old woman who thanked him for sticking around, and wrote: "Thanks for showing us that we can be proud to be Canadian."
Mansbridge may have stepped down as host of The National, but he's still busy filming documentaries with the CBC. He also maintains close ties with U of T, where his son is at Victoria College in his second year studying political science. Mansbridge also holds an honorary degree from U of T and is a distinguished fellow at the Munk School of Global Affairs & Public Policy.
In April, Mansbridge will be hosting in an interactive event for students at the Munk school on the future of news.
"News is in trouble in a lot of ways. People don't watch, listen or read it the way they used to, they don't consume it the way they used to, they don't believe it the way they used to," he said.
"I always used to be able to predict what was going to happen in the news industry but I don't know anymore."
Trying to get at the root of the problem is a challenge, he said. It'll be up to the next wave of journalists to shape the future of news.
"It's the students' generation that is going to determine this, more so than ever before."
UTC