President Meric Gertler outlines U of T's global strategy: Times Higher Education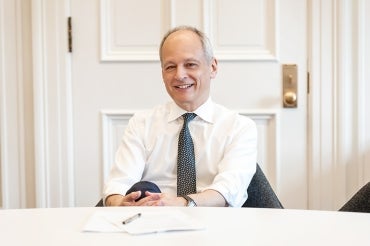 In a recent interview with Times Higher Education, University of Toronto President Meric Gertler outlined the steps the university is taking to strengthen its international presence – from student recruitment and entrepreneurship to academic and industrial partnerships.
He told the magazine that U of T did not have a specific international strategy when he became president in 2013, but had instead grown its global footprint organically. So, a vice-president, international position was created and the university began pursuing an international strategy built around seven metrics: international student recruitment, outbound student mobility, academic partnerships, industrial partnerships, entrepreneurship, fundraising and reputation. 
On the student recruitment front, President Gertler offered Mexico as an example of a country where U of T sees a growing opportunity.
"There are a lot of middle-class families that send their kids to English-language high schools, with the goal of undertaking university studies in an English-speaking country," President Gertler told Times Higher Education. "Traditionally that's been the U.S. and, to some extent, the U.K. But given that we're on the same continent, we thought it's crazy not to be recruiting more Mexican students to a place like Toronto."
President Gertler added that international students bring diverse perspectives to campus, which benefits the entire U of T community.
The president also noted that U of T's longstanding partnership with Addis Ababa University is an example of how U of T leverages its global presence to help international students drive advancements in their home countries. It's an approach that's set to expand in the coming years, adding "a really exciting new element…leading us in a different direction."
UTC