U of T, Addis Ababa University strengthen partnership, launch new programs in Ethiopia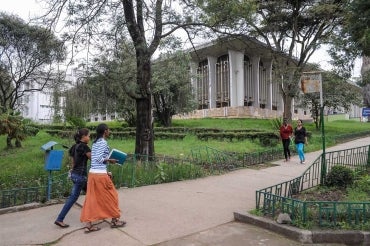 Marci Rose remembers hearing an ambulance siren for the first time in Addis Ababa, Ethiopia's capital city.
"It almost took my breath away," she says.
A noise, taken for granted – or seen as an inconvenience – in a city like Toronto, was a joyous occasion in Ethiopia. It marked the first time emergency medical services were offered in the east African country.
The first cohort of ER doctors graduated from Addis Ababa University in 2013. Before that, there was none.
This pioneering group of life-saving physicians is one of the many successes of the Toronto Addis Ababa Academic Collaboration (TAAAC), a partnership between the University of Toronto and Addis Ababa University (AAU) where experts in both countries work to build robust graduate programs in Ethiopia's capital.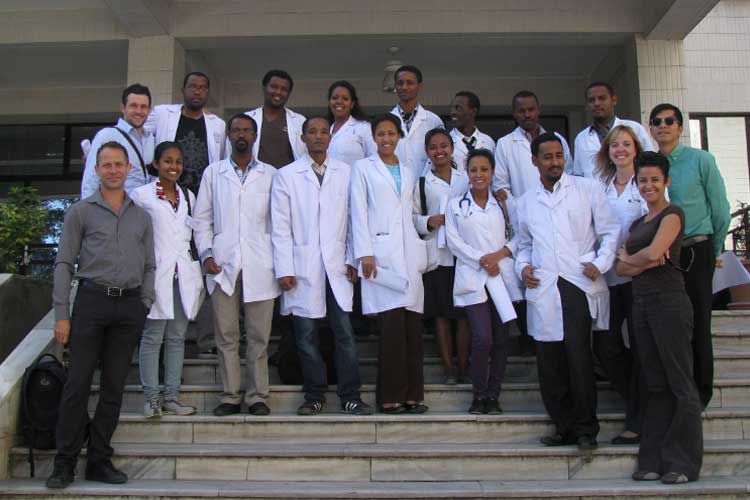 Emergency medicine students in Addis Ababa with TAAAC volunteers (photo courtesy of Marci Rose)
TAAAC grew out of a collaborative psychiatry program that began in 2003, led by Dr. Clare Pain, an associate professor of psychiatry at U of T and clinical director of the Psychological Trauma Assessment Clinic at Mount Sinai Hospital, and psychiatrists at AAU.
It has since expanded to include 24 disciplines – from family medicine to engineering and library science – with approximately 80 faculty members travelling to Ethiopia every year to participate in the program as volunteers who provide training, teaching, supervision and support.
"It's exciting to see the multiplier effect the program has had," says Rose, who is the TAAAC program manager and the occupational therapy lead, and has been a part of the initiative since 2010.
A number of spinoff initiatives have also launched as a result of TAAAC, says Rose, including cervical cancer screenings. "In Ethiopia, the greatest killer of women is cervical cancer," she says.
Previously, when a patient was diagnosed with cervical cancer, it was often discovered at stage four and already deadly, says Rose. But through a collaboration with family medicine at U of T, Ethiopian health professionals now offer screening services to catch the disease earlier on.
In October, U of T Vice-President and Provost Cheryl Regehr travelled to Addis Ababa to renew the memorandum of understanding between the two universities – a pledge to keep working together, with the intention of continuing and expanding the partnership for years to come.
"It's the strength of the commitment and strength of relationships that have been developed that have really made this a tremendous success," says Regehr. 
The expansion of the TAAAC program has been "remarkable," AAU president Tassew Woldehanna told U of T News earlier this year during a trip to Toronto. "The two institutes are dedicated to this partnership and to it being sustainable and based on what the AAU needs to grow." 
While U of T faculty members and researchers come to Ethiopia to teach and train, the learning that takes place through the partnership is reciprocal, says Regehr. 
"Whenever we provide education to others, we learn ourselves," she says. "When you think about Toronto as a global city, learning about how people conceptualize health and well-being in other countries, learning something about what the contexts of their lives might have been before they came to Canada, and learning a little bit about what their expectations might be of health care helps us provide far better services to people here in Canada and in Toronto."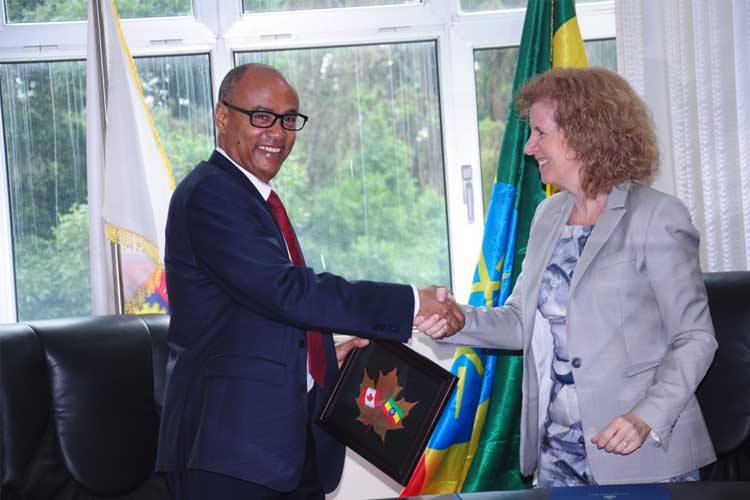 Regehr and Woldehanna shake hands after signing an MOU between the two universities (photo courtesy of Marci Rose)
Ethiopia will see its first graduating class of speech language pathologists in January. The class of eight will be the first group to be certified in the country. Previously, only one person was practising speech pathology but was not technically certified, says Hillary Ganek, a research fellow at the Hospital for Sick Children who taught a course at AAU in May through the TAAAC program.
"Even here in Canada, not a lot of people know what speech language pathologists do and don't think about how devastating it could be if you or a close family member can't communicate and what that means for your day-to-day, for your job and for your personal relationships," says Ganek, who completed her PhD in rehabilitation sciences at U of T in 2017 in the Faculty of Medicine.
Now, there will be speech language pathologists in Ethiopia who will be able to assist families with a range of services from speech therapy after cleft palate surgery to helping stroke patients and those with degenerative disorders like Parkinson's and Lou Gehrig's disease.

Ganek with speech language pathology students, who gave her this painting as a gift before she went back to Canada (photo courtesy of Hillary Ganek) 
Ganek's course was on aural rehabilitation, teaching AAU students how to work with children who have hearing loss and need to learn to listen and talk with hearing aids or a cochlear implant.
"We were able to bring in some families with children and create lesson plans and go through therapy with them," she says.
Even in the limited number of sessions with the children, there were improvements in their speech, language and listening abilities, says Ganek.
"I think that was powerful for the students to see," she says.
All graduates of the speech language pathology program intend to stay and practice in the country – echoing TAAAC's high graduate retention rate of over 90 per cent.
"If you can get the training you need in the country, you don't have to leave and you can stay and build services in the country," says Rose of TAAAC's retention strategy. "It's small magic but it's magic."
UTC