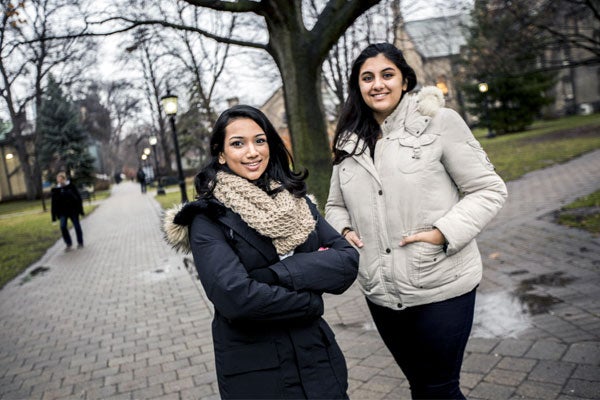 As President Gertler heads to India, students build community, strengthen ties on campus
University of Toronto president Meric Gertler is visiting India from January 27 to 31, on his first visit to south Asia since becoming president. 
While in India, Gertler will co-host a workshop on Universities in Urbanization: Building Healthy, Sustainable & Innovative Cities with the Indian Institute of Technology-Bombay, discuss cities and urbanization with India's largest and oldest business organization, and sign a Memorandum of Understanding with Tata Consulting Services, the second largest IT service provider in the world.
U of T has strong ties with India. More than 600 students from India are studying at U of T – the second largest number of international students after China. There are hundreds of U of T alumni living in India and U of T researchers collaborate both formally and informally with Indian colleagues.
As the president gets ready for his trip to India, U of T News explores some of the many connections between the University of Toronto and India.
Pratishtha Kohli and Arthi Venkat have some advice for U of T's president when he travels to India next week: just relax, enjoy the food and the culture, and have a good time.
Gertler is going to Mumbai and New Delhi on official business, of course – to meet with counterparts at Indian higher education institutions, with alumni and with government and business officials. But Kohli and Venkat, vice-president and president respectively of U of T's Indian Students' Society, think the president should take the opportunity to unwind and enjoy India's vibrant culture.
"I feel the president will have a good time when he goes," Venkat says.
(Do you have a recommendation for something the president should see or do on his trip? Visit the University of Toronto Facebook page to make a suggestion.)
Venkat is a fourth-year Arts and Science student doing a double major in sociology and ethics, society and law. Born in Chennai in south India, she grew up in Dubai. Kohli, a third-year psychology and criminology student, was born in the state of Uttar Pradesh but currently lives in Chennai. Both plan to continue on at U of T in graduate studies.
U of T, they say, provides a very welcoming atmosphere for Indian students. About 650 graduate and undergraduate students from India study at U of T, as well many others of Indian origin. They're attracted by U of T's competitive tuition and academic reputation, as well as by Toronto's multicultural vibrancy.
The location of the downtown campus helps as well, Kohli says. "U of T is right in the middle of the city, which is something that I really like because it integrates the campus feeling with the city feeling."
There were some adjustments to make: getting used to the cold weather, for one. But social cues, ways of speaking, etiquette, were also different from what Kohli and Venkat were used to. That's one of the reasons they formed ISS.
"We wanted to provide a place that Indian students were familiar with and that they can relate to. We try to provide a place where they can meet new people and network," Venkat says. "We have dance teams, sports teams and things like that to build community.
"There's a large Indian population at U of T. A lot of them are from India, but a lot of them are from other parts of the world. The ISS is a way to bring the community together."
The club's goal is to celebrate and propagate a rich multicultural India through heritage, food, commerce, art, thought, awareness and more, says Kohli. "Our mission is to present a diverse India in a friendly way for our non-Indian friends to learn and understand our country's and our culture's true nature, and to involve those of Indian origin in more than just a social manner." 
Terry Lavender writes about international and global issues for U of T News.