Popular 'Cook the Books' course combines literary studies and food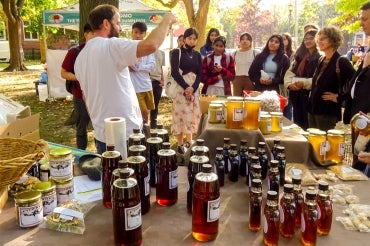 It might be the only English class where you put down a pen and pick up a fork.
"Cook the Books" is a popular first-year English course at the University of Toronto that combines literary analysis with cooking classes and food-oriented field trips, allowing students to examine their relationship with food and how it relates to culture, environment and economics.
"When I first saw the course description, I felt like I was dreaming," says Ariana Aghaeinia, a first-year life sciences student and member of Trinity College.
"Cooking and eating have been my biggest passions in life, so this course was a no-brainer. I also wanted to explore another type of learning since the majority of my courses were the typical classroom sit-down style."
The course is taught by Andrea Most, a professor in the Faculty of Arts & Science's department of English, alongside professional chef and author Joshna Maharaj.
"While it's hosted by the English department, it has a much broader scope," says Most, who has taught the course for 11 years. "We bring in lots of different issues around food systems, food insecurity, environmental issues, culinary issues, as well as literary stories. We talk about how what we're eating changes the way we think about the text, which I think is crucial.
And then it's time to eat.
"You can't teach about food without any food," says Maharaj. "It amplifies the lesson for students if they're able to taste, touch and experience the food that we're talking about."
The course is divided into three sections – farm stories, kitchen stories and table stories.
With farm stories, students explore how food is grown, produced and gets to your table. To bring these lessons to life, the class visited Sundance Harvest Farm, a year-round farm in North York that aims to cultivate both food and new farmers.
"It was inspiring to hear the origin story of Sundance Harvest and incredibly interesting to see what a local farm looked like and how it operated," says Elaiza Palaypay, a second-year English student and a member of Woodsworth College.
"I now have a clearer understanding of our food system and have gained a new appreciation for food in regard to where it comes from, how it's produced and who makes it."
The class also read Leah Penniman's Farming While Black, a book that looks at how people of African heritage have contributed to sustainable agriculture through history and also serves as a how-to guide for aspiring growers.
For the kitchen stories section, the class engages with texts about the places where food is prepared, including homes, restaurants, cafeterias and public institutions. Among the titles on the syllabus is Maharaj's bookTake Back the Tray, which offers insights into how to bolster institutional food in a sustainable way that supports local economies.
The class also examines Roald Dahl's Charlie and the Chocolate Factory.
"Students don't usually think of this as a food story," says Most. "And they don't think of it as a story about processed food, factory farming and fair labour. But I find this book brilliant for all the ways it lays out the issues of the industrial food system. It's remarkable for what it allows us to unpack."
The course finishes with table stories, focusing on what it means to cook and eat together, breaking down the importance and significance of cooking and family meals.
"We also have sessions on celebrations and feasts, where students really think through rituals and the function of food in bringing community together," says Most.
Students also visited the Trinity Bellwoods Farmers' Market in Toronto to learn about a community's connection to local producers.
"It's one thing to talk about the importance of locally sourced food, but to actually be immersed in the community is something you can't put into words," says first-year student Aghaeinia.
Back on campus, the cooking portion of the class takes place in a dining hall and kitchen in Trinity College where Maharaj creates "food experiences that make the classwork come to life on a plate."
"To see the students make food connections that help them make deeper personal connections and understand themselves and their world more fully is magic for me," says Maharaj.
"I want them to feel the joy and pleasure of good food that's sustainably sourced, sustainably farmed, delicious and nutritious," says Most. "I want them to feel the incredible joy and pleasure of that."
The course ends with a "global food potluck" with students each bringing their own dish, sharing its origins, history and why it's significant to them.
Most says it will be an international feast.
"We have international students, students who are new Canadians, and students who have been here for generations. We'll have as many as 15 different countries represented," says Most of the 24 students in the class.
"And even beyond all of that is the building of community. In this class, the students build community almost instantly because they sit down and eat meals together, so they form really fast friendships."
Palaypay agrees.
"I wanted to take a course that focuses on experiential learning and encouraged close connections among students and the instructors."
Arts & Science