Poetry, reflection mark U of T's acceptance of Anti-Black Racism Task Force report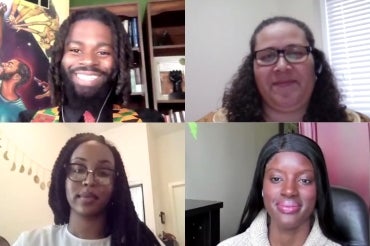 The University of Toronto held a virtual ceremony featuring spoken word poetry and a stirring conversation about systemic racism for the entrustment of the Anti-Black Racism Task Force's final report.
The report details 56 recommendations to address anti-Black racism and to promote Black inclusion and excellence across U of T's campuses.
 All 56 recommendations have been accepted by the university administration.
"As I hand over this report to the leaders of the institution, I do so with hope and optimism," said Roger Bulgin, co-chair of the task force and chief administrative officer at U of T's Woodsworth College.
"The hope of positive change, and impactful changes to come. The hope that the report will act as a catalyst in addressing not only anti-Black racism, but also xenophobia, anti-Indigenous racism, anti-Asian racism, anti-Semitism, Islamophobia and all forms of discrimination.
"And I do so with the hope that the implementation of these recommendations will have executive oversight and will be transparent – so that all members of the university community can see and rejoice in its progress."
U of T established the task force last September as part of its response to the global anti-Black racism protests following the death of George Floyd in Minneapolis as well as incidents of systemic racism in Canada.
The 25-member task force worked throughout the course of the 2020-21 academic year to examine existing university policies, processes and practices, and considered others that would address anti-Black racism. It also reviewed correspondence sent to the university from faculty, staff, students and union groups on the subject of anti-Black racism.
The report provid
es recommendations in seven systemic areas, ranging from leadership and accountability to complaints and investigations.
The Entrustment Ceremony marked the official handover of the report to U of T President Meric Gertler, U of T Vice-President and Provost Cheryl Regehr and U of T Vice-President, Human Resources & Equity, Kelly Hannah-Moffat.
The university will "proceed with urgency, with focus and with resolve," President Gertler said. "This evening, members of the Black community at U of T have placed their trust in us. We will work to earn that trust by fulfilling our commitment to realizing the vision that the task force has outlined for us."
Following opening remarks from Anti-Black Racism Task Force Co-Chair Desma Charlemagne-Michel, director of human resource services at U of T Scarborough, a libation was conducted by Ernest Obeng, a doctoral candidate at U of T's Ontario Institute for Studies in Education.
A form of prayer performed in Indigenous communities, the libation communicated to ancestral spirits a wish for U of T's leaders to find guidance, peace and harmony in their journey.
"Let's all in good thoughts and unity of purpose commit our spirit, souls and body to this occasion and the work it demands afterwards," said Obeng. "Let's all together strive to create a just world for all."
Four poets then gave spoken word performances that expressed at once the injustices committed against Black people and the yearning for a different future. The speakers included: U of T Scarborough undergraduate student Salma Shariff; task force members Kadija Lodge-Tulloch, a PhD candidate at the Centre for Criminology & Sociolegal Studies, and Catherine Amara, associate professor, teaching stream, Faculty of Kinesiology & Physical Education; and Randell Adjei, who was appointed Ontario's first Poet Laureate last week.
Salma Shariff is an undergraduate student at U of T Scarborough.
Professor Dexter Voisin, task force co-chair and dean of U of T's Factor-Inwentash Faculty of Social Work, engaged in a conversation on anti-Black racism with Eduardo Bonilla-Silva, a professor of sociology at Duke University.
The discussion highlighted the systemic nature of racism in societies.
"Racism should be viewed as a collective set of practices," Bonilla-Silva said. "Most people participate in it whether they like it or not. Most whites participate not by being bad actors, but just by following the dominant racial state. You don't have to be a bad person to do things that reproduce white privilege."
Likewise, Voisin pointed out: "We all participate in racism if we maintain the status quo."

Eduardo Bonilla-Silva and Dexter Voisin.
Bonilla-Silva questioned the problematic notion of "colour-blindness" and how it can manifest in denial in places like Canada, where he said fewer empirical studies have been done on systemic discrimination compared to the United States.
At the close of the ceremony, Hannah-Moffat thanked members of the task force, which was also co-chaired by Professor Njoki Wane, chair of social justice education at OISE, for their painstaking work on how to identify and remove long-standing systemic barriers and to advance Black inclusion in an informed way.
"Many incredible people from across our organization have dedicated countless hours of their time, energy, expertise and emotional labour, all while continuing to do their day-to-day work during a pandemic," Hannah-Moffat said. "We are so grateful."
The three university leaders all noted that the measures U of T plans to take to tackle anti-Black racism and advance Black excellence are long overdue.
"The report impels us to take bold action – to lead the university in swift and decisive steps to address anti-Black racism and promote Black inclusion and excellence across our campuses," Regehr said. "That work starts now."
U of T News