Anti-Black Racism Task Force to examine systemic racism at U of T, provide recommendations to advance Black inclusion and excellence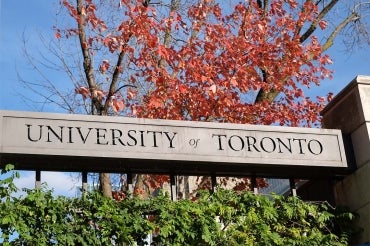 The University of Toronto has launched a presidential, provostial and vice-presidential task force that will explore how university policies and practices contribute to systemic anti-Black racism, and provide actionable recommendations to advance Black equity, inclusion and excellence on U of T's three campuses.
The U of T Institutional Anti-Black Racism Task Force will capture the experiences of Black students, faculty, staff and librarians, as well as other community members, and help identify and address the barriers faced by Black community members. The work of the task force will build on previous reports and consultations, identify gaps and offer recommendations to address Black racial inequities within the tri-campus community.
A final report will be presented to Meric Gertler, U of T's president, Cheryl Regehr, vice-president and provost, and Kelly Hannah-Moffat, vice-president, human resources and equity, by March 31, 2021.
"Anti-Black racism affects all of us. We need to listen, learn and do more to eliminate racial discrimination," Hannah-Moffat said. "A recognition of racism is insufficient. Racism is not an issue for Black and racialized communities to address – it impacts everyone and it is our collective responsibility to take steps to eliminate barriers and create inclusive spaces for Black students, staff and faculty and librarians. 
"We are committed to creating lasting, meaningful change."
The task force is led by four co-chairs: Professor Dexter Voisin, dean of the Factor-Inwentash Faculty of Social Work; Professor Njoki Wane, chair of social justice education at the Ontario Institute for Studies in Education, Desma Charlemagne-Michel, director of human resources at U of T Scarborough; and Roger Bulgin, chief administrative officer at Woodsworth College.
A call to nominate task force members will be issued in the coming weeks, and will be open to students, staff, faculty, researchers and librarians.
"The actionable steps that will be presented by the task force will build on the ongoing equity and inclusion work implemented by various university units," said Regehr, adding that there will be additional consultation with the university community during the implementation phase.
"We expect the recommended changes to help dismantle systemic barriers and further strengthen U of T's efforts to create a respectful, diverse and inclusive community where everyone has the same opportunity to succeed."
One of the task force's key mandates will be to examine the impact of existing tools and strategies to address anti-Black racism and determine what additional strategies may be appropriate. This entails a critical examination of current initiatives, resources, projects and divisional offices addressing systemic racism and promoting Black inclusion on all three campuses.
Throughout the process, the task force will solicit feedback and recommendations from the university community. A dedicated website will enable community members to submit ideas and recommendations geared towards advancing Black inclusion and excellence at the university.
"The killing of Mr. George Floyd in the U.S. and recent events and responses in Canada and around the world demonstrate, yet again, the pervasiveness of anti-Black racism in society. More importantly, it demonstrates a widespread global mandate to address anti-Black racism, which permeates all of our own communities," said Voisin, one of the task force's co-chairs.
"A key part of upholding our collective responsibility to address systemic racism and foster trust and promote Black inclusion and excellence at the university is making sure that we are following the evidence, listening and respectfully responding to people's lived experiences."
UTC