Poet, writer, activist and U of T alumna Dionne Brand receives honorary degree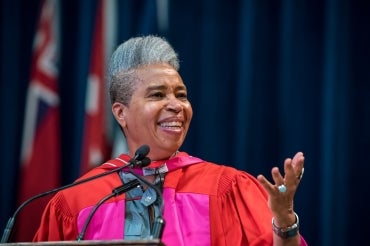 Drive east along Dupont Street past Ossington Avenue at dusk in the summertime and you'll see what Dionne Brand sees in her book Love Enough.
Amidst the "derelict building where artists and musicians live," the storage depots and wrecking shops, "you may see…something breathtaking," when watching the sunset through the rear-view mirror.
Brand captures Toronto – the beauty in the mundane, the city's cultural diversity – in her poems and novels, transporting the reader to different corners of the city.
"I've felt in my work, my poems and novels, the odd sensation of writing the city into being, though that city that I imagine, and that city that is possible, is yet unfinished," Brand told The Globe and Mail in 2017.
Brand, who has both a bachelor's degree and a master's from the University of Toronto, will receive yet another distinction from her alma mater – an honorary degree.
On Wednesday, she was given a Doctor of Letters, honoris causa, "for her outstanding service for the public good as an educator, filmmaker and activist, and for her excellence in the arts as a poet and author."
Brand, who is currently a professor of English at the University of Guelph, will also be the keynote speaker at this year's Black Graduation ceremony.
Born in Trinidad and Tobago, Brand moved to Toronto in 1970. She began her studies at U of T, earning an undergraduate degree in English and philosophy and a master's degree in philosophy of education from U of T's Ontario Institute for Studies in Education.
Since then, she's published 18 books and contributed to 17 anthologies, making her one of Canada's most respected writers and poets. Her writing centres on the ways race, gender and immigration interact with Canadian identity.
Brand's collection of poetry, Land to Light On, won the Trillium Book Award and the Governor General's Literary Award for Poetry in 1997, and her novel-length poem Ossuaries won the Griffin Poetry Prize, the world's largest prize for a single poetry collection in English.
In 2009, Brand became Toronto's poet laureate, and in 2017 she was named a Member of the Order of Canada for her contributions to Canadian literature and poetry.  
In 2016, Brand provided these words of wisdom to aspiring writers in Canadian Living magazine:
"Read widely. So much has been written, and there are so many wonderful writers. What is the library you're working with, and what do you have to add? Then, step out of the boxes of conformity that have been laid down for you."
UTC