U of T students to host second Black graduation ceremony
Last year's Black graduation was first in Canada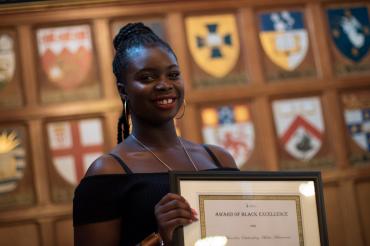 There's a treasure hunt going on in the home of Matthew Campbell-Williams.
Competition is so fierce for his guest tickets to Black graduation at the University of Toronto that the fourth-year commerce and criminology student has hidden a pair of tickets for his parents, cousins or nephews to find. He says the excitement surrounding the event – a ceremony and party organized by Black students around convocation – shows it isn't just for graduates. 
"It's for our families and community as well," he says.
Organizers are expecting more than 400 people to attend this year's event at Hart House on June 26, including students, faculty, staff, family and friends. 
Campbell-Williams gets emotional – his eyes welling up – as he remembers his 11-year-old nephew seeing pictures of the first-ever Black graduation at U of T.
"The first thing he sees of university is that if he goes to university, he will feel worth on this campus," he says. "There will be a whole community out there who acknowleges his accomplishments."
Campbell-Williams has been working with Ayaan Abdulle and Anyika Mark to build on the success of the first-ever Black graduation at U of T last year. Although Black graduations and commencements have been held in the U.S., notably at Harvard and Columbia universities, they have yet to catch on in Canada. 
Abdulle, who is the first in her family to go to university and is studying psychology and health policy at U of T Scarborough, says she'd like to see Black graduation become a tradition on more Canadian university campuses. 
"Folks tend to neglect or forget about Canada's rich history with racism," she says. "It's not something that just plagues the U.S.
"Hopefully in the future, Black grads won't be an anomaly."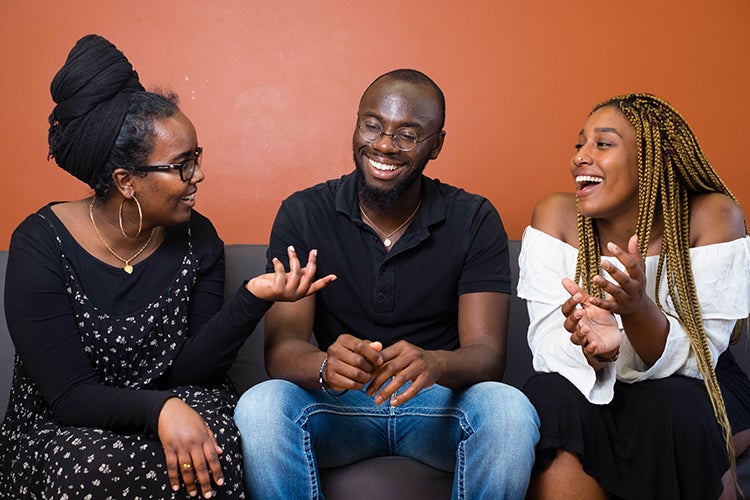 Ayaan Abdulle, Matthew Campbell-Williams and Anyika Mark are the main organizers of Black graduation 2018 (photo by Geoffrey Vendeville)
Black graduation helps counter the isolation that many Black students feel on campus, says Mark, a fourth-year student in political science, Caribbean studies, and diaspora and transnational studies. She is president of the Black Students' Association. 
"A lot of times Black students come to the school and feel like they're doing it alone," she says. "You go to your class of 1,500 students at Convocation Hall, and you're like, 'Why are there no people who look like me?'"
Being among Black students, faculty, staff and guests at last year's event was a reminder that there is a supportive community on campus. 
Mark and Campbell-Williams, both executives in the BSA, have made the event part of the group's constitution so future generations of students carry on the tradition. 
This time, organizers are inviting high school students to volunteer at the event. "We want to show them that U of T is a place you can come to, and succeed in," Mark says.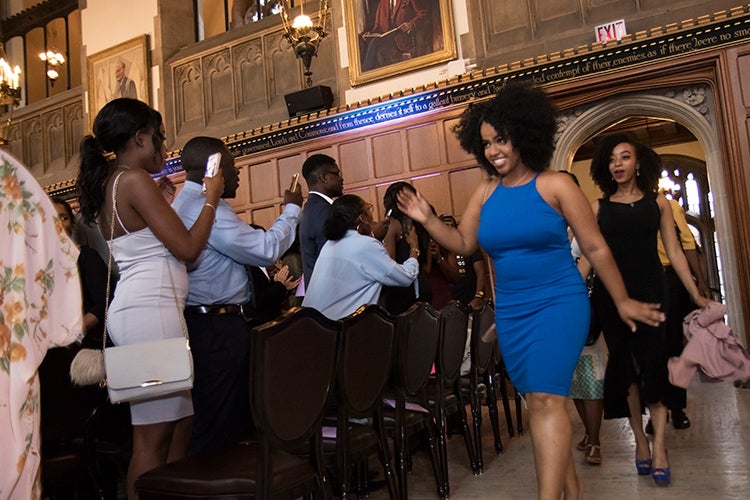 The class of graduating Black students makes an entrance at Hart House at the first-ever Black graduation at U of T (photo by Geoffrey Vendeville)
Dionne Brand, a writer, filmmaker, educator and activist who served as Toronto's third poet laureate, is the keynote speaker. She was born in Guayaguayare, Trinidad and Tobago, and studied English and philosophy at U of T before getting a master's in philosophy of education at the Ontario Institute for Studies in Education. She's published several books of poetry including Land to Light On, which won the Governor General's Literary Award, and she will be receiving an honorary degree this year during U of T's spring convocation.
Many Black faculty members and staff are also expected to attend. Student-organizers say they have received support from Black faculty, including Associate Professor Alissa Trotz in women and gender studies and Assistant Professor R. Cassandra Lord in women and gender studies at U of T Mississauga.
Lord describes Black graduation as a step in the right direction for U of T.
"A common narrative among many Black students is the challenge of having to navigate the university on their own – from the classes they attend to accessing services – and being able to find community," she says. "The systemic barriers they face are real and are embedded within the university.
"As a junior faculty member, I am truly in awe of the Black grad organizing committee, as they have worked seamlessly to make this event happen – their imagination stretches towards the future, while laying down the foundation to dream for what is possible in the present."
Organizers also thanked volunteers, Sandra Carnegie-Douglas, U of T's anti-racism and cultural diversity officer, and staff at Hart House for their support.
The event will feature an awards presentation for students who excel in STEM, the liberal arts, athletics, entrepreneurship and research. 
The only detail the organizers haven't worked out yet, it seems, are their outfits.
"We're going to be hosting it so we have to be fire," Mark says.
UTC