'The place to find the identity you want to build': Students from the U.K. on why they chose U of T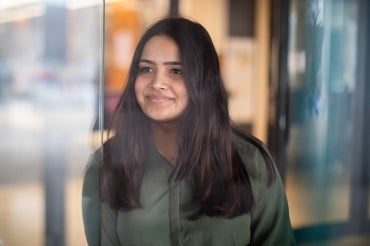 For students from the United Kingdom, studying at the University of Toronto can sometimes seem familiar to school back home. But there are plenty of small differences – from gourmet food trucks to an abundance of course options – that ensure a unique experience.
"My high school campus used to be 10 minutes away from UCL [University College London], but there were no food trucks," says first-year student Neeharika Hemrajani. "It is such a North American thing."
The chance to study a wide range of subjects was also a major draw, the Londoner adds.
The strong ties between U of T and the U.K. date back to the granting of the university's royal charter by King George IV in 1827. Fast-forward nearly 200 years and U of T has important partnerships with institutions across the U.K. in fields ranging from urban studies to medicine – and U of T faculty have collaborated with researchers in the U.K. on thousands of publications.
So what is it like for U.K. students studying at U of T?
Cansu Aydemir – a reporter at U of T News who is an international student herself – explores the question in the final instalment of her series on the U of T international student experience.
---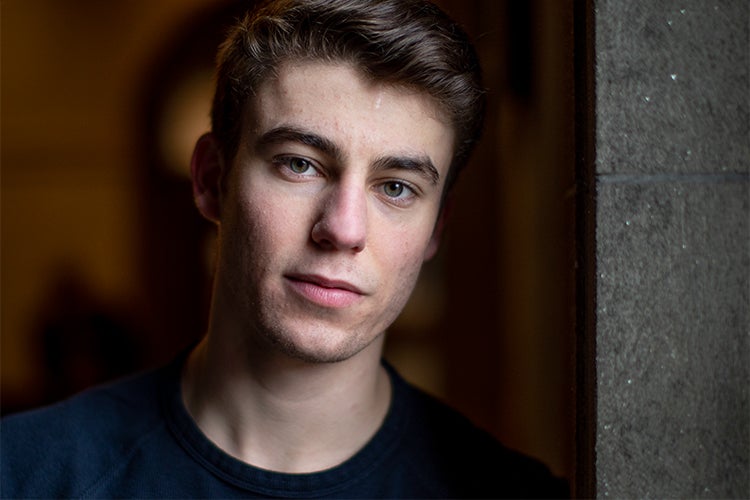 Max Somer's parents immigrated to London from Canada in 1997. Twenty-one years later, Somer came back to Canada to study.
Just like his father, he chose U of T.
"He is happy I came back to his alma mater," says Somer, a first-year Trinity College student. "He enjoyed his time here."
The flexibility U of T offers its students was also a big factor in Somer's decision.
"In the U.K., I would have to pick my courses before I got the school. Here I can do arts and sciences combined, and that was very appealing to me because I had no idea in what, exactly, I wanted to pursue."
Somer says he plans to major in chemistry with a double minor in political science and economics. He says the facilities at the university are impressive and the style of teaching  took him by surprise since he'd expected to spend all his time sitting in lecture halls.
"It is a lot more hands-on, and more active than what I was expecting," Somer says. "I stay at the end of the lectures to talk to the professors and they are just happy to talk to students about something that they've been researching for decades."
Somer works with a research group at the Munk School of Global Affairs & Public Policy and is also a part of the Capital Markets Society. He says extracurricular activities are "a great way to explore and decide whether I am interested in these subjects."
He also loves living "downtown in one of the biggest cities in North America – in the big metropolis."
Somer had visited Canada before but says he was shocked by Toronto's international character.  
"I was worried that I would be an outsider surrounded by Canadians, but it is certainly not the case," he says. "It still feels Canadian – you have the nice aspects of Canadian life, like super friendliness.
"Culturally it is a really nice place to live. People are very welcoming, people are very open, always willing to help. When you walk past on the road they will smile at you." 
Somer encourages other students in the U.K. to seek "the unique experience in Toronto: a big city and a vibrant campus" even though Toronto is a long way from home.
"I think, socially, for a lot of people it is terrifying for them to go thousands of miles away – they worry about making friends," he says. "But you need to remember that everyone comes to university with the same mentality of forming relationships with people.
"It is not necessarily going to be easy, but everyone is in the same boat as you – so you shouldn't be stressed about that aspect of it." 
London's Neeharika Hemrajani says the Canadian approach to higher education offers more freedom and opportunities than the U.K. system.
"In London, when you apply to university the biggest thing you have to do is make a decision about what you want to study before you go to the university," Hemrajani  says.
With "a love for so many different kinds of things," Hemrajani says her first year at U of T allowed her to explore many different fields before choosing a focus.
"I found a little bit of a niche area where I can focus on my interest in people and how they were, how they are, and how they are going to be," says the student at St. Michael's College who studies history, political science and psychology.
In fact, Hemrajani says she discovers something new about herself every day.
"I went to a computer science lecture with a friend just to see what it was like – and I was so amazed, to the point where I decided I wanted to pick it up. So, I started to go to classes and joined the U of T coding club, and now it is like a hobby for me."
She chose St. Michael's without knowing much about the college system in the Faculty of Arts & Science.
"I googled the college pictures before I made a choice and picked the prettiest one," she says. "I love St. Michael's. It is a part of my identity now. You are kind of far away from the centre of campus and you have your own community, your own dining hall."
For Hemrajani, the highlights of life at U of T include snow, the winter holidays in Toronto – and food trucks.
Hemrajani says she also loves the international experience that comes from living in Toronto.
"Toronto is one of the world's most diverse cities; there is no race or color or age or anything associated with this city," she says. "And campus is full of so many international students that it is quite easy to find a home for yourself."
 Hemrajani says she also appreciates the range of opportunities and the welcoming atmosphere the school offers to its students.
"This is the place to find the identity you want to build."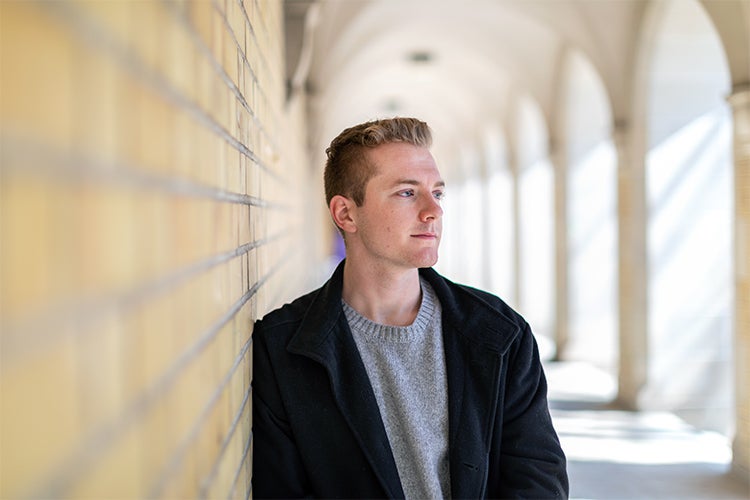 For Alec Derry, the journey from the U.K. to Canada was long and winding.
"I spent quite a bit of my childhood living in Western Europe – in France, Switzerland – and moved to the U.S. briefly and then to Africa and to Eastern Europe and back to the U.S.," Derry says.
Although his passport is British, and most of his family live in the West Midlands, his parents are international teachers. By the time he finishes his undergraduate degree, Toronto will be the place he has lived the longest.
"It is hard to call anywhere home," Derry says, when you've never lived anywhere longer than "maximum two to three years."
After experiencing many different countries, Derry says he chose to study at U of T because it was everything he was looking for: a recognized university in an international city that had good public transportation.
The only challenge was funding – but he applied for a Lester B. Pearson international Scholarship and was successful. 
His advice for future students is to try as many things as possible in your first year. Derry originally planned to major in computer science but, once classes began, realized he preferred psychology and switched his major to cognitive science.
"Cognitive science is just so interesting. In the lectures they explain the history of how we got to this point, they explain artificial intelligence. I am just amazed by it."
Derry says he chose University College because of its central location and architecture.
"It is right next to most of my classes – maximum a 30-second walk to any of the buildings my classes are in. And it looked nice, honestly. The pictures were very good."
Derry says he loves being part of a globally renowned university, but it's not just about the reputation. It's because of what underlies that reputation.
"What I enjoy most are the professors I have in my class – just because the university is that good. You have all these leading researchers in different fields."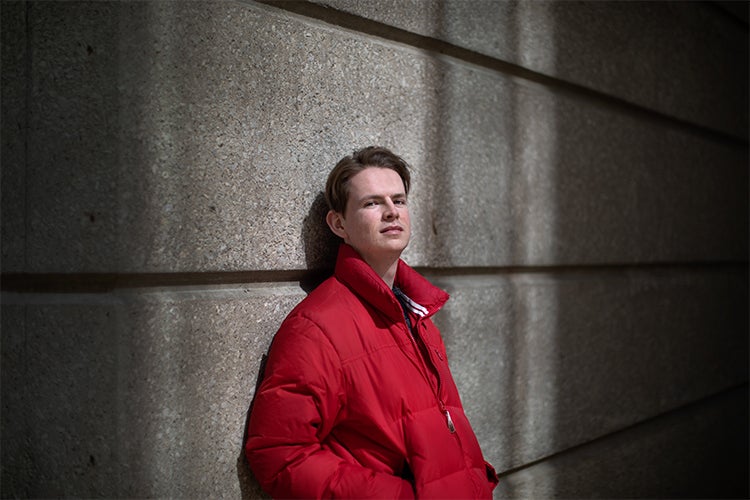 Paul Hutchinson, a student at UCL, considered several factors when deciding whether to spend his third year on exchange at U of T.
Now at Innis College, Hutchinson says he chose Canada because he wanted to be in North America, Toronto because he wanted to study in another big and multicultural city and U of T because of its academic reputation.
A history major, Hutchinson says he always assumed Canada and the U.K. were quite similar but now that he's here he can see a difference.
He describes Toronto as "amazingly diverse" adding, "You can meet people from around the world. I thought London was quite diverse, but it is more diverse here."
After spending almost a year here at U of T, Hutchinson says the school has given him a different perspective.
"The biggest difference is the academics. They are quite different because back home I only do history. Here it is been really nice to do other classes like anthropology, art history and religion," he says. "The British way of doing university is a particular way and I think it is always helpful, especially for history, to get a different way of doing things.
"A lot of the history courses I have taken challenged the way I do history because it is very different here. Britain is very European-centered, but here, for example, I am doing an African history class, which is really interesting."
Hutchinson says the first thing he'll tell people back home is "it is true that people are really friendly here. Canadian people are really nice. It has been very easy to make friends and have conversations with people."
The exchange program has also made Hutchinson realize that he could thrive by living and studying abroad. 
"I think I want to apply for my master's abroad. Germany, Netherlands, maybe Canada."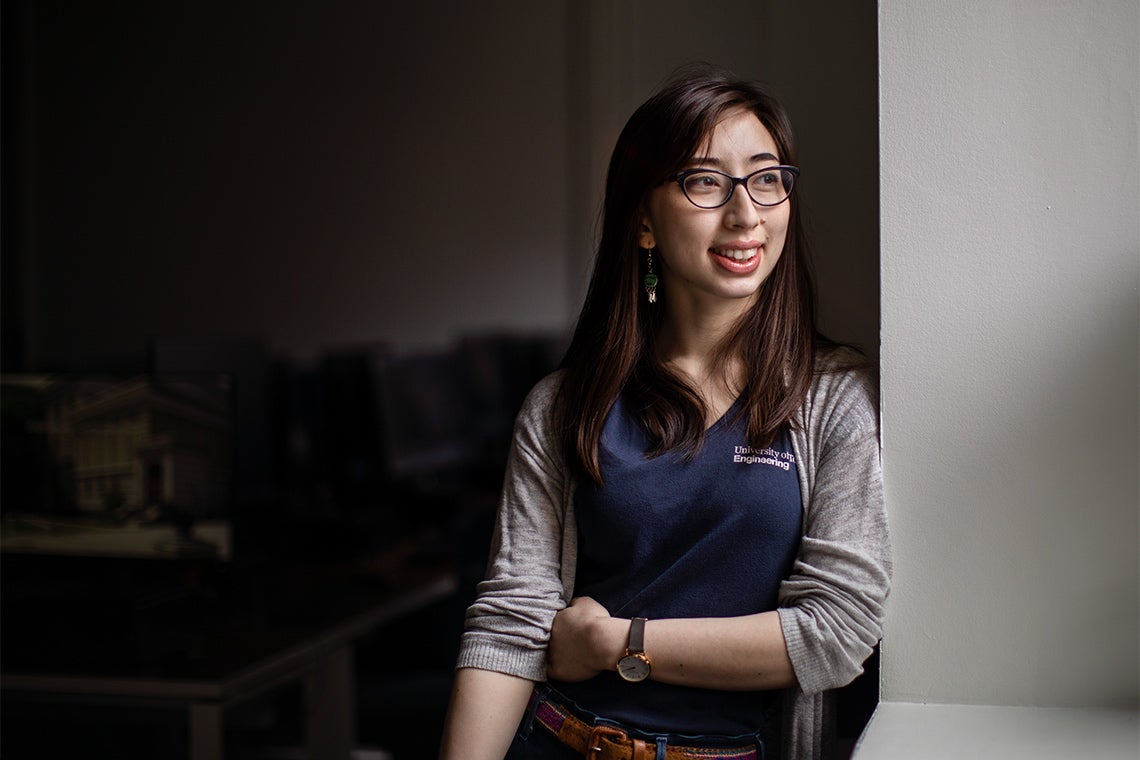 For the U.K.'s Jennifer Dixon, who grew up in Oman and attended an American international school, "home has always been a place that is international."
With a Malaysian and British background, the fourth-year student says she chose to study in Canada because it was "culturally similar" in many ways.
"It had the American culture, but it also had the diversity that I was looking for," she says. "As someone who is mixed ethnicity, you're kind of caught in this identity crisis all the time. So, one thing I like is that I have the culture of both my ethnicities present in Toronto."
Now in her final year of materials engineering in U of T's Faculty of Applied Science & Engineering, Dixon says home is where your family is – and "if it is not that, then it is where your heart is, where your friends are, where you think that you are going to succeed or grow as a person."
She says the top reputation of U of T's engineering program was a key factor in her decision to come to the university.
"I wanted to have that recognition because I knew that there was a good chance I was going to be working overseas at some point in my life, and I wanted a future employer to be able to look at my resume and say, 'U of T? I know that place – they are known for engineering.'" 
Her high school interest in chemistry and physics pushed her towards materials engineering.
"I wanted to do engineering just on the basis of problem-solving and the way I like to approach things," Dixon says.  
"Material science as a subject matter is really interesting for me because it is so interdisciplinary – every single engineer out there works with materials one way or another. And studying materials provides a very fundamental foundation of how the world works." 
Dixon says she enjoys the student life and extracurricular activities in engineering, but the academic rigour of the program can make it difficult to get involved.
 "U of T engineering is so rigorous. It is a lot of work ... you have to give up some of the studying sometimes to do other things."
Dixon advises incoming students to "find mentorship very early on."
"Once you have a friend or someone to lean on [while] trying to navigate through all the information during the first year – the new city, the new weather, and the environment – it is a lot easier."
International student Cansu Aydemir is an intern at U of T News. Originally from Turkey, she has lived in Toronto since 2012 and is now in her fourth year of studies at U of T where she is specializing in history and minoring in diaspora and transnational studies
UTC