In photos: U of T's Canine Cognition Lab, where dogs play and humans learn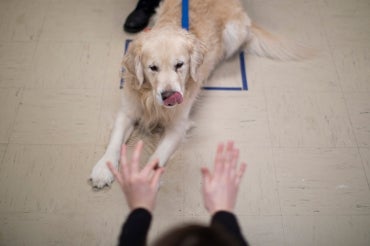 Students and faculty might be curious about the series of four-legged visitors of all shapes and sizes who come through University College. There's the one-eyed Frenchie, Eddie; Ryder, the fluffy Samoyed; and Bacon, the miniature Schnauzer.
They have all come for the sake of science. The treats are just a bonus.
Daphna Buchsbaum, an assistant professor in the department of psychology, runs the Canine Cognition Lab out of a sparsely decorated basement room of UC. She and a team of student-researchers and volunteers – about a dozen in all – conduct social cognitive experiments to gain insight into the mind of canis familiaris, the domestic dog.
 "What we're trying to figure out is: What are dogs capable of in general as a species?" Buchsbaum says. "How do they reason about the world? How is it like how we think? How is it like how other animals think?" 
Dogs have been involved in psychology research since at least Ivan Pavlov's experiments on classical conditioning in the early 20th century. But for many years researchers tended to focus more on primates because they share an evolutionary history and cognitive mechanisms with humans, Buchsbaum says. Just over a decade ago, psychologists' interest in dog cognition grew after discoveries about their ability to communicate with people.
"The finding was that, even when they're compared to other animals including primates, they're a lot better at understanding human communicative cues," Buchsbaum says, including following a person's gaze and pointing gestures.
When it comes to pointing, dogs have proven to be particularly good at understanding humans. In a situation where food is hidden in one of two opaque cups outside of a dog's view, and a person points to the cup containing food, the dog is very likely to choose the correct one. "This seems really simple, but it turns out it's not for a lot of other animals," Buchsbaum says. 
Even chimps sometimes get this wrong, she says – perhaps because they see humans as competitors who are trying to trick them to keep the food for themselves.
Hundreds of dogs have participated in studies at the Canine Cognition Lab since it was established around 2015. In dog-crazed Toronto, they have had little trouble recruiting volunteers through the lab's increasingly popular Instagram page and by word of mouth. The researchers pay close attention to the dogs' moods and will stop an experiment if a dog appears anxious.
Buchsbaum obtained her PhD in psychology from the University of California, Berkeley and has a background in statistics and artificial intelligence. While in California, she and her dog Pumpkin trained for a wilderness search-and-rescue team. The experience led her to become even more curious about what goes on inside the mind of a dog, the first domesticated species.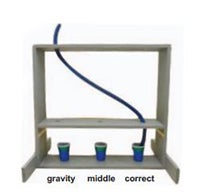 With her former U of T postdoctoral researcher Emma Tecwyn, now on faculty at Birmingham City University, Buchsbaum debunked the idea that dogs, like toddlers, have a "gravity bias" – that they expect unsupported objects to fall straight down, regardless of obstacles that redirect their path.
They dropped food down a diagonal tube that led to one of three cups on the floor. Most dogs, for whatever reason, searched for treats from the centre outward.
Buchsbaum's current students, undergraduate Madeline Pelgrim and PhD student Julia Espinosa, are taking research into dogs' ability to understand pointing cues a step further. In an ongoing study, they are looking at whether dogs can distinguish between an accurate and inaccurate human pointer, someone who's been reliable in the past versus someone who hasn't.
Even after conducting studies with more dogs than she could count, Pelgrim says they never cease to surprise her. In one experiment, a dog tasked with looking for a treat inside a box strolled up to it, paused and sat on top. 
"Why did you do that?" she thought, surely not for the last time.
---
Pelgrim and Espinosa took U of T News on a tour of the lab and carried out a demonstration with Loki, a four-year-old purebred retriever (all photos below by Nick Iwanyshyn):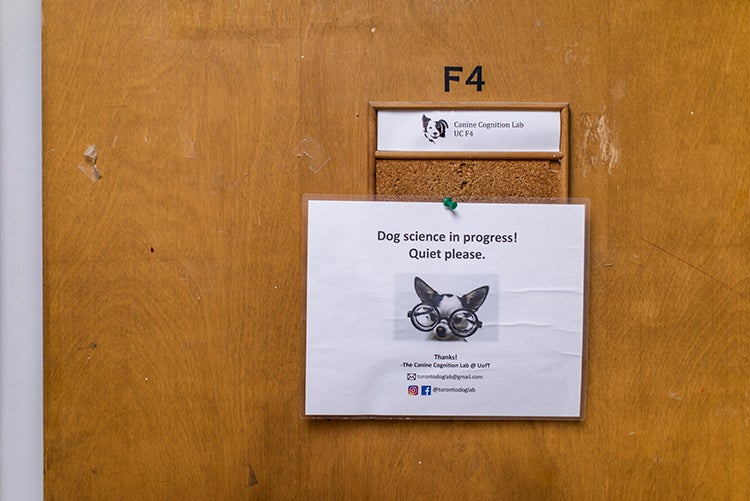 The dog lab would be easy to miss if it weren't for its sign.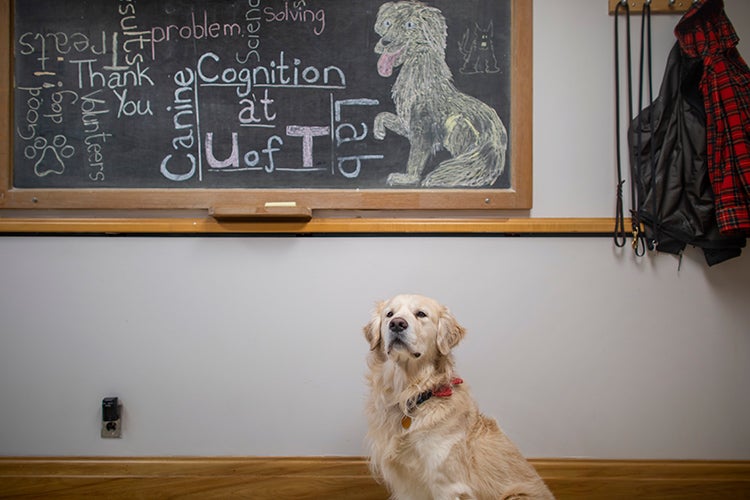 Loki sits in the Canine Cognition Lab under a blackboard bearing his likeness.

Madeline Pelgrim opens a storage closet with a poster showing illustrations of dog behaviour. Researchers at the Canine Cognition Lab monitor a dog's body language to make sure it is comfortable throughout a study.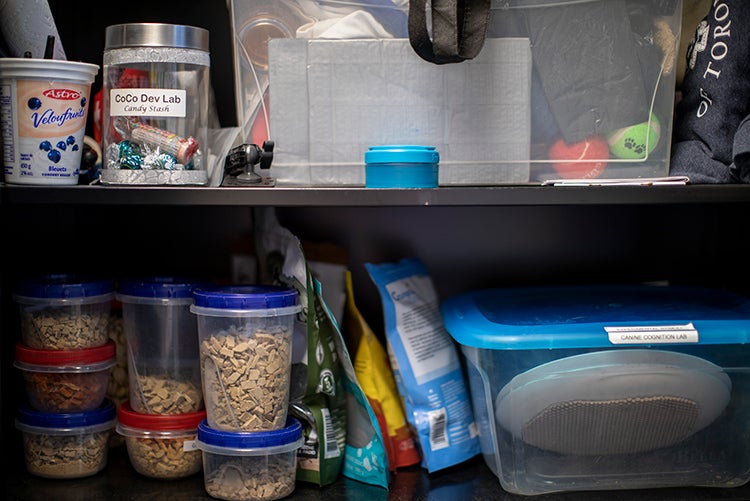 A look inside the lab's equipment closet.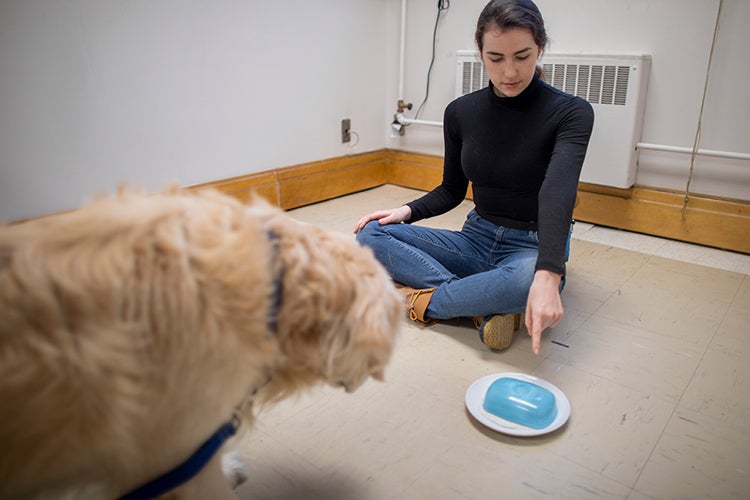 Experiments follow a carefully scripted routine of hand gestures and cues. Studies show dogs naturally follow human points with a great degree of accuracy, even more than chimps or toddlers.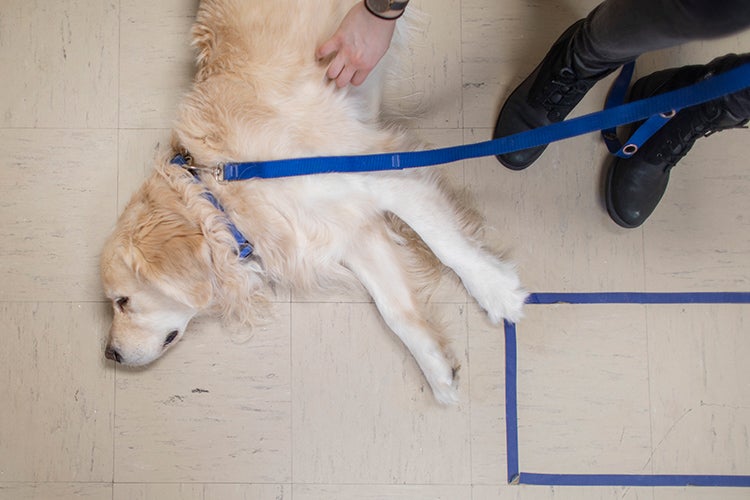 Blue tape on the ground marks the dog's position during an experiment, one of the many variables that has to remain consistent between experiments.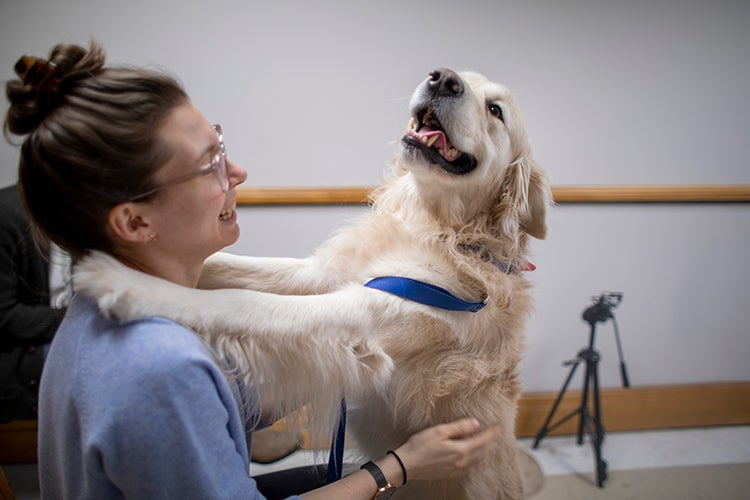 Julia Espinosa pets Loki after a job well done. Like many researchers and volunteers at the lab, Espinosa is a dog lover. When she was 12 years old, her parents wouldn't let her have a dog – so she started a dog-walking business. 
UTC