In photos: U of T commemorates Queen Elizabeth II's life of service with ceremony at Soldiers' Tower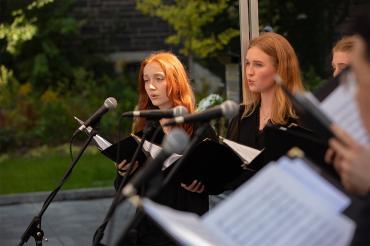 The University of Toronto commemorated the life and service of Her Majesty Queen Elizabeth II on the day of her funeral with a ceremony at Soldiers' Tower on the St. George campus.
The ceremony was attended by President Meric Gertler, Vice-President and Provost Cheryl Regehr and members of the U of T community.
At approximately 12:45 p.m. on Monday, bagpiper Rory Sinclair began the ceremony by performing Mist Covered Mountains while standing in front of a small stage flanked by two yellow and white wreaths.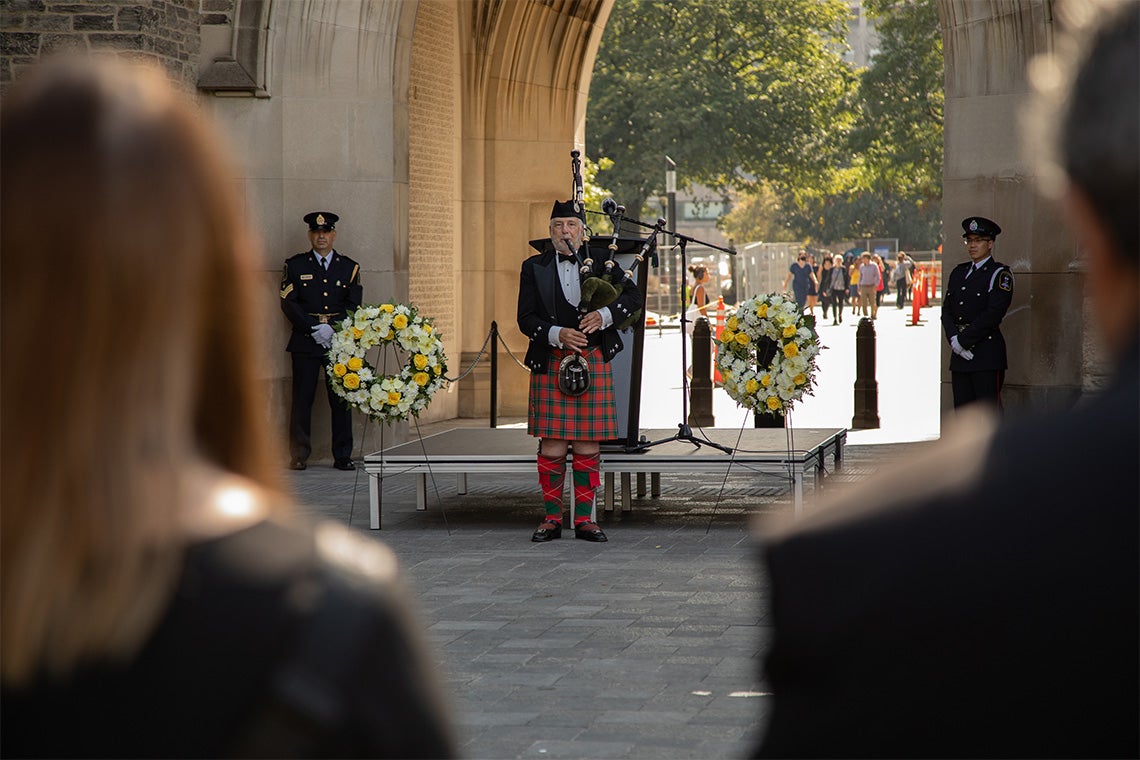 (Photo by Johnny Guatto)
In his remarks, President Gertler acknowledged the Queen's selfless devotion to duty, commitment to young people and said she was a vital source of solidarity and continuity.
"Her example will stand as an inspiration to many, and for generations to come," he said. "This is already evident in the global outpouring of grief and gratitude that we have seen in recent days."
"The virtues she personified have earned her tremendous loyalty, respect and affection among people of all ages around the world."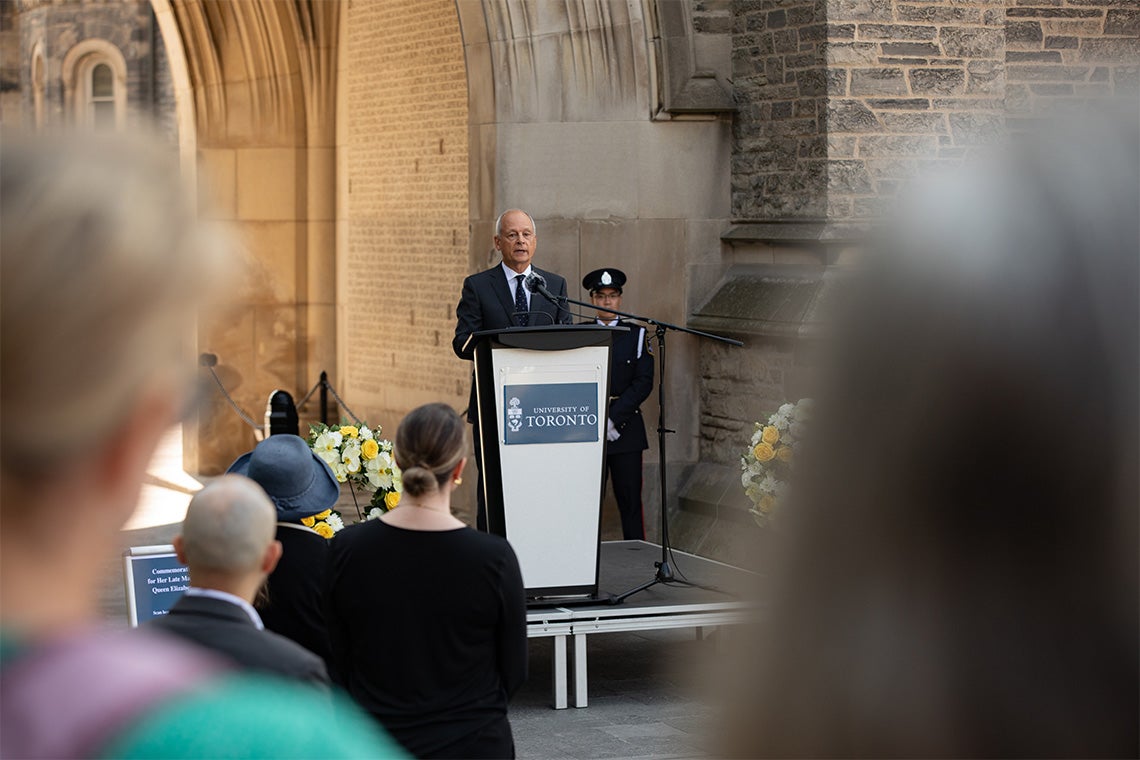 (Photo by Johnny Guatto)
Earlier in the day, the Royal family gathered in London alongside prime ministers, presidents and dignitaries, to say a final goodbye to Britain's longest-reigning monarch in a service attended by more than 2,000 people – and watched by millions across the country and around the world. The Queen died on Sept. 8 at the age of 96.
At the end of the Westminster Abbey ceremony, two minutes of silence was observed across Britain. The Queen's coffin then travelled to Windsor Castle. She was buried alongside her husband, Prince Philip, her parents and the ashes of her sister, Princess Margaret, in the King George VI Memorial Chapel. 
At U of T, students from the Faculty of Music performed songs composed by British artists following President Gertler's remarks.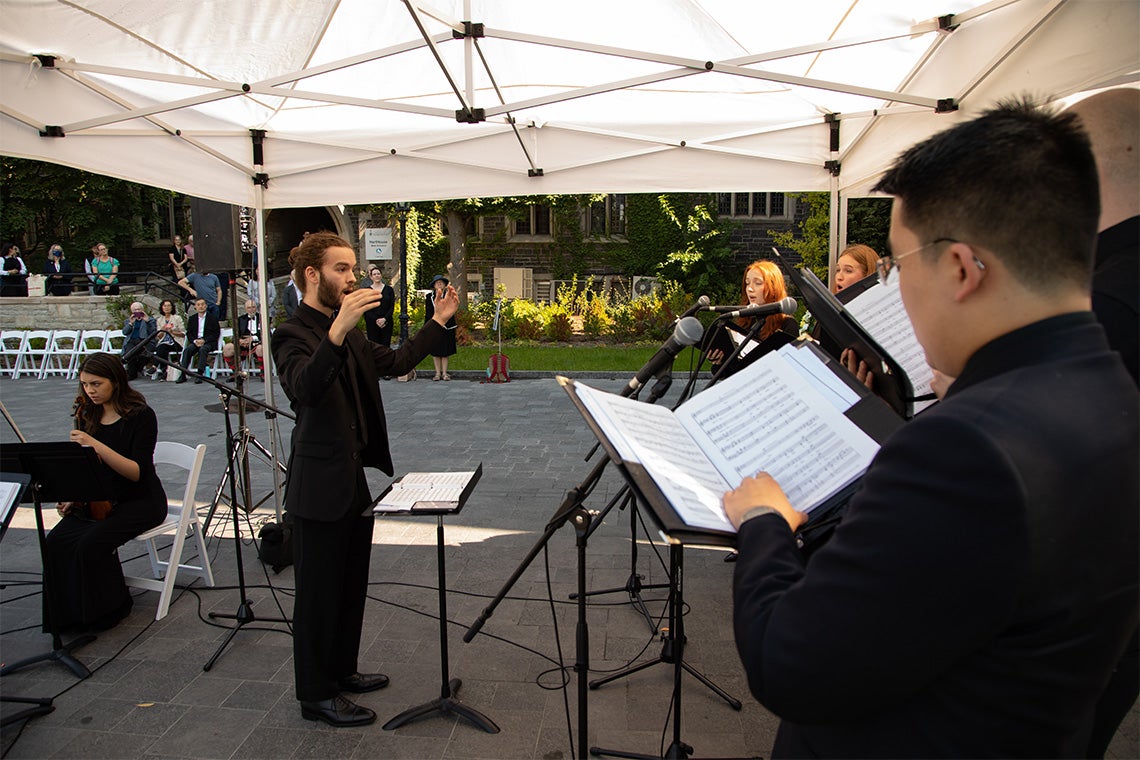 (Photo by Johnny Guatto)
"We had two kinds of groups," said conductor Michael Denomme. "There was a string duo, which was violin and cello. Then we had our vocal octet, which was made up of undergraduate and graduate students, majoring in voice studies at the Faculty of Music." 
(Photo by Johnny Guatto)
Denomme, who is completing his master's in choral conducting at the Faculty of Music, said it was a "true honour" to participate in the ceremony.
"There aren't many funerals for royalty, especially for someone who had been so imperative in the development of our country through the last hundred years," he said. "I wanted to make sure that we did the pieces justice."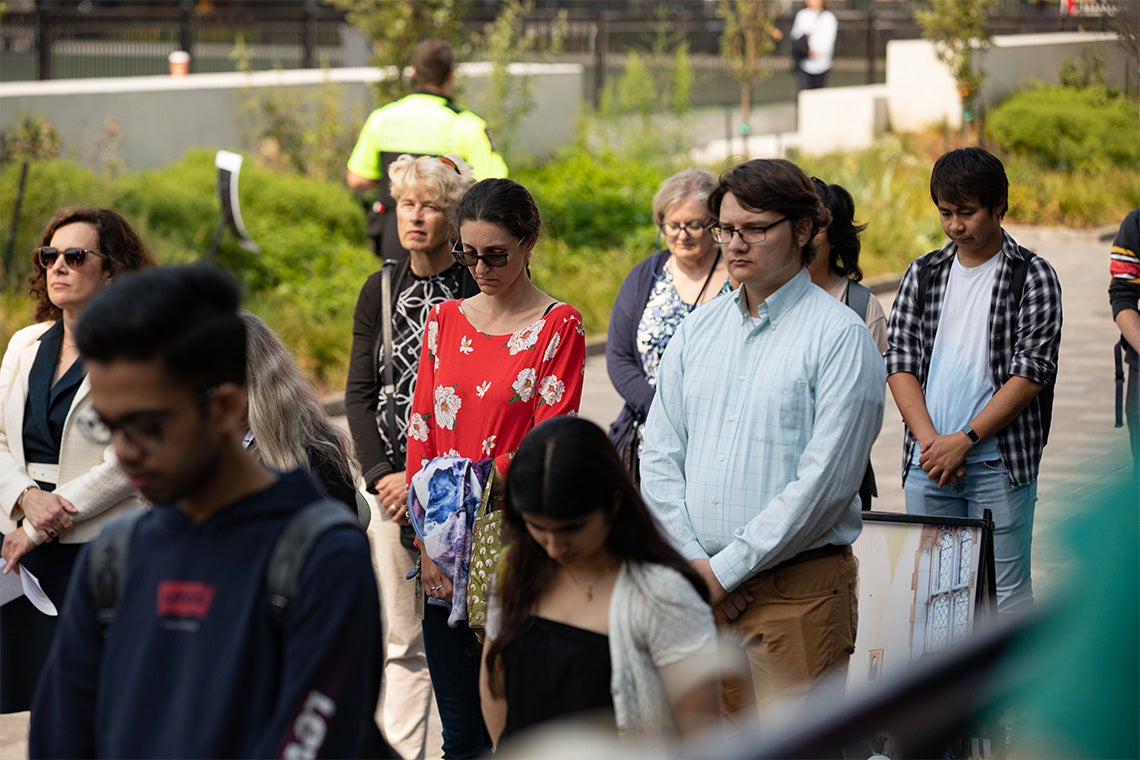 (Photo by Johnny Guatto)
At 1 p.m., 96 seconds of silence was observed to signify the Queen's age. The students from the Faculty of Music then performed O Canada.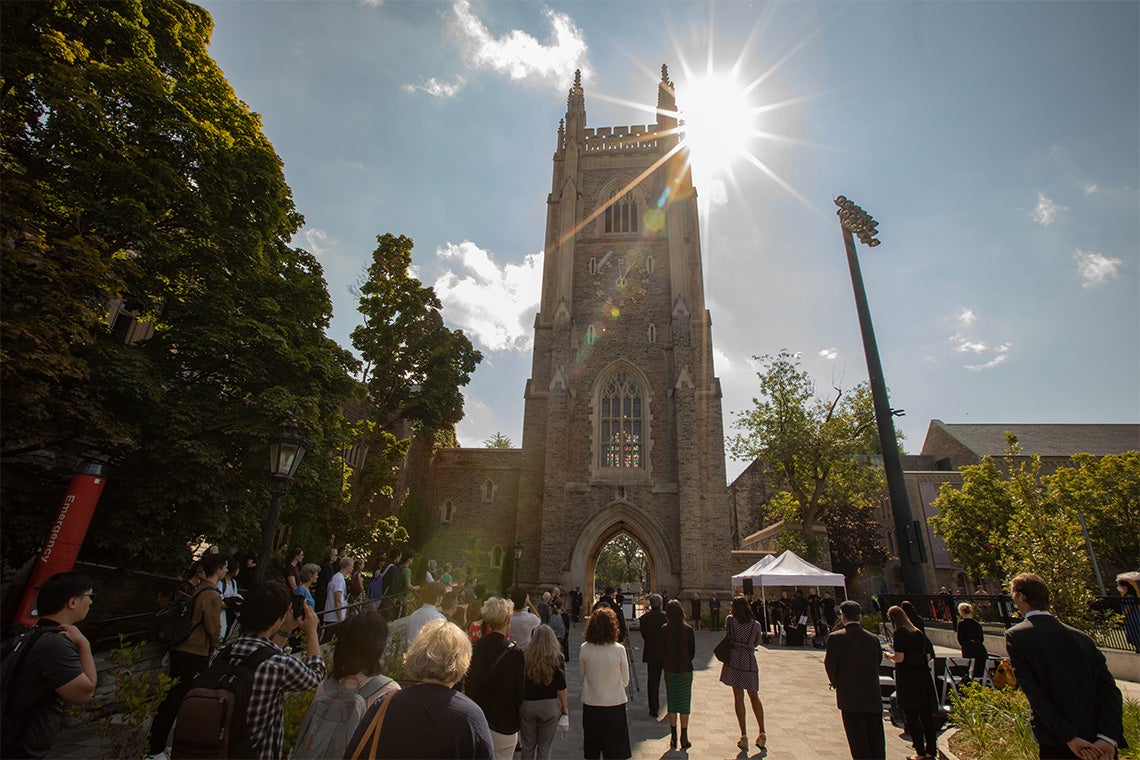 (Photo by Johnny Guatto)
Roy Lee, a U of T carillonist, played God Save the King on the 51-bell carillon housed in Soldiers' Tower before ringing the four-ton bourdon – the largest of the carillon's bells – 70 times to reflect each year of the Queen's reign.
"It's always an honour to play for official university events," said Lee.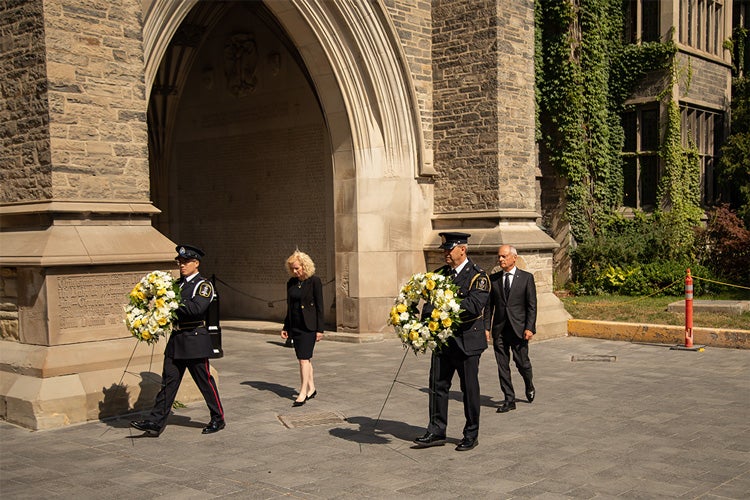 (Photo by Johnny Guatto)
The tribute ended with the president and provost being escorted to Soldiers' Tower Memorial Wall by Special Constable Jason Quan and Staff Sergeant Albert Hastings – both of U of T Campus Safety. There, they laid wreaths.
UTC