In photos: Class of 2020 and Class of 2021 return to U of T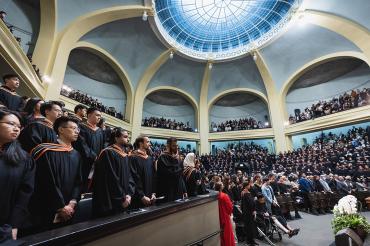 Thousands of University of Toronto alumni crossed the stage at Convocation Hall over the last two weeks, in a very special series of in-person events to celebrate the classes of 2020 and 2021.  
While every member of the Class of 2020 and Class of 2021 graduated during virtual convocations, returning to the university to gather as a community and share in a U of T tradition cheered by friends and family was a chance to make new memories. 
"It was my first experience graduating in Canada so I am grateful to have been present and have my moment on stage with all my peers and fellow graduates," says Mariana Saraiva, who earned an executive MBA degree from the Rotman School of Management in 2020 and returned to celebrate with her classmates last month. "For me, it was extraordinary to return to campus and celebrate what we achieved in person." 
Over the 28 ceremonies, U of T photographers and videographers captured the heartfelt and triumphant moments as alumni donned their gowns, reconnected with their peers and walked across the historic stage.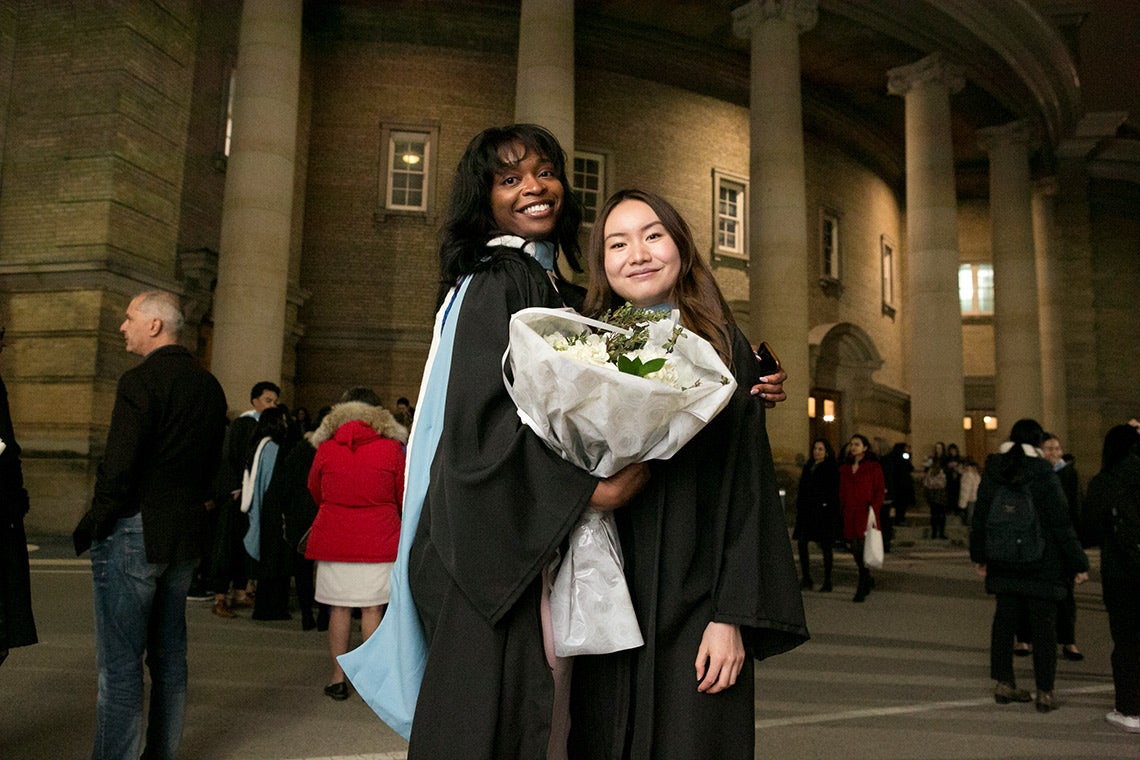 Members of the Faculty of Kinesiology & Physical Education's Class of 2020 and 2021 gather at Convocation Hall on Dec. 7 (Photo by Dewey Chang)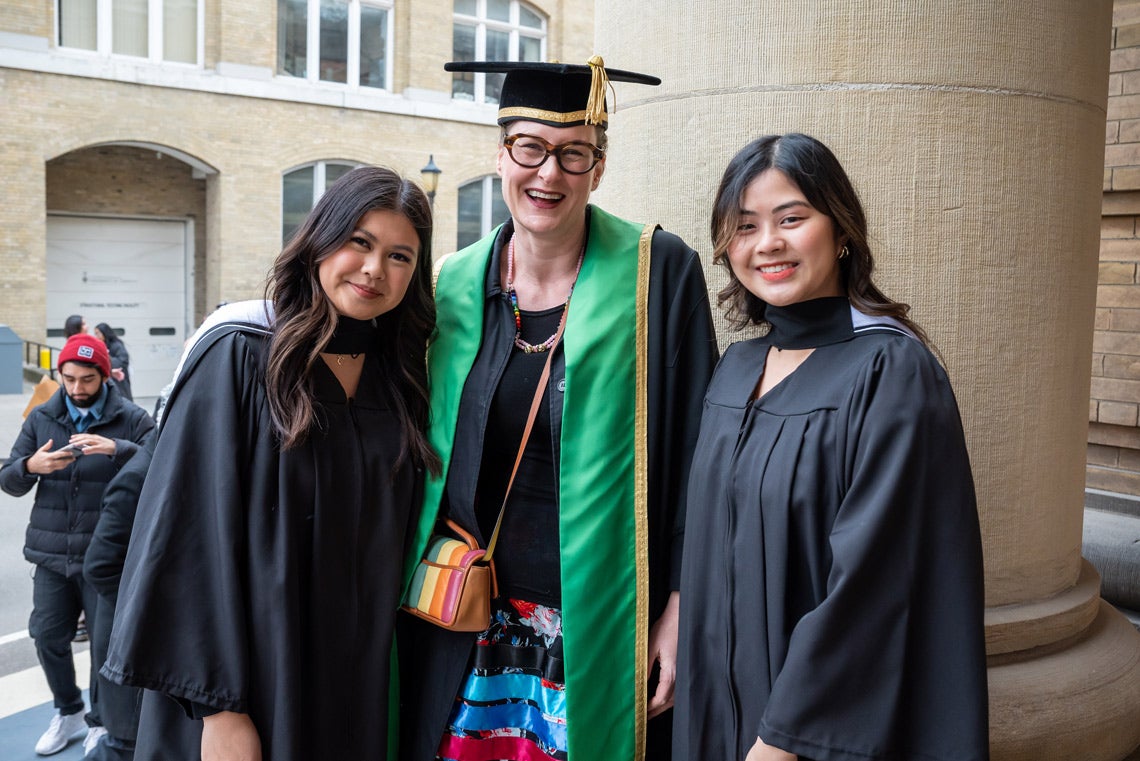 U of T Mississauga grads smile alongside Alexandra Gillespie (centre), U of T vice-president and principal of U of T Mississauga. (Photo by Lisa Sakulensky)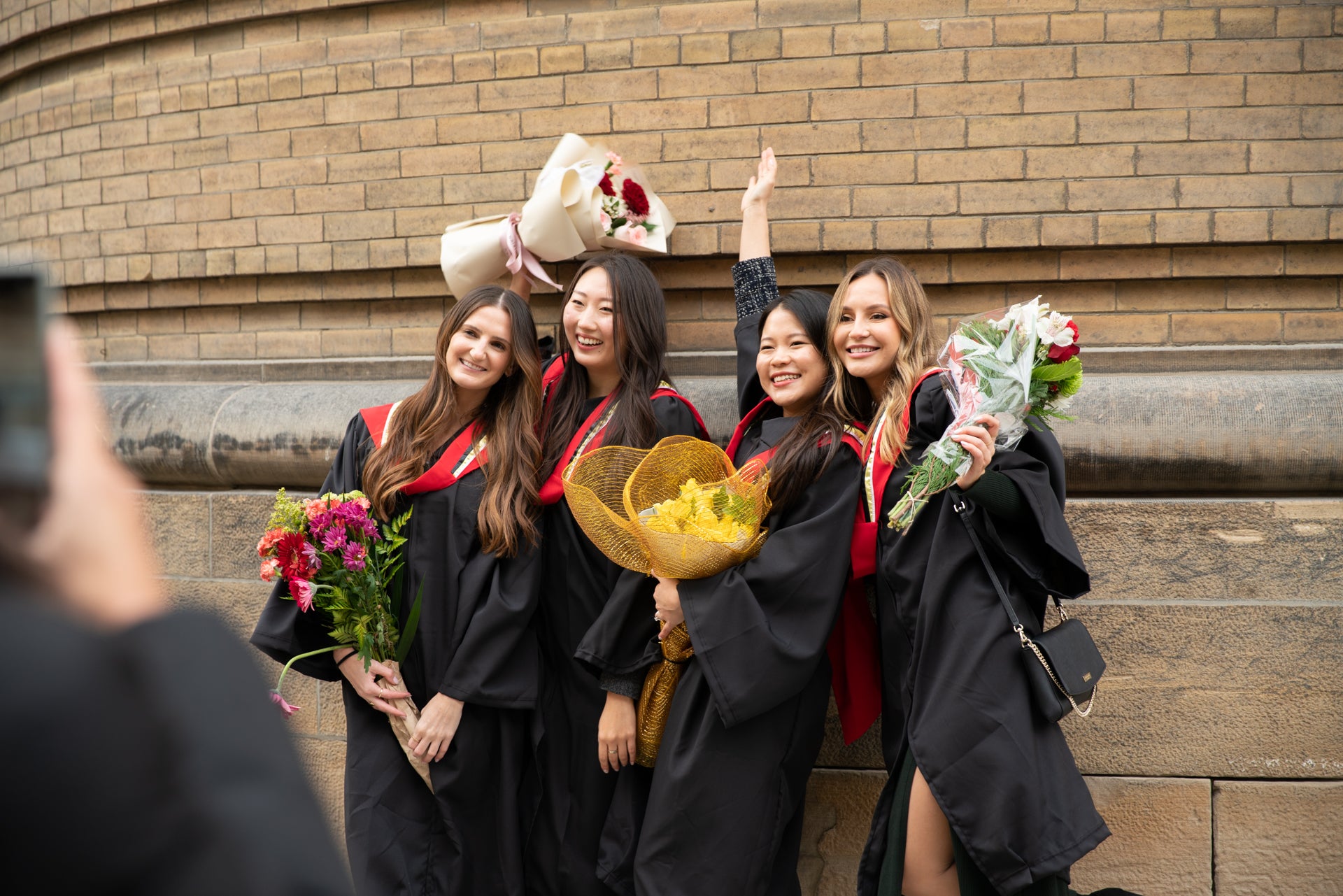 Alumnae from the Leslie Dan Faculty of Pharmacy pose for a photo and show off their bouquets in front of Convocation Hall. (Photo by Steve Southon)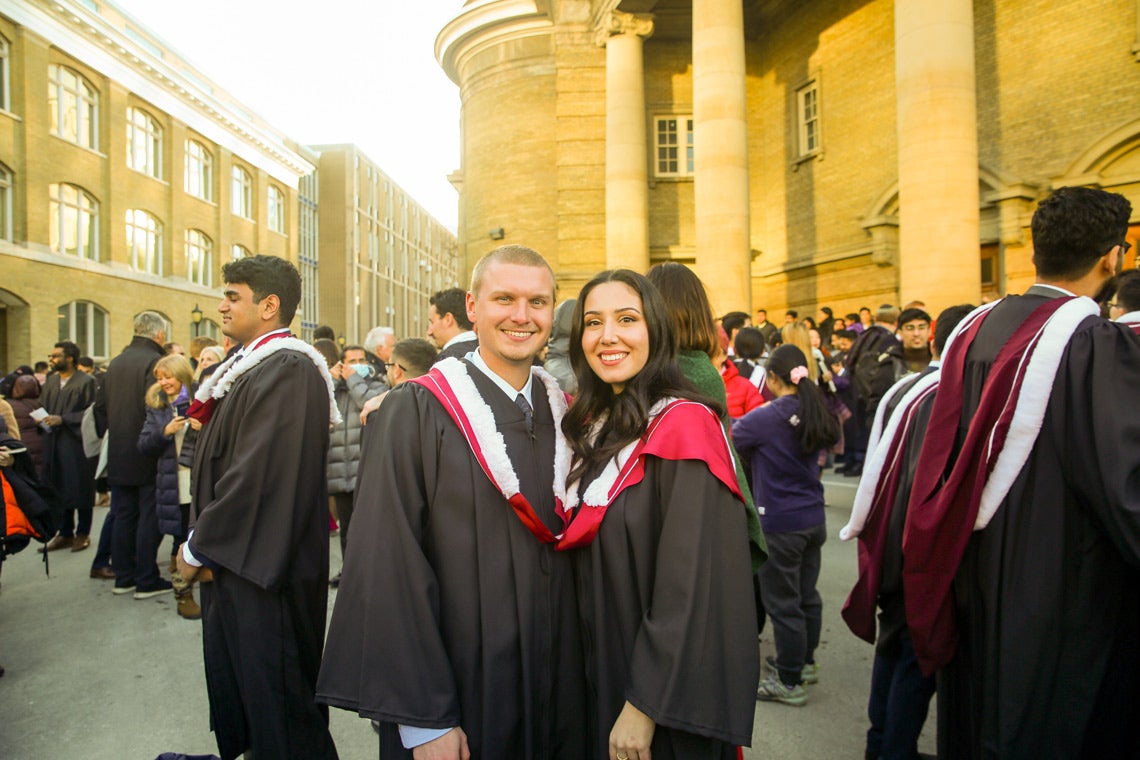 A pair of alumni from the Faculty of Applied Science & Engineering are all smiles at their graduation celebration. (Photo by Tristan McGuirk)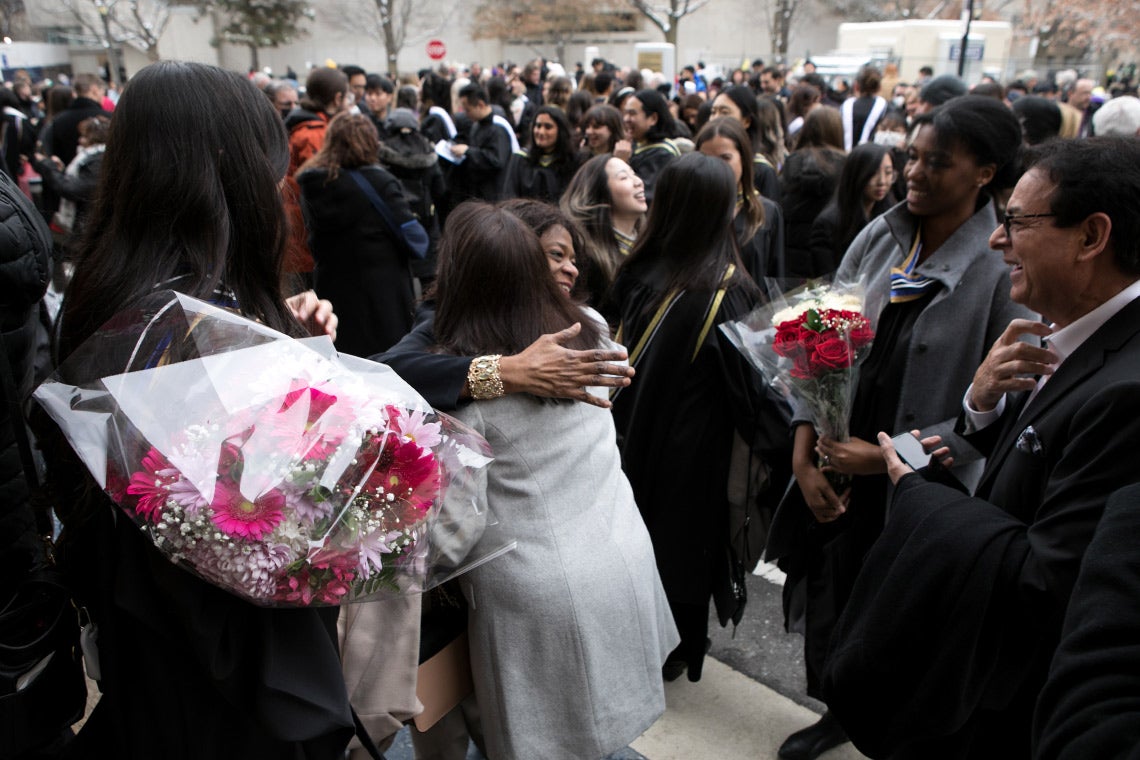 Family and friends embrace outside Convocation Hall at the graduation celebration for the Dalla Lana School of Public Health. (Photo by Dewey Chang)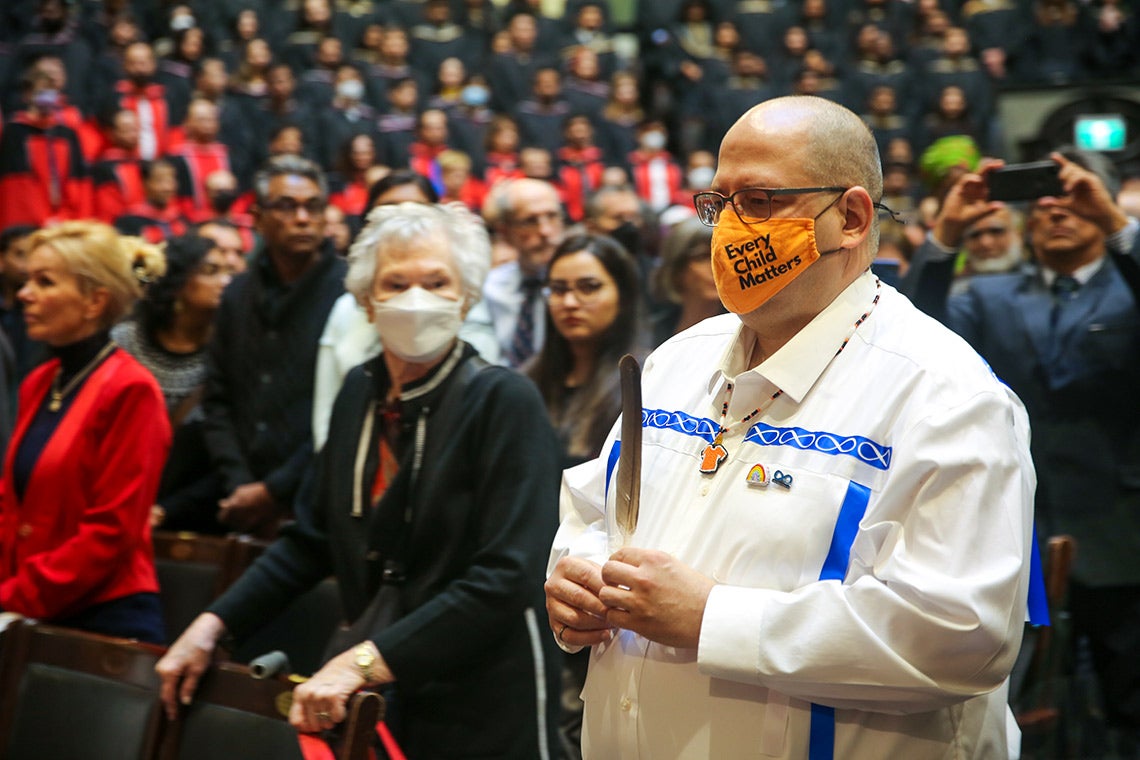 Jason Bazylak, professor, teaching stream, in the department of mechanical and industrial engineering, carries the Eagle Feather during Faculty of Applied Sciences & Engineering celebrations. (Photo by Tristan McGuirk)
Hey there, grad! An alumnus from the John H. Daniels Faculty of Architecture, Landscape, and Design waves for the camera. (Photo by Harry Choi)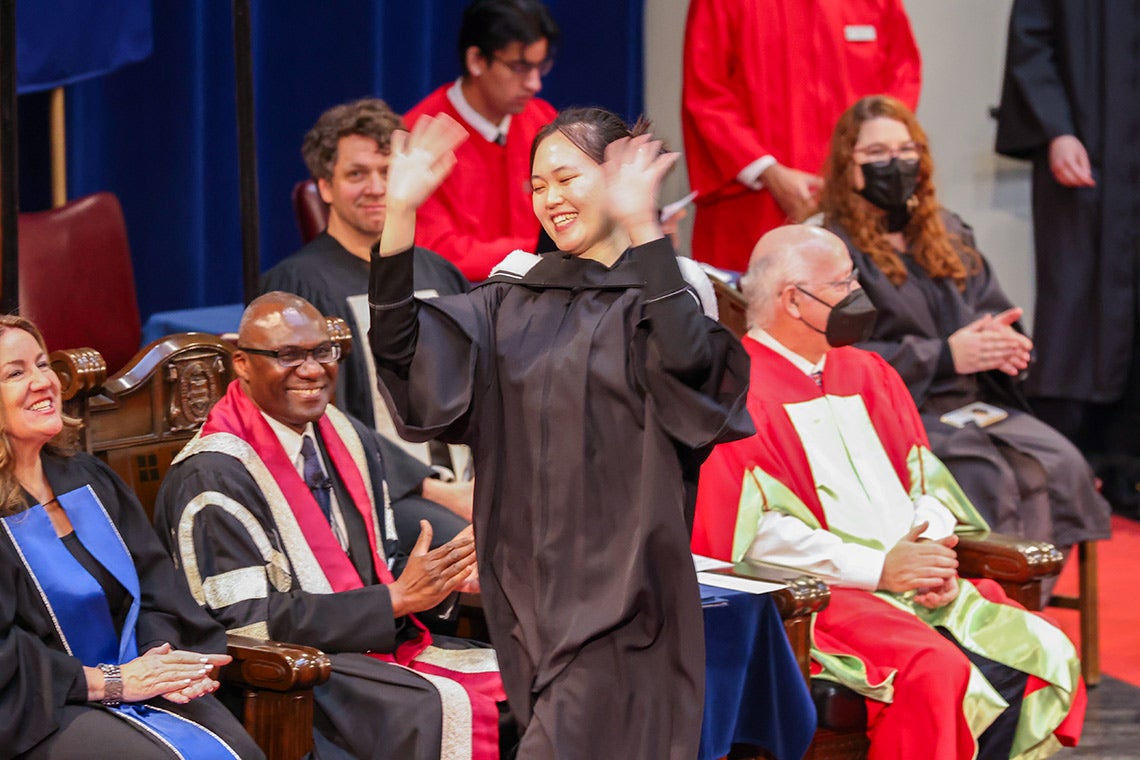 Wisdom Tettey, U of T vice-president and principal, U of T Scarborough, applauds an alumna as she waves to the crowd and crosses the stage at Convocation Hall. (Photo by Ruilin Yuan)
In this video, U of T alumni share how it feels to return to the university for their in-person graduation celebrations. (Video by Nicole In) 
UTC