In photos: Art installation offers 'futuristic' take on U of T's mass vaccination effort
Sherry Chunqing Liu says it's surreal to see artwork commemorating the University of Toronto's role in the COVID-19 mass vaccination effort finally on display.
The installation, which Liu spent months putting together, is located in the Exam Centre on the St. George campus – the same building that once hosted a vaccine clinic.
It features the paintings of Greg Ellwand, a former clinic volunteer-turned-artist-in-residence.
"Sometimes I visit the building and I see people reading the artist statement or looking at the artwork and I feel really moved by that because people are taking a little bit of time in their very busy lives to just ponder and appreciate art," says Liu, who is a first-year student in the master of visual studies program at the John H. Daniels Faculty of Architecture, Landscape, and Design.
As for Ellwand, he says it's an "extraordinary feeling" knowing his paintings are on display.
"I've been carrying these pictures around with me in my hand for about a year and now suddenly they are on the wall," he says. "It's like my imagination and my mind has exploded and escaped from me and they are splattered all over the wall.
"I love the buzz."
The Exam Centre on McCaul Street was home to one of three U of T-hosted vaccine clinics during the pandemic. It was run by University Health Network, Sinai Health and U of T clinicians and administrators. In the end, more than 90,000 vaccines were administered to the public at the St. George site. The two other clinics were hosted by U of T Mississauga and U of T Scarborough. All together, U of T-hosted clinics delivered more than 455,000 shots to members of the local community.
Here is a sneak peek of the Exam Centre art installation on the St. George campus:
---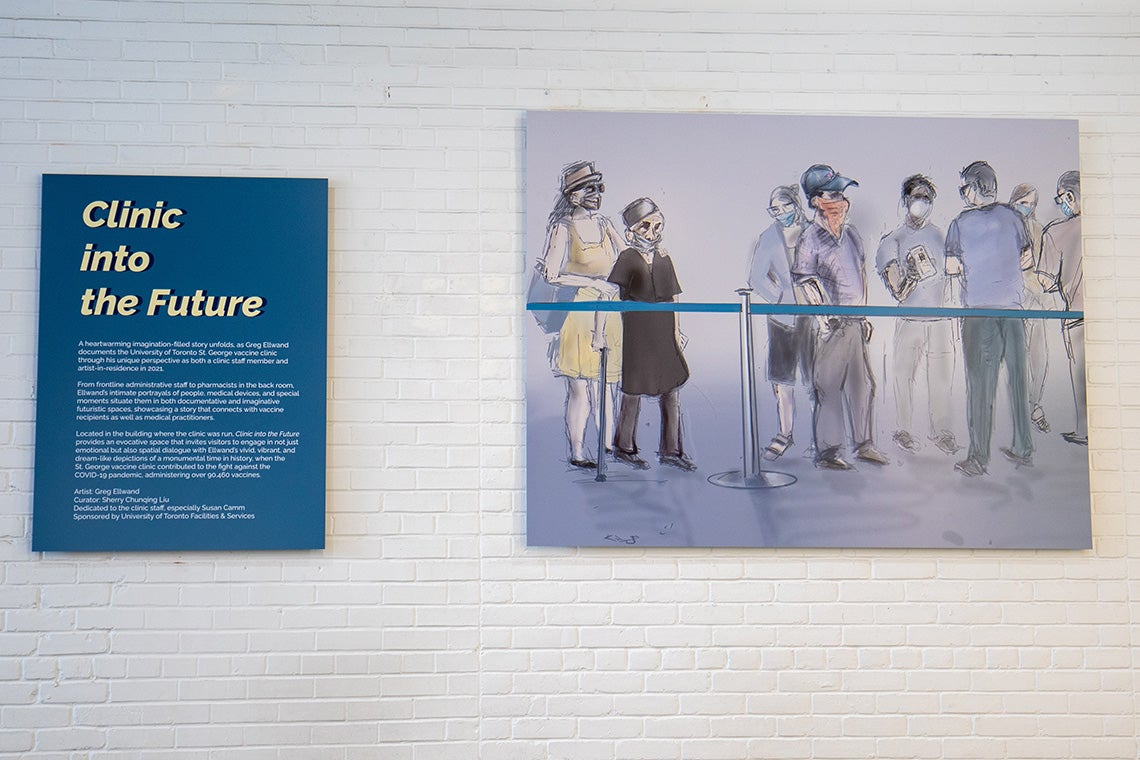 (Photo by Mariam Matti)
The first painting displayed near the entrance of the Exam Centre – titled Five Questions – depicts the clinic's check-in area. The exhibit itself, called Clinic into the Future, will be on display indefinitely.
Liu says she hopes visitors appreciate the positioning of the artwork, which begins with Ellwand's early sketches before moving into his later pieces that feature more colour and futuristic elements.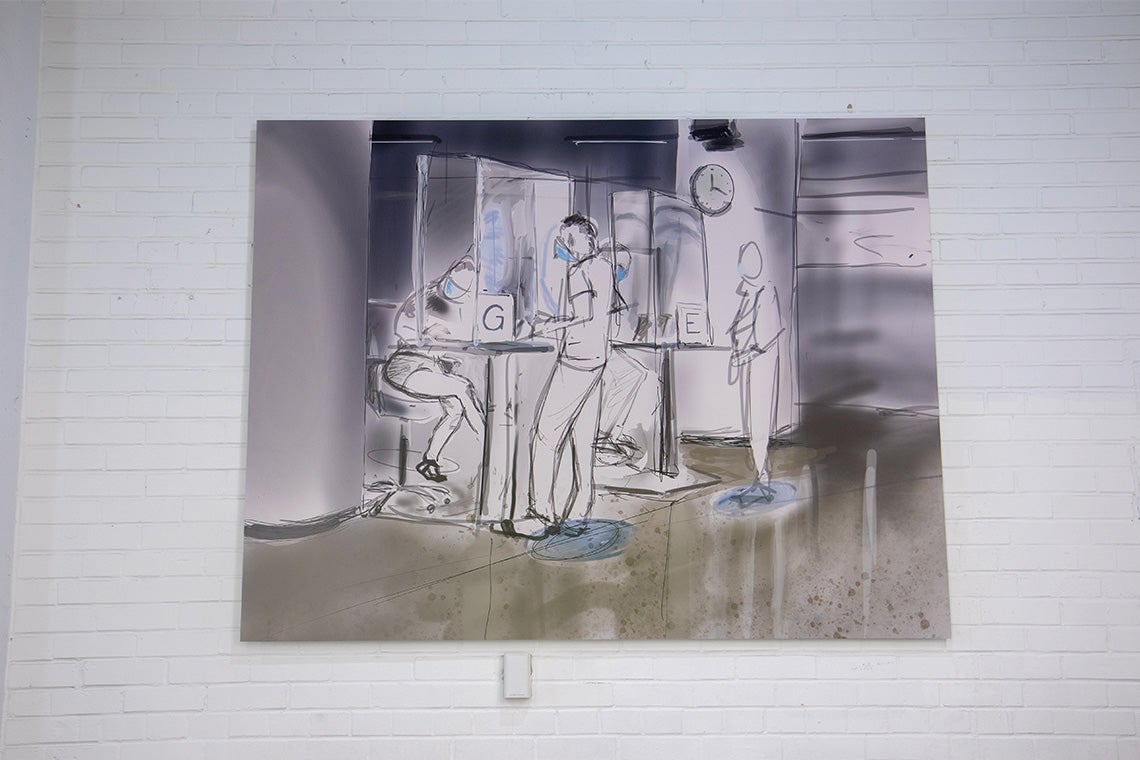 (Photo by Mariam Matti)
The next piece – Openers Check-in ­– is another of Ellwand's early sketches, which he completed before he was tapped to be the clinic's official artist-in-residence.
"There is a contrast between the ones at the entrance and the ones at the back," says Liu. "That's why I decided to design this positioning. I drafted the mock-up and Greg really liked the idea of progressing through the space."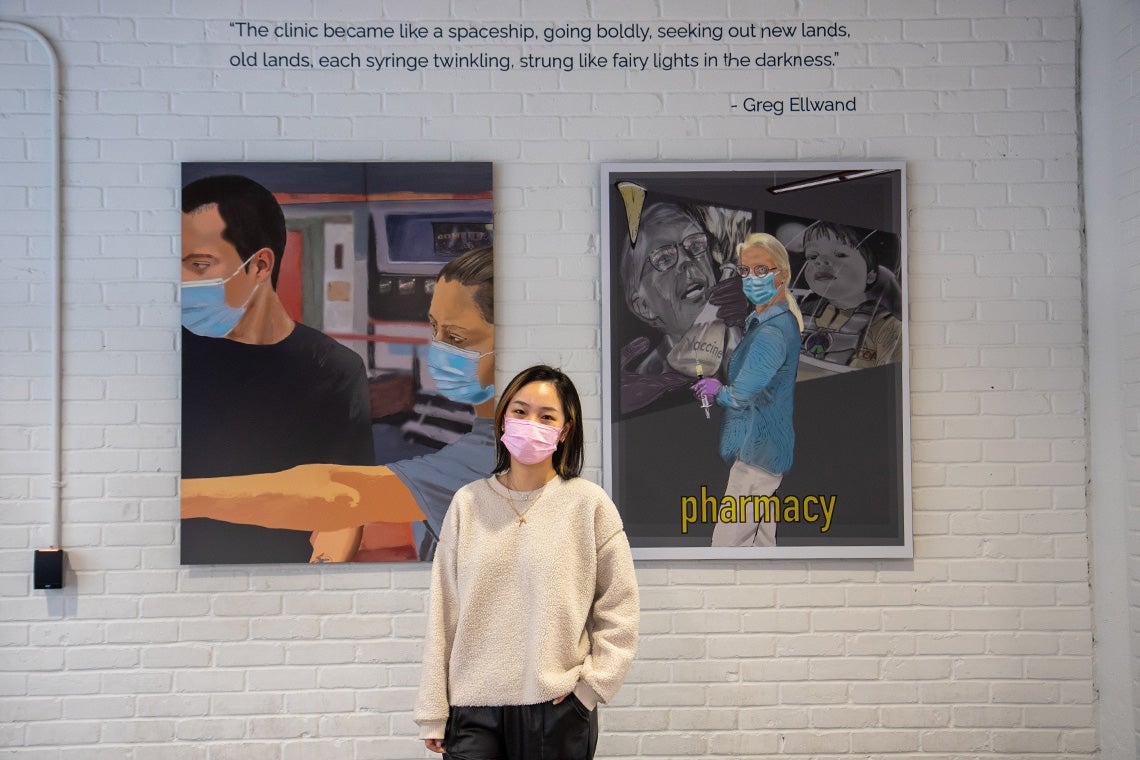 (Photo by Mariam Matti)
Liu stands in front of the paintings titled All Systems Go and Dreamer Realist, which depict a more vibrant take on the clinic. A quote from Ellwand is painted on the wall above them.
"When people walk to this area, they are like, 'Wow, these are very futuristic', which isn't our traditional understanding of what a clinic is. So the quote above can help them think about why Greg used these artistic choices," Liu says.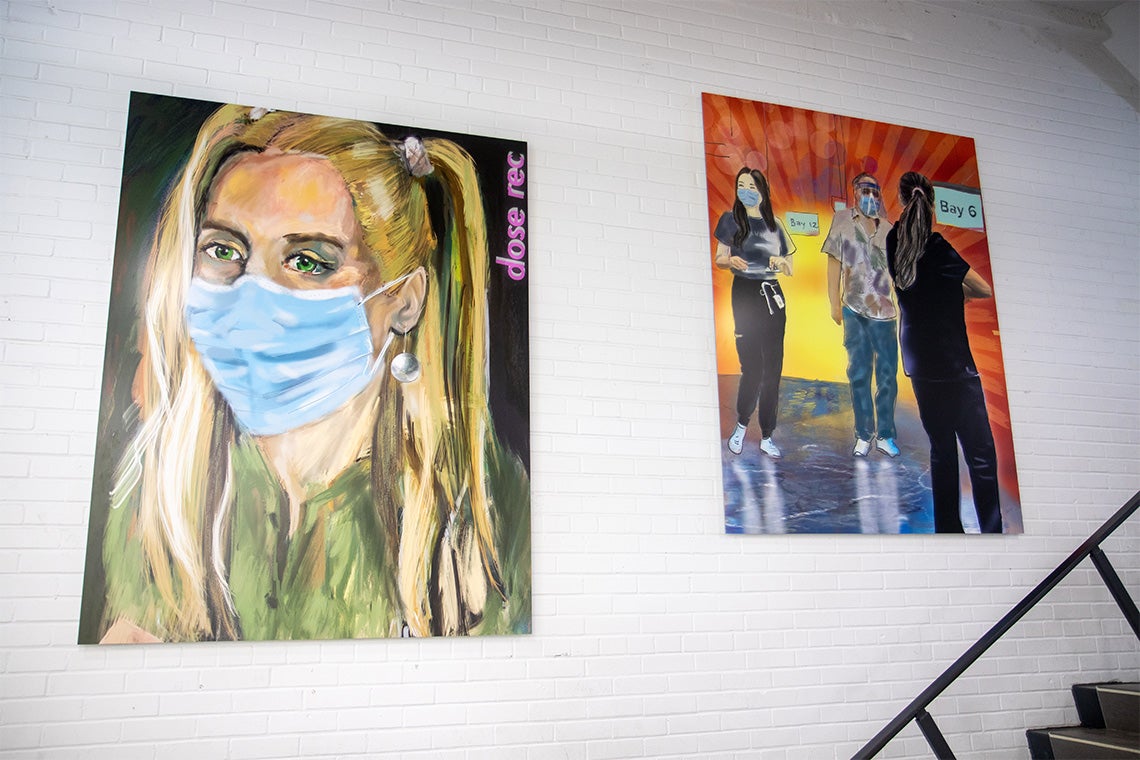 (Photo by Mariam Matti)
Liu says as Ellwand spent more time as the artist-in-residence, he became increasingly creative with his interpretation of his surroundings. These paintings are titled There is Light and The Angels of Vax Alley.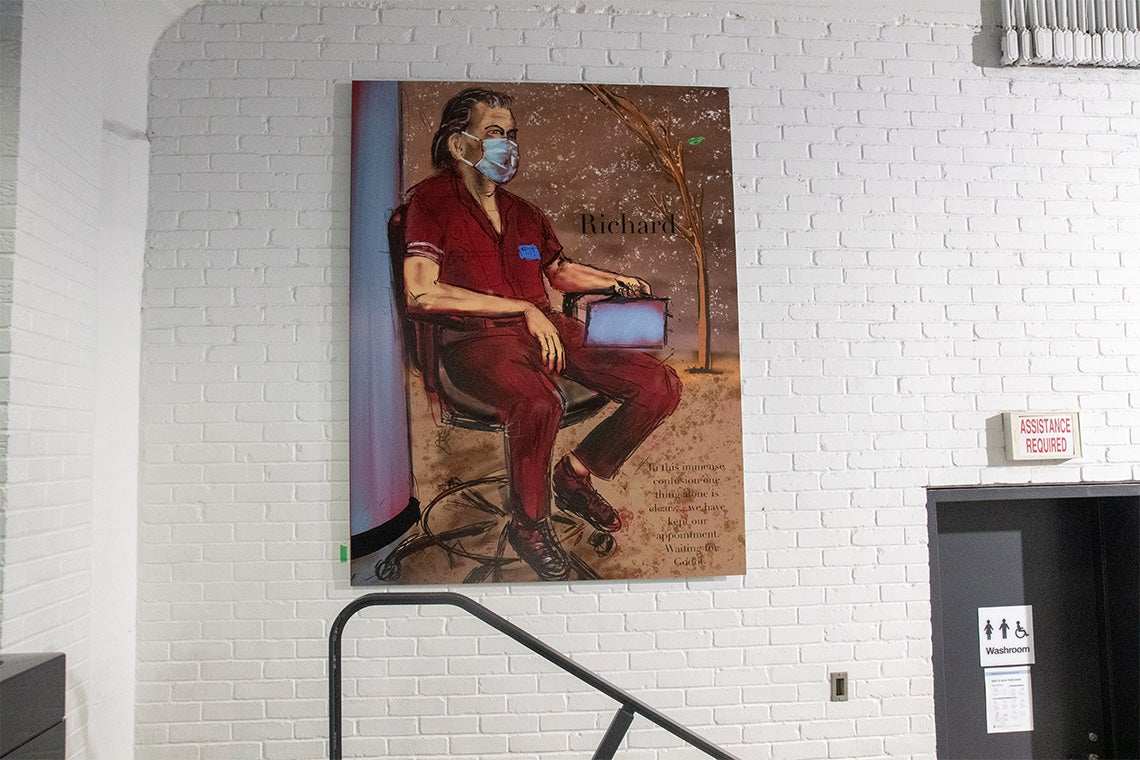 (Photo by Mariam Matti)
In this painting – Gatekeeper Check-out – Ellwand depicts one of his colleagues, Richard, who appears to be waiting for a post-pandemic future that has yet to arrive.
Ellwand says the scene reminds him of one of his favourite plays: Samuel Beckett's Waiting for Godot.
UTC