Photographer Edward Burtynsky's new show focuses on environmental challenges 'at our doorstep'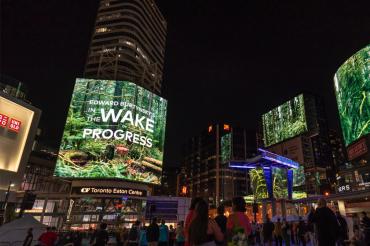 Earlier in his career as a photographer and artist, Edward Burtynsky saw an opportunity to dedicate his life's work to a single idea: humanity's impact on the planet. 
In the 1980s, Burtynsky saw the growing sustainability challenges posed by the combination of heavy industry and billions of people.
His work would ultimately take him all over the world – and garner numerous awards and accolades – as he captured how humanity is reshaping the Earth through resource extraction, urban sprawl and manufacturing, to name a few. 
"I became an observer of the human condition at the scale of industry – building cities and transport systems, making clothes, all that stuff," Burtynsky says. "There is a whole other world that exists that we don't see. 
"I thought the camera was the perfect tool to bring that world into our consciousness." 
Over the years, Burtynsky – who received an honorary degree from U of T in 2017 and supports the Natural Curiosity Environmental Education program at the Ontario Institute for Studies in Education's Dr. Jackman Institute of Child Study – has produced several documentaries and photo exhibitions about environmental threats. 
But he is tackling a new medium in his latest show with the Luminato Festival. 
In the Wake of Progress premiered during the opening weekend of the festival on the massive screens surrounding Yonge-Dundas Square in Toronto. Next, the piece will be transformed into a ticketed indoor immersive experience at the Canadian Opera Company Theatre from June 25 to July 17. 
Inside the theatre, the 22-minute piece will be presented on 30-foot screens through images and film. It's produced by Canadian music "super-producer" Bob Ezrin – who helped produce Pink Floyd's The Wall among other classic albums – and features an original score by award-winning composer and sound designer Phil Strong. 
There will also be a curated gallery of photographs and high-resolution murals, two augmented reality experiences exploring the impacts and legacy of the internal combustion engine and a "Change Station," where audiences will tackle the question: "What can I do now?"
Burtynsky wants people to walk away from his work thinking deeply and emotionally about humanity's stark impact on the planet. 
"The story is very much about what we're doing to nature, how our success is pushing back the biodiversity," he says. "It's changing the nature of the oceans – we're watching coral die off, we're watching fisheries collapse." 
"We're seeing all kinds of issues – deforestation, desertification, droughts, storms, heat domes. Thirty years ago, you could say climate change is something out there. Now, we can't brush that off. It's at our doorstep." 
Burtynsky has gone to great lengths to capture his thought-provoking artwork. 
"How it appears, the time of year, the light – all those things play a really crucial role," he says. "I'll go back to a location four or five times under different lights." 
Sometimes it takes him years to gain access to a location. When he and his team wanted to travel to Norilsk in Russia's High Arctic – the location of the world's leading nickel and palladium producer – they were met with strong opposition. 
"It gets called one of the most polluted cities in the world," he says. "They said, 'There's only one story you want to go in and do, which is a pollution story.'
"We spent a year convincing them otherwise. We did get in, but they still didn't trust us. We were constantly detained and taken into immigration or police offices." 
Burtynsky has always been determined to find a way in. 
"I've always stuck to my guns. Our work is revelatory, not accusatory. We want to show the world these large-scale things," he says. 
When he's not documenting from the ground, Burtynsky is riding in a helicopter to capture stunning landscapes at altitude. Through decades of experience, he's learned how to work with the buzzing aircraft – often directing the pilot through his headset to find the right position to photograph.
"I'm trying to make the images look like I have my old-fashioned camera on a tripod, but the reality is I'm bouncing in a helicopter, shooting at high shutter speeds, trying to compose in motion. At the end of the day, it feels like it was a steady, contemplated and highly composed shot."
For an artist who has spent 40 years of his career highlighting the myriad ways humanity has negatively impacted the planet, he remains optimistic. 
"[Climate change] seems to be at the top of everyone's agenda," he says. "U of T is doing some great work in the geothermal piece and getting away from fossil fuels in their funds.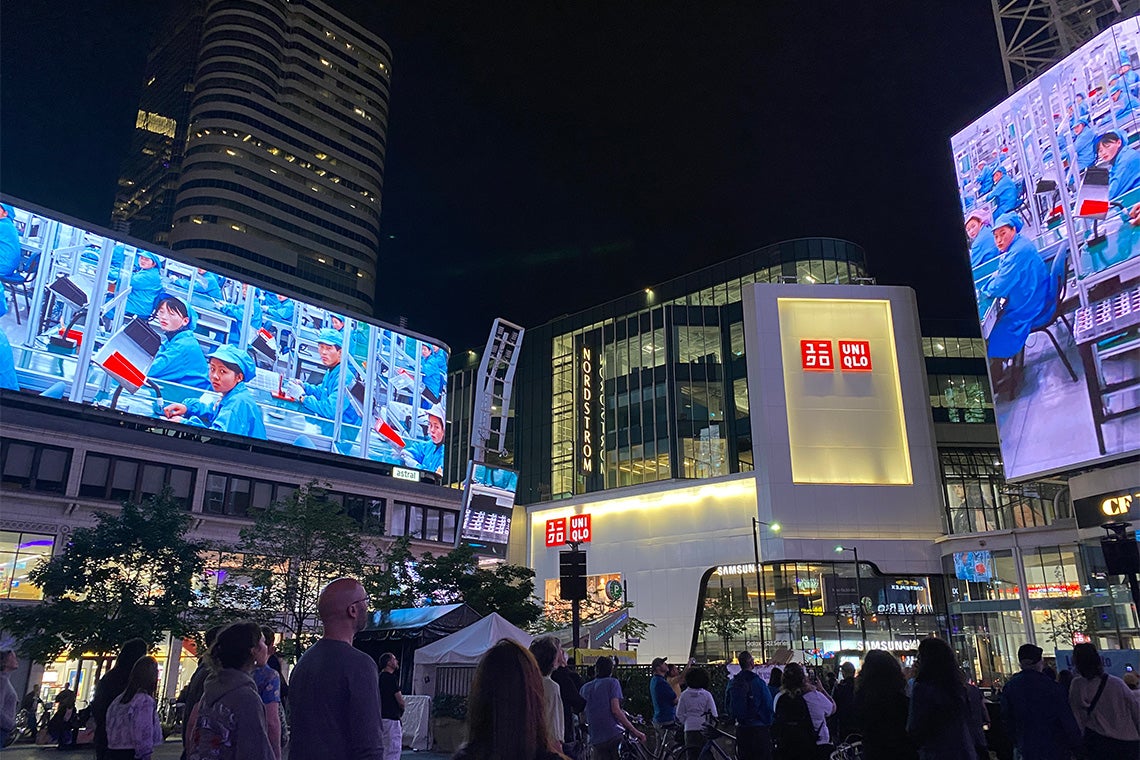 Burtynsky says he wants people to walk away from his work thinking deeply and emotionally about humanity's stark impact on the planet (photo by Jim Panou)
"The high price of gas, as much as it hurts, will be a great motivator for us to get off gas. These changes never come without some pain. Once we get the economics right on this, change happens fast." 
Born in St. Catharines, Ont., Burtynsky was exposed to industrial spaces early in his life. The General Motors plant in his hometown sparked his interest in capturing the effects of industry. 
Some of his many distinctions include Officer of the Order of Canada, the Governor General's Awards in Visual and Media Arts and eight honorary doctorate degrees – including one from U of T, which recognized him for his influence on society through his focus on environmental issues. He also received an Arbor Award from U of T in 2014 for his involvement with the Dr. Jackman Institute of Child Study, and there's an award in his name that honours three educators across Canada every year for excellence in environmental education. 
Burtynsky hopes that his new show will resonate with students, in particular. 
"I hope it facilities a conversation. When you touch them emotionally, it gets their minds thinking a different way," he says. "It's a universal story that starts with nature and ends with nature."
UTC