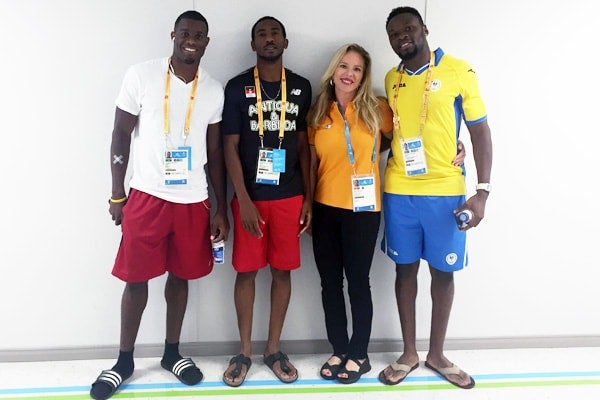 This PhD candidate and nutrition expert is helping Pan Am/Parapan Am athletes fuel up for competition
Nanci Guest on avoiding dehydration, diarrhea, while coping with nerves, new foods and more
At the Pan Am Games, anxiety and nerves can have athletes skipping meals and not drinking enough water before key events. How do you ensure they're still fueled and ready to go?
Give them sport drinks to supply carbohydrates and electrolytes, says the University of Toronto's Nanci Guest, lead dietitian to the Toronto 2015 Pan Am and Parapan Am Games. 
What about athletes with early morning competitions who can't stomach a big breakfast? Provide a "pre-competition" meal at bedtime, the night before, and then a light snack and fluids in the AM, Guest says. 
A registered dietitian and PhD candidate in nutritional sciences at U of T, Guest conducts research into high performance athletes and their unique response to dietary nutrients and supplements based on their DNA. The founder of a company called PowerPlay: Nutrition, Training, Genetics, she was head dietitian for the 2010 Winter Olympics and has worked with various international and Canadian sports teams like the Vancouver Canucks and the National Women's Field Hockey Team.
"Smaller countries often don't bring along a dietitian – it's an extra expense – and team physicians don't always have good nutritional information," Guest says. "So it's nice to have someone who specializes in this, give athletes the advice they need."
For the next four weeks, Guest is on site at the Athlete's Village, checking into meals at the dining hall, dealing with food emergencies such as athletes suffering from bloating or diarrhea. She's doing hydration tests, a wake-up call for many athletes who are unaware they're suffering from mild to moderate dehydration. And she's helping international athletes navigate culturally different foods, on standby for any athlete who has questions on food and nutrition-related issues.
For many athletes, being careful with the food they eat, especially in a different country, can be as critical to their performance as adapting to a new climate. A major competition isn't the time to experiment with new food. 
Guest says even before they fly into town, athletes need to prepare for travel days, knowing they'd be inactive and eating in airports and on planes. If they're not strict or careful with what they consume, they can gain two or three pounds within 48 hours. 
Athletes' approaches to diet have changed over the years. For example, carb-loading pre-race or pre-game is not practiced like it was in the past. Marathon runners, for example, now want to start out lighter and consume carbs along the way – with sports drinks and specialized fuel in a form resembling Jujube candy – ensuring that they have a lower bodyweight and are more agile for a quicker start, Guest says.
Last week, she reminded a tennis player to take extra sodium. Because tennis players sweat more than most athletes, they're advised to consume electrolyte drinks/powder, or to lick a dash of salt on their hand and wash it down with a sports drink or water.
"Sports nutrition has turned out to be a very complex science with many nuances that have to incorporate everything from individual food preferences and intolerances, to body composition goals, and the type of sport, to environmental stressors and psychological factors, and even individual genetics," Guest says. "We also know that the type and timing of specific nutrients can make or break an athlete's performance in training or competition at these elite levels."