PhD candidate aims to advance health equity for marginalized populations
"I am here to make a difference in the lives of others"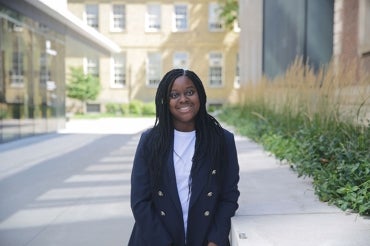 LaShawn Murray comes from a long line of engineers and educators – and though she grew up in Toronto and Oakville, she always felt connected with her family's roots in the Caribbean and South America. 
"My family taught me the importance of understanding my identity and being proud of who I am and the legacy of my community," says Murray, who is a PhD candidate in the University of Toronto's department of mechanical and industrial engineering in the Faculty of Applied Science & Engineering. 
"I have been reminded that I am here to make a difference in the lives of others." 
That motivation led Murray to the health sciences. She recently completed her master's degree in health informatics at DePaul University in Chicago. It was there that she first became aware of the field of human factors engineering in health care.  
"I took a course called System Design in Healthcare, taught by Professor Enid Montague," she says.   
"My research for the course examined unintentional acetaminophen errors and overdose in children through a system analysis of the role of parents and caregivers in the home administration of acetaminophen. This project demonstrated the interdisciplinary nature of human factors engineering."  
Murray is one of three 2023 recipients of the IBET Momentum Fellowships, along with fellow graduate students Raylene Mitchell and Chantel Campbell. Fellowship recipients receive financial support, mentorship, training and networking opportunities to foster a robust professional community.  
For her PhD at U of T, Murray will once again be working with Montague, who joined U of T's department of mechanical and industrial engineering as an associate professor in 2022. She will also work with Assistant Professor Myrtede Alfred. Both professors are working to understand disparities and improve safety and outcomes in marginalized populations both within Canadian and American contexts.  
"My proposed doctoral research aims to explore the role of human factors engineering in advancing health equity for marginalized populations with an intentional focus on the health of Black communities," Murray says.   
"Specifically, I'll be examining the role of automation in primary care. Automating certain types of clinical work can improve clinician work life and professional well-being, mitigating burnout. This in turn can improve access to quality care for patients.  
"But in order to decide what to automate and how to go about it, we need to first understand whether historically and currently marginalized communities have equitable primary care experiences, and then design our systems accordingly."  
Murray says that she is proud to be a recipient of the IBET Momentum Fellowship.  
"I am appreciative that the university recognizes the historic and systemic barriers faced by Black and Indigenous students," she says.  
"This fellowship affords me the opportunity to deepen my scholarship through mentorship opportunities with industry leaders and professors whose work focuses on artificial intelligence and human factors engineering."  
In addition to her scholarly work, Murray says that helping to nurture the next generation will be a key focus over the next few years.  
"Working within the community is part of my lived experience, and I expect to continue with this endeavor through mentorship with young students who will be able to see this as a pathway for the future," she says.  
"I'm hopeful that through this fellowship and my doctoral studies, I can encourage others who look like me to pursue opportunities within the intersection of STEM and academia." 
Engineering