U of T expert on anxiety and needles tapped to support COVID-19 immunization campaign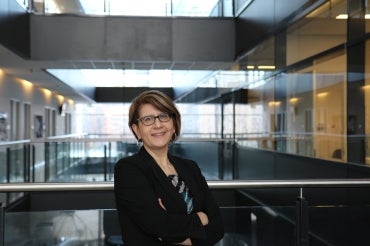 For Canada's immunization drive to succeed, many will have to overcome their fear of needles to get one or more doses of a vaccine against COVID-19. 
Anna Taddio, a professor in the University of Toronto's Leslie Dan Faculty of Pharmacy, has designed and tested a strategy to reduce pain and discomfort surrounding vaccinations. This week, her program received $500,000 in federal funding to "design and implement pain mitigation strategies for adults" in support of the country's mass vaccination campaign. 
Taddio's CARD system (short for Comfort, Ask, Relax and Distract) addresses fear of needles through pain management and coping strategies. With the funding from the Public Health Agency of Canada, Taddio's system will be shared with health-care networks and the public to help people feel more comfortable when receiving their shots. 
"CARD is a tool that helps people to identify sources of fear or anxiety around getting needles and ways to reduce them," Taddio said. 
"By inviting people to choose what suits their needs and preferences, we can improve their experiences and promote confidence in vaccination. This can increase vaccine uptake."
More than 21 per cent of Canadians received their first dose of vaccine as of April 23, but just 2.37 per cent have received two doses. 
Taddio and a team of researchers previously tried out the CARD system in 10 Niagara Region schools, finding that it had a positive impact "on student knowledge, attitudes, use of coping strategies and some vaccination symptoms. On vaccination day, school nurses following the CARD system asked students which "card" they wanted to play to increase their comfort. For example, they could opt for "A" and ask to be vaccinated in a private place, or "D" and be given the option to distract themselves with an electronic device. 
Niagara Region implemented the CARD program across all schools in the area. 
"The school vaccination context is similar to our current approach to COVID-19 vaccination as it qualifies as 'mass immunization,'" Taddio said. "We want to remove pain and fear related concerns as barriers to vaccination for everyone."
Taddio's system was one of two projects to share $2.25 million in federal funding announced during National Immunization Awareness Week. 
The other, Science UpFirst, is a project created in partnership between the Canadian Association of Science Centres, COVID-19 Resources Canada and the Health Law Institute at the University of Alberta, targeting misinformation surrounding vaccines.
"This year's National Immunization Awareness Week comes at a critical stage in Canada's COVID-19 response," said Minister of Health Patty Hajdu in a statement. 
"This funding will help trusted leaders within the science and healthcare communities share credible information on vaccines and address barriers people face in getting vaccinated."
UTC