Peter Loewen appointed director of U of T's Munk School of Global Affairs & Public Policy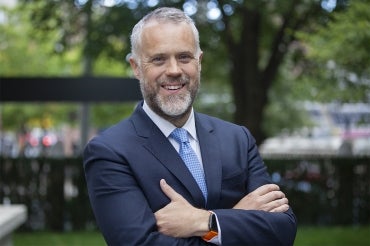 Professor Peter Loewen, a leading political scientist, has been appointed as the new director of the University of Toronto's Munk School of Global Affairs & Public Policy.
Currently the Munk School's associate director for global engagement and director of PEARL (Policy, Elections and Representation Lab), Loewen will assume his new role on Nov. 1, 2021 for a term that ends on June 30, 2026.
"I am honoured and humbled to be the director of the Munk School," said Loewen. "I have a deep connection to the school and I believe that we have a vital role to play in convening important conversations, producing rigorous and relevant research, and educating students to have broad, multi-disciplinary perspectives. The Munk School's centres have exceptional regional expertise and our labs are at the forefront of their fields.
"We live in a time of shifting powers and great global challenges – the Munk School is generating and sharing answers for a world that wants to know how democracies will fit in a changing global order, how we can continue to equitably increase prosperity and how we can live in an increasingly digital world."
Loewen holds a bachelor's degree in political science from Mount Allison University and a PhD in political science from the Université de Montréal. He joined U of T Mississauga in 2010 as an assistant professor in the department of political science, receiving tenure and promotion to associate professor in 2015 and promotion to professor in 2018. He has held visiting positions at the University of Melbourne, Princeton University and Stanford University.
He served as director of U of T's School of Public Policy and Governance from 2016 until its amalgamation with the Munk School of Global Affairs in 2018. From 2013 to 2016, he was the director of the Munk School's Centre for the Study of the United States. Loewen is a senior fellow at Massey College, a fellow of the Public Policy Forum and an associate director at U of T's Schwartz Reisman Institute for Technology and Society.
Loewen's research focuses primarily on how politicians can make better decisions, how citizens can make better choices, how governments can address the disruption of technology and harness its opportunities, and the politics of COVID-19. He has been published in several leading journals and he is the co-editor of four books. He is a frequent contributor in Canadian and international media, providing opinion and commentary in prestigious news outlets including the New York Times, the Washington Post and the Globe and Mail.
In his capacity as associate director, global engagement, Loewen has led discussions with leading thinkers from across the political spectrum. He chairs the David Peterson Public Sector Leadership Series and is a co-organizer of both the North American Colloquium and the Canada-UK Colloquium.
"Professor Loewen has distinguished himself as a leading academic and a convenor, bringing together scholars, politicians and practitioners to discuss some of the most pressing issues of our time," said Melanie Woodin, dean of U of T's Faculty of Arts & Science. "He is an excellent choice to direct the Munk School and has been instrumental in building the school as we know it today."
Loewen says he looks forward to working together with students, faculty, staff and the school's fellows to advance new initiatives and to continue to foster a strong sense of community within the school. "In addition to building on the success of our degree programs and bolstering our public engagement, one of the key priorities over the next few years will be to complete the construction of the academic wood tower," says Loewen. "Through the tower, we have the opportunity to come together as one school and create a shared culture and sense of place."
Loewen assumes the role of director from University Professor Cheryl Misak, who has served as interim director since December 2020, following the departure of Michael Sabia, who was appointed deputy minister of finance.
"We are fortunate to be building on both Cheryl's and Michael's leadership," said Loewen. "Through the creation of our strategic plan, the appointment of thematic leads and the hiring of new faculty to augment the school's four areas of focus – the Digital World, the Political Economy of Innovation, the Changing Global Order and the Future of Democratic Societies – we are in an excellent position to grow the Munk School's reputation and influence around the world.
"At the Munk School, we have exceptional faculty from multiple disciplines, each of whom brings an important lens to the study of global affairs and public policy. Through our areas of focus and the strength of our regional expertise, we will continue to produce cutting-edge research, shape global conversations and contribute ideas with real-world impact."
Munk