Peter Jüni talks to CBC about his time as the Ontario COVID-19 Science Advisory Table's scientific director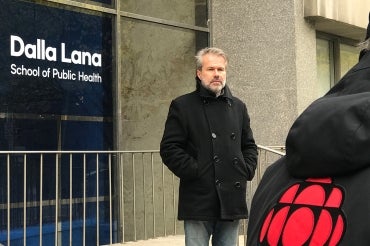 As scientific director of the Ontario Science Table, Peter Jüni sought to provide accurate and clear advice to the government throughout the pandemic – even if he had to deliver bad news. 
"I just tried in every moment just to give an honest and hopefully understandable response," Jüni, a professor at the University of Toronto's Dalla Lana School of Public Health and Temerty Faculty of Medicine, told CBC News. Jüni, who is originally from Switzerland, spoke to CBC before taking up a tenured professorship in the department of population health at the University of Oxford. 
"When I was just a clinician still working with patients, if you have a difficult message, you need to convey it. I think there is only one way that this really works, which is be soft, but honest." 
Adalsteinn Brown, who co-chairs the table and serves as dean of Dalla Lana, praised Jüni's consistency, commitment and "raw intelligence."
Jüni will be succeeded as scientific director of the table by Fahad Razak, an assistant professor at Dalla Lana and the Temerty Faculty of Medicine, and an internist and epidemiologist at St. Michael's Hospital, Unity Health.  
UTC