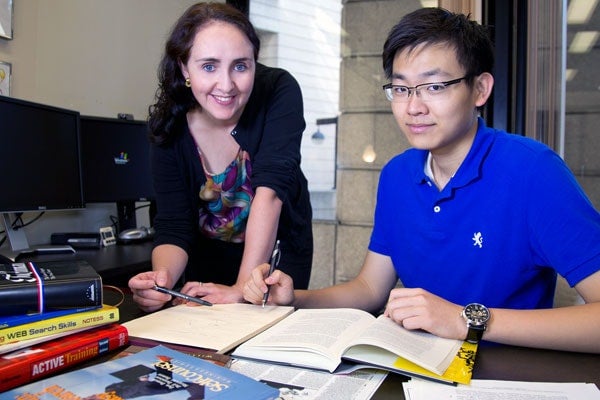 Personal librarians for first-year students
Helping undergrads explore one of the top three library systems in North America
Last fall, first-year student Helen Rudnicki received an intriguing email at her brand new utoronto address.
Signed by librarian Jacqueline Whyte Appleby, the message welcomed Rudnicki to the University of Toronto and offered her something special – personalized help coming to grips with St. George Campus's 42 libraries.
"I thought that was pretty cool," says Rudnicki, an archeology major who attends New College. "A lot of my friends didn't go to the library at all, but I always had books. There's a lot of material you can't get online."
That's exactly why U of T started the Personal Librarian Program, says Rita Vine, faculty liaison and information literacy co-ordinator for University of Toronto Libraries and administrative lead for the project: first-year students just didn't seem to be using the library.
"I came up with the idea after doing research on similar programs at Yale and Drexel University," she says, adding that the John M. Kelly Library at U of T's St. Michael's College has run a similar project for several years and shared data with her.
During last year's pilot project, Vine and Appleby matched 1,000 incoming students with 10 librarians who work across St. George Campus – from Trinity College to Robarts Reference Department to OISE. About 200 students took up the offer of help, says Vine.
"That ranks among the highest levels of take-up [among similar programs] that we're aware of."
The librarians explained everything from how to read a call number and write a citation to how to find non-academic services on campus. All contact was through email.
"A lot of the time I didn't know where to start at all," says Rudnicki. "I was able to give the librarian a topic and she would help me narrow it down, give me places to look and [teach me] how to search."
"Students may not even know that they can ask for help," says Vine. "By creating an intentional connection to a librarian, we're helping them meet one more person in the university who cares about their academic success."
Vine wants to expand the program, but says there aren't enough librarians to reach out to all 7,000 first-year students in Arts and Science on the campus.
"We'll require more administrative and librarian resources."
In the meantime, 2,000 frosh were emailed this fall, and approximately 24 librarians are participating.
For students who haven't been assigned a personal librarian, Vine offers an insider secret.
"One of my favourite 'hidden' resources is a set of bibliographies on many subjects," she says. "Prepared by experts, each item has an abstract that can help you figure out if the article is suitable for your assignment – a big time-saver for busy students. The trick is to look under 'Oxford Bibliographies Online' in the library catalogue."
Bonus: many paywall-protected articles are free when accessed through the library website.
This article originally appeared in the U of T Magazine. to read more U of T Magazine articles visit www.magazine.utoronto.ca