Pen-pal Project connects U of T medical students with people experiencing homelessness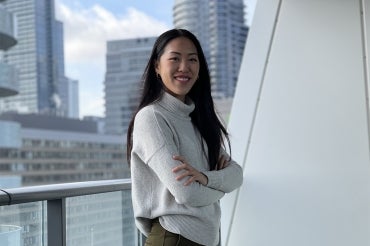 A new initiative at the University of Toronto's Temerty Faculty of Medicine is giving a voice to people from marginalized backgrounds and helping students deepen their understanding of future patients.
The Pen-pal Project matches medical students with community members who've experienced homelessness. The pairs exchange a series of letters that bolster compassion among the learners while helping to empower their pen-pals.
Jackie Tsang, a third-year medical student who is vice-president, education in the Social Justice for Medical Education club, spoke with writer Erin Howe about her involvement with the Pen-pal Project and how it's being adapted to include more participants and a broader curriculum.
---
How does the Pen-pal Project work?
My third-year colleague Ivona Berger and I partnered with HouseLink, which provides supportive housing and other programs to people with mental health and addiction issues. In the first letter last fall, 11 students asked their pen-pals about their life circumstances and past experiences with medical professionals. Over the course of the month-long pilot, participants developed meaningful relationships with one another.
What inspired the Pen-pal Project?
I have lived experience with financial and housing insecurity. My parents are immigrants and throughout their lives they've faced discrimination because of their low socio-economic status. I've always recognized this as part of my identity, but didn't realize the gravity of it until I reached post-secondary education.
While I was in university in London, Ont., I noticed a glaring financial disparity between myself and most other students. I was also shocked by the degree of apathy towards the homeless population. I started a local branch of the non-profit organization #HashtagLunchbag, which brings together volunteers to assemble lunch bags for people experiencing housing insecurity. There are a lot of misconceptions about people in these circumstances and I thought #HashtagLunchbag would help address and dispel them. The program also became the impetus for me to apply my interest in inner-city health in my role as a medical student.
Ivona and I inherited this project from fourth-year medical students Abirami Kirubarajan and Seiwon Park, who came up with the idea of using a pen-pal program to teach our peers about empathy for homelessness.
How has this experience changed the way participants think about homelessness?
Through the letters, students got to read about the varied nature of their pen-pals' personal experiences and the impact of different life events that were beyond their control. Things like a financial crisis, mental health issues or traumatic childhood events can contribute to precarious housing – things no one would choose for themselves.
The students also developed new communication skills. For example, some students were paired with pen-pals whose first language isn't English and had to tailor their writing to their pen-pal.
Participants said they developed stronger advocacy skills by learning about different resources and people who advocate for their pen-pals. Students said they gained better insight into how their actions and words as future medical professionals can have a profound impact on somebody's life and relationship with the health-care system.
What are the next steps for The Pen-pal Project?
We're working with Associate Professor Fok-Han Leung, director of the health in the community curriculum for the MD Program, and experiential learning lead Roxanne Wright to integrate The Pen-pal Project into the community-based service learning curriculum. It's a social distancing-friendly way to engage with the community, so it's timely that we've just finished our pilot and are ready to hit the ground running with it.
We're also looking to expand the program to include people from other disadvantaged or marginalized groups who may have intersecting factors that influence their health. In the future, we hope to pair groups of student participants with community members to exchange letters throughout their second year of medical education.
We'll also share students' experiences with the pilot through a qualitative study we wrote to highlight the project's themes, and which we have submitted for publication. I'm also scheduled to give an oral presentation on the project at the Canadian Conference for Medical Education, as well as one at U of T's Medical Student Research Day, which is a huge privilege.
How does it make you feel to see this project grow to include more students in a more formal way?
Honestly, this is beyond what I ever thought possible. My goal was to educate my peers about homelessness and health. And I'm glad it has this broader implication of learning about other marginalized populations as well.
When I was applying to medical school and preparing my "about me" statement for my interviews, I had crushing feelings like, "I shouldn't even apply." Then, I remember reading about a medical student at U of T who is now a physician, Dr. Stephanie Zhou, whose opinion piece about growing up experiencing low socio-economic status gave me a new outlook on how to leverage my lived experiences.
I remember a conversation with my dad, who didn't get to go to post-secondary school and invested every cent he could into making sure my sister and I had what we needed. When I wanted to apply for a medical school entrance bursary, I asked him to fill out the financial forms with me. He said no – why would anyone want to accept a student in financial need?
I was so frustrated in that moment. But reflecting on it, I totally understand where he was coming from – he had been discriminated against and faced inequities because of his socio-economic status and it seemed logical that applying to medical school would be no different.
I'm really glad that, as a medical student, I can dispel myths about people who might not have grown up in the best financial circumstances. And I'm glad to pave a road for future students like me. I hope they're inspired and comforted to know they're not alone.
Medicine