'A part of my identity now': Meet U of T's four Schulich Leaders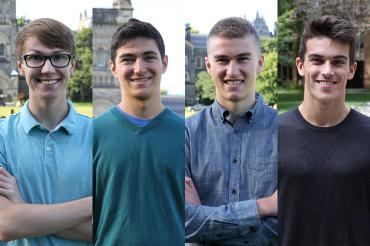 As they begin their post-secondary lives, four University of Toronto recipients of prestigious Schulich Leader Scholarships have already forged a bond.
Aidan Britnell, Adam Glustein, Caleb Lammers and Tommy Moffat are four of 50 students nationwide named Schulich Leaders, a scholarship program that recognizes and connects top students in STEM (science, technology, engineering and mathematics).
Selected among 1,400 nominees, the 50 students have been recognized for a combination of community, business and entrepreneurial leadership, as well as academic excellence and financial need. They receive entrance scholarships valued at $100,000 for undergraduate studies in engineering, and $80,000 for students in science or mathematics – and gain access to a large network of students and mentors.
It is that network that Britnell, a Burlington, Ont., native who is attending U of T Mississauga, finds just as valuable as the scholarship funding.
"I feel more like a leader in the sense that I'm able to connect and network with all the other people through the Schulich network," says Britnell, who will be studying in the computer science, mathematics and statistics program.
In 2012, businessman and philanthropist Seymour Schulich established a $100-million scholarship fund to encourage students to become the next pioneers of global scientific research and innovation. To date, about 370 Canadians have been named Schulich Leaders.
"These students will make great contributions to society, both on a national and global scale," Schulich says. "With their university expenses covered, they can focus their time on their studies, research projects, extracurriculars, and entrepreneurial ventures.
"They are Canada's next generation of technology innovators."
U of T News spoke to U of T's four new Schulich Leaders about their interests and their first few weeks on campus.
---
Aidan Britnell

From King's Christian College in Burlington, Ont.
Computer science, mathematics and statistics student
U of T Mississauga
As a high school student, Aidan Britnell first volunteered and then worked in the school's IT department, maintaining its server and network infrastructure.  
"It was really good for gaining practical operations experience," he says.
Working there from Grades 9 to 12, he says he was grateful for the opportunity to try things he wouldn't normally get a chance to do. In Grade 11, he successfully pitched a mobile app he created that allowed students to store their student cards electronically.
"It's better for students because it's always with you – you never lose your phone – and it's better for the school because you don't have to print plastic cards and get some company to print them," says Britnell, recalling his pitch.
Students continue to use the app, he says, adding that he hopes to develop a similar app for other schools.
He intends to specialize in information security.
For now, he is adjusting to life at U of T Mississauga, where he says he has been able to connect with other students.
"There's so many different orientation events. I'm not scared, just excited for learning and meeting new people."  
Caleb Lammers

From St. Ignatius High School in Thunder Bay, Ont.
Mathematics and physics student
St. George campus
When his high school didn't offer any STEM-related clubs, Caleb Lammers and his friends decided to create their own.
With a teacher's help, they established the school's first robotics team with an organization called FIRST Robotics, which builds robot fighters for competitions.
The team became very popular, with 25 to 30 students participating each school year.
"By the end of it, I was loving the programming I was doing and having fun teaching the younger kids and giving them a real introduction into it. It was an awesome time," says Lammers, who is studying at Trinity College.
Lammers combined his love for linguistics and science in the Canada-Wide Science Fair, where he won a bronze medal for a labour-intensive project comparing the speech patterns of children, teenagers and adults. His passion for mentorship led him to establish a private tutoring business.
As a Schulich Leader, he says his goal at U of T is to be challenged intellectually. He is also considering exploring his interest in teaching. "Teaching is something that I found real value for and I love watching students learn," he says.
Adam Glustein

From Northern Secondary School in Toronto
Engineering science student
St. George campus
Adam Glustein had the highest academic average in his high school's graduating class and was named a national biology scholar with distinction. He also held leadership positions in the school's athletic association and STEM group, and took part in math tutoring outside the classroom.
He comes to U of T with a number of interests, including genetics, nanotechnology and software engineering, and chose engineering science in U of T's Faculty of Applied Science & Engineering to try out different things before committing to a specialty after second year.
He says he likes the challenge of the rigorous curriculum. 
"When you go there, it feels different than a regular classroom – they're challenging you to succeed," says Glustein, who is leaning towards pursuing biomedical engineering after second year. "It's not in a way that I found to be competitive against other people, but it's a way that brings all of us together and we have to tough it out."
Glustein loves the tradition around U of T and appreciates the culture among the engineering community – a growing bond, he says.
Becoming a Schulich Leader is "a part of my identity now," he says. It's something of which he is deeply proud.
"It's a nice culmination of all the effort I put in."
Tommy Moffat

From Assumption Catholic Secondary in Burlington, Ont.
 
Tommy Moffat begins his Schulich experience as a junior quantum engineer with Rigetti, a quantum computing firm based in California. Deferring his U of T admission for a year, Moffat will first have a chance to work in the field about which he is passionate.
"This year has been a lot about learning as much as possible, even more so than before, about quantum computing," he says. The Burlington, Ont., native intends to study engineering science when he returns.
His position at Rigetti is the culmination of different STEM opportunities throughout the years. It began for him as a 10-year-old, taking part in STEM camps with E-Bots, a program that builds robots for competitions. Moffat came to lead an E-Bots team, incorporating programming, building and design into his seminars.
"It was a fortunate culture to be in, at an early age," says Moffat of E-Bots. "The standards were really high. There was always a question of how we always aim to be the best."
His interest in quantum computing also bloomed through his participation with the Knowledge Society (TKS), a STEM program that teaches concepts like genetic engineering, virtual reality and artificial intelligence.
"Through TKS, I was able to gain access to some opportunities, some mentors, different inroads into the field," he says.
So far, Moffat has consulted on network infrastructure for Fortune 500 companies, including Airbnb, and has spoken about quantum computing at large technology conferences.
Moffat says he is honoured to be named a Schulich Leader. "Meeting everyone made me really excited for the network possibilities it opens up," he says.
UTC