Paralympian - and new U of T grad - Stephanie Dixon aims to address athlete maltreatment
"My master's degree was the most challenging and meaningful experience of my life"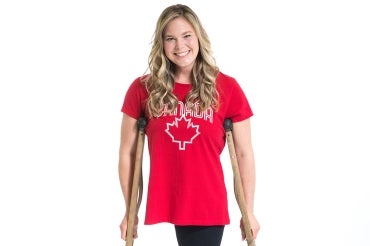 Stephanie Dixon was only two years old when her parents signed her up for swimming classes.
She says they believed it was important for her to know, at a young age, what her body was capable of doing. 
"My parents knew that I would have challenges in my life – not because of my body, but because of the attitude society would have about my body," says Dixon, who was born without her right leg and hip, and with a medical condition known as omphalocele.

She was 12 years old when she began competitive swimming, joining Canada's national team two years later. At the age of 16, she won five gold medals at the 2000 Summer Paralympics in Sydney. Since then, she has gone on to win many more medals and set world records, securing a spot in Canada's Sports Hall of Fame and an appointment to the Order of Canada. 

Following the 2020 Paralympic Games in Tokyo, where she served as Canada's chef de mission, Dixon embarked on a different kind of challenge: pursuing a master's degree in the Faculty of Kinesiology & Physical Education (KPE) at the University of Toronto. She graduated this week alongside more than 5,500 students during U of T's fall convocation.

"I had been an athlete and ambassador in sport for 20 years, and upon reflecting on my own experience and those of my teammates, I felt that it was deeply important to learn more about athlete safety and well-being," Dixon says. "I wanted my contributions in sport to be centred around wellbeing, inclusion and equity."
With Professor Gretchen Kerr, dean of KPE, as her supervisor, Dixon studied the experiences of athletes who experienced maltreatment in sport and engaged in a reporting process – particularly athletes from marginalized groups. 
"Athletes deserve to have safe and affirming experiences in sport, especially during a reporting process where harm has already occurred," says Dixon. 
Following media reports about rampant athlete maltreatment in Canadian sport, the federal government formed the Office of the Sport Integrity Commissioner (OSIC), an independent office to investigate athlete complaints. The issue, according to Dixon, is that there continues to be little to no research on reporting processes and whether they reduce the threat of athlete maltreatment in sport. 
"My research suggests quite the opposite – current reporting processes in fact increase the threat of harm and re-traumatization for athletes," says Dixon. "In some ways, these processes may be an extension of the harmful culture of disempowerment and control typical of an abusive environment."
She says further research is needed on athletes' experiences of trauma and factors that contribute to their healing journeys – and plans to continue working on research projects in those areas.

"My master's degree was the most challenging and meaningful experience of my life," says Dixon. "When I look back at my athletic pursuits, I wanted to make my coach, friends and family, and community proud, of course – but my motivation behind swimming was personal.

"My primary motivation in graduate school was to develop the skills, knowledge and practice that would contribute towards equity and affirming experiences, particularly for those who have experienced abuse and who are from equity-denied groups."

Dixon encourages new graduate students to find as much community and support as possible once they embark on "the transformative experience" of going to grad school – and not to be afraid of getting creative and imaginative in their research projects.
"I had a lot of imposter syndrome moments, and at times felt overwhelmed with feelings of inadequacy," she says. "My mentors and support system helped me navigate the demands and pressures – both within the program and some that were self-imposed." 
While COVID-19 made it difficult to connect in-person with fellow students and faculty members, she says she is grateful for all the adaptations and hybrid options that allowed her and other KPE students to continue their studies safely during a challenging time.
The U of T swim team was an important part of Dixon's network. She swam with them during her last two years of high school – and then moved across to live in British Columbia and the Yukon for 20 years.
"Coming back to U of T for graduate school and reconnecting with some very dear friends and swimming in the varsity pool again has been incredibly meaningful." 
KPE