Stephanie Dixon, a decorated Paralympian, embarks on new journey as U of T grad student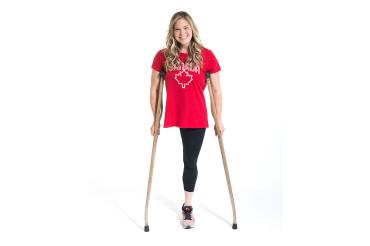 When the 2020 Paralympic Games wrapped up earlier this month, Stephanie Dixon, Canada's chef de mission at the Games in Tokyo, had just enough time to change out of her Team Canada gear before embarking on a new quest: a master's degree in kinesiology at the University of Toronto.
Born without her right leg and hip and with a medical condition known as omphalocele, Dixon started swimming at the age of two. She was 13 when she began competitive swimming and 14 when she joined Canada's national Paralympic team.
At the age of 16, she won five gold medals at the 2000 Summer Paralympics in Sydney, setting the Canadian record for most golds at a single Games. Since then, she has gone on to win many more medals and set world records, booking herself a spot in Canada's Sports Hall of Fame and an appointment to the Order of Canada.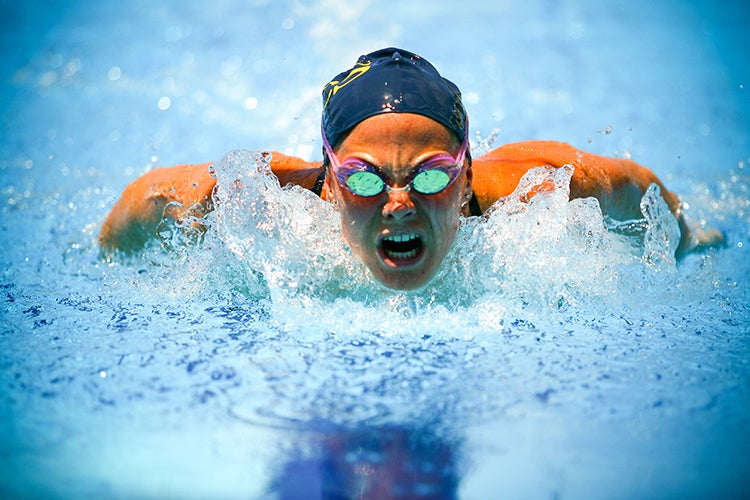 Dixon won five gold medals at the 2000 Summer Paralympics in Sydney, setting the Canadian record for most golds at a single Games.
Dixon graduated with a psychology degree from the University of Victoria and, in 2011, moved to the Yukon, where she was head coach of the Yukon Graylings Master Swim Club. At U of T, Dixon will be studying ways to protect athletes from maltreatment with Professor Gretchen Kerr, dean of the Faculty of Kinesiology & Physical Education.
Writer Jelena Damjanovic caught up with Dixon recently to talk about what inspired her as an athlete and what she's looking forward to most as a U of T student.
---
Congratulations on your many accomplishments, not the least of which was being named the chef de mission of the Canadian team at the Paralympic Games in Tokyo this summer. What was that experience like? 

Thank you! It was an incredible experience, especially since we were not sure if the Games would even happen. Being the chef de mission for Team Canada was a huge honour and I was thrilled to be able to support our athletes through the Tokyo 2020 Paralympic Games. 

I was very impressed at how well the Games were run given that we are still batting the global pandemic. I was so happy to see that the health and safety of everyone involved, including the citizens of Japan, was the highest priority. 

These Games were not easy on any front. I admire and stand in awe of the level of resilience, adaptability and global community that was evident throughout the Games. Our Canadian athletes should be very proud of the efforts and performances they gave. They represented Canada so well.

Will you be moving from the Yukon to Toronto for your graduate studies? What are you most looking forward to about grad school?

Given the very quick turnaround time from the Paralympic Games into grad school, I will be doing my first term remotely from the Yukon and moving to Toronto in December. 

While I have loved my time in the Yukon, I am excited to return to Toronto and re-connect with my friends and family in the area as well as join the U of T grad school community. I am very passionate about sport and activity. That makes diving into the field of safeguarding in sport – to learn and contribute to ideas on how we can deliver sport in a way that is safe, inclusive and accessible for all people – the perfect next step for me. 

Why did you decide to study the subject of safeguarding athletes? What has been your experience with sport and athlete maltreatment? 

Sport can be the most empowering and transformative experience, or it can be a space where harm is done – and sometimes it is both. I have witnessed and experienced sport from both sides and truly believe there is a better way to deliver sport in Canada and around the world. I don't think the pathway forward is simple or easy, but I want to be part of the discussions and initiatives that will help us all feel good when we move and grow in our bodies and minds through sport and activity. 

I read that you started swimming at age two. How did you end up in the pool so early? 

My parents knew that I would have challenges in my life. Not because of my body, but because of the attitude society would have about my body. They wanted to raise me to be strong in body and mind, and for me to know that my body was capable and powerful before I was old enough to notice the stigma around disability. 

You started competing at age 13, joined Canada's Paralympic team at age 14 and, at 16, competed in your first Paralympics, where you broke the Canadian record for the number of gold medals won at a single Games. What drove you to achieve so much so young? 

I never had the goal to be a high-performance athlete or a Paralympian; I didn't even know what the Paralympics were growing up. I just loved to swim and loved to push my limits. Focusing on the process and journey of being the best possible swimmer I could be, of learning and growing as much as possible, was my motivation through to the end of my swimming and Paralympic career. 

You once described yourself as an athlete first and foremost, and Paralympian second. Can you elaborate?

As with many people, I have grown a lot in the last number of years in my awareness of my own biases and ableism. Yes, even Paralympians and people with disability have ableist views as we are all conditioned the same way. It took me a very long time to be proud of myself for being a woman/athlete with a disability and of being a Paralympian.
So, in the past, I would have preferred to be called a high-performance athlete rather than a Paralympian. That is not the case today, especially because I know now that they are synonymous. I still face ableist comments and language on a regular basis and there is much work left to be done. But I do believe, as a society, we are moving in the right direction. 

What does it take to be a record-breaking athlete and a Paralympian?

Love of the sport, an incredible amount of support, determination, resilience – and a boatload of courage. 
KPE