UTM's Akwasi Owusu-Bempah: Research at the intersection of race, crime and criminal justice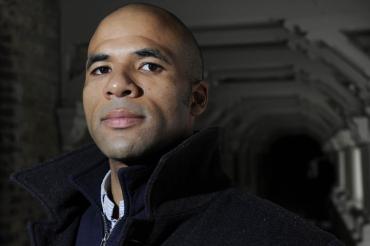 Only three weeks after joining the sociology department at U of T Mississauga, assistant professor Akwasi Owusu-Bempah finds himself in demand.
Owusu-Bempah, who earned his master's degree and PhD in criminology at the University of Toronto, conducts research "at the intersection of race, crime and criminal justice."
"I'm particularly interested in black males' perceptions of and experiences with policing," he says.
Given the outrage surrounding the police shooting of innocent black men in the United States and the subsequent revenge shootings of U.S. police officers, a number of Toronto's major media outlets have sought Owusu-Bempah's insights. He also published an opinion piece, written with Toronto lawyer Anthony Morgan,in The Globe and Mail. 
Owusu-Bempah, who was born in Britain and raised in Canada, originally planned to become a police officer himself.
"When we first moved to Canada, one of our neighbours was a retired metro cop," he says. "He had a fast car and chased 'bad guys' and I wanted to do that, too."
However, he soon began to realize that the "bad guys" weren't always "bad" and that circumstances weren't always clear cut. Two weeks into studying criminology at Carleton University, he decided that "policing wasn't really what I thought it was" and decided to study it rather than practise it.
After earning a master's degree at U of T, Owusu-Bempah spent some time working for the government on policing policy, but found the bureaucracy rife with politics that made action happen slowly. Instead, he set his sights on earning a PhD, and after graduation, Owusu-Bempah was recruited by Indiana University in the U.S.
"I arrived in 2014, two weeks after the shooting [of an unarmed black teen] in Ferguson, Missouri, so I went from being a brand new assistant professor to an area expert immediately," he says. "I was saddened by what happened in Ferguson, but these high-profile cases of police abuse bring the issue to the forefront."
Two years later, after benefiting from exposure to the decades-long U.S. tradition of research on race and policing, Owusu-Bempah has returned to Canada and U of T.
"I'm home again," he says. "It's fantastic...I'm excited about teaching and engaging with the students at UTM and collaborating with my new and growing group of colleagues."
He'll be teaching Introduction to Criminal Justice and Inequality and Crime this fall at UTM while continuing to pursue his research interests. Owusu-Bempah has recently finished a study of 51 black Toronto police officers and their perceptions of policing, which will soon be submitted for publication. His future work will compare different aspects of policing in Canada and the United States – particularly as they relate to relations with racialized people and communities.
In the wake of the recent shootings, does Owusu-Bempah have hope for progress?
"What makes me positive is seeing the Black Lives Matter movement go international," Owusu-Bempah says. "I hope we'll see more change in the next decade than we have since the 1960s."