An outstanding scientist: Remembering U of T student Mohammad Salehe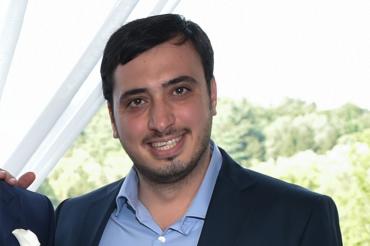 The University of Toronto's department of computer science, in the Faculty of Arts & Science, is remembering two PhD students who lost their lives in the tragic crash of Ukraine International Airlines Flight 752 in Iran on Jan. 8.
"Our community has been devastated by the loss of two of our best and brightest young minds," says Marsha Chechik, the department's interim chair. "My deepest condolences to their families and their friends, members of their academic communities and everyone who knew these incredibly smart and driven, yet generous and caring individuals."
Mohammad Salehe was among the eight members of the U of T community who died in the crash, which killed all 176 aboard. Fifty-seven Canadians were among the victims. 
Salahe was born in Ahvaz, Iran, in 1987. As a child, he loved computer programming and developed his first computer game for a Commodore 64, an 8-bit home computer introduced in the 1980s, while he was in elementary school. He was a graduate of Allameh Helli High School – an affiliate of the National Organization for Development of Exceptional Talents – in Tehran. 
Salahe received both his bachelor and master of science degrees in computer engineering from Sharif University of Technology. He had a silver medal in the National Olympiad in informatics and was a competitor in the Association for Computing Machinery-International Collegiate Programming Contest. He was also active in the RoboCup competition, where he received multiple medals. He was an instructor for several courses while at Sharif University. His online course on web programming in Farsi is still being used by thousands of people in Iran each year.
After working for a few years as a senior software engineer at a  well-known tech company in Iran and consulting for many other companies, Salahe was admitted to U of T's computer science PhD program in 2018. He was an outstanding scientist and a top-rate engineer who had a deep understanding of the theoretical aspects of computer science. During his short time at U of T, he developed strong collaborations with scientists from Samsung AI research and AT&T research. His dedication and hard work resulted in multiple published papers at top conferences.
Salahe was a kind, respectful and caring soul who went above and beyond to help others, according to those who knew him. His humbleness and humility were inspiring, especially for people who were aware of his technical expertise. Although he was usually quiet, he was very active in multiple social and religious communities, always trying to be there for his friends and neighbours.
Salahe was also a skilled table tennis player, competing in intramurals at Sharif University and U of T, and liked playing Warcraft 3. He will be remembered and missed by his friends from all over the world, including Allameh Helli High graduates, Sharif University graduates and the U of T community.
Salahe's wife, Zahra Hasani (left) was born in 1994 in Kerman. She was a graduate of Farzanegan High School, an affiliate of the National Organization for Development of Exceptional Talents in Qom, Iran. She graduated from Sharif University with a bachelor's degree in physics. She was looking forward to pursuing her graduate studies at U of T. Her kindness and generosity were exceptional. Hasani was caring, devoted to her friends and family, spiritual and had a unique perspective where she enjoyed life to its fullest. She was extremely mindful of her friends, family and neighbours.
Salahe and Hasani will be missed by anyone who had the privilege of knowing them. 
---
Feeling distressed? Find someone to talk to right now – and if there is an immediate risk, call 911.
Round-the-clock support:

Students can speak to a trained crisis worker at any hour of the day.
U of T My SSP for students: call 1-844-451-9700 or download the app at the Apple App Store or Google Play. Immediate counselling support is available in 35 languages and ongoing support in 146 languages.  
Other 24-7 supports available to students include:
The following services are available to students on all three campuses:
Faculty and staff have access to 24-7 support through:
Arts & Science