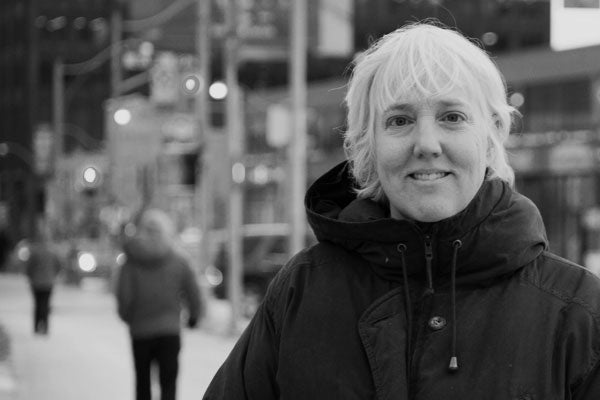 Out of the cold: homelessness, shelters and why people still die on the streets
Alumna Joyce Rankin on the problems with Toronto shelters
After a balmy fall, winter arrived in Toronto last week with a vengeance. Temperatures registered as low as -30C with wind chill. The city hunkered down and pedestrians bundled up against the extreme cold.
But there was also tragedy – and, after the death of two homeless people without shelter, Mayor John Tory ordered the medical officer of health to declare an extreme cold alert, activating warming centres for one of Toronto's most vulnerable populations. 
"It's a shame that in 2015, in a country as wealthy as ours, we have such serious issues with poverty and homelessness," says alumna Joyce Rankin. Rankin, who holds both a master of nursing degree and an MBA from U of T, is clinical manager for Street Health in Toronto. (Listen to Rankin's powerful interview with CBC Radio's Matt Galloway on Metro Morning.)
"It is even more astounding that the city refused to consider wind chill in their determinations of cold alerts. It may be -5C, but in reality it is -20C with the wind chill – yet no extreme cold alerts are issued."
Street Health is a non-profit community based agency serving the health and well-being of homeless and under-housed people in downtown Toronto. Writer Dave Ross spoke with Rankin about the shelter situation, the extreme cold, and what changes could be made to the system.
Why are homeless people dying on the street?
The shelters are over-capacity, and any suggestion they aren't is false. The idea that we are providing enough shelter is also wrong. If we have enough shelter space, why are people dying on the streets? 
Numerous non-profit and faith-based organizations operate Out of the Cold programs, which are well-attended across the city. If we have enough shelter space, why has the city relied on these organizations to provide services to this population for 28 years? 
Programs like Out of the Cold run on the backs of donors and volunteers such as yourself. Does this indicate a gap in shelter services?
Absolutely. It's ridiculous that the city relies on the presence of these volunteer-run spaces, and even more importantly highlights the need for safe and affordable housing for people, which doesn't seem to be a priority for the city. Admittedly, there is no silver bullet solution, unfortunately. 
Everyone needs protection from the cold – if you're cold, take shelter and warm up. People who are homeless or living in poverty can't always do that – shopping malls close, coffee shops don't want you stay for long periods, and many can't afford $3 to ride the TTC all night – the list goes on. Homeless people also age fast due to trauma and stress, further jeopardizing their health and making them vulnerable to living in difficult conditions. This population is constantly fighting stigma as well. They are human beings that need support, not our judgments. Addiction happens in all walks of life.
We have a responsibility to shelter people, and we ignore the social determinants of health at every turn. Shelters, supportive housing and Public Health need to get together, and have a communications plan.
What about barriers to access? How does a person access a shelter?
Accessing a shelter bed is not a straightforward process in Toronto. One thing the city has done well is implement a single point of access on Peter Street, which functions as a referral centre to shelter space. The concept is good, but it is fraught with barriers. When a person shows up and requests a shelter space, it can take hours to find one, and it is expected that the individual has a means of staying in touch with the referral centre. This is a population that doesn't have mobile phones or fixed addresses, so the notion that they are "contactable" is flawed. And if that person is offered a bed that doesn't fit their needs and declines it, they are simply turned away, and spend the night on the street. The system has no flexibility in any way. Without flexibility there is absolutely no "wiggle room" which is the situation we are finding ourselves in now.   
What could make a person refuse a shelter bed, especially during extreme weather?
Shelters are spread out across the city. Imagine you're on Peter Street, and have been referred to a shelter in North York. How are you going to get there? What if you're referred to a shelter where you've been assaulted? Or become ill? Or where they won't take your pet, your sole companion in this world? Unable to accommodate your family? Shelters, while warm, are not necessarily a safe environment. There is no flexibility in the system, and that's what leads to situations where homeless people feel they must stay on the street.
If you could change things right now, in this current cold snap, what would you do?
I would open the armouries and more warming centres, offer this population immediate and simple access to shelter. Long-term, I want to see the two 24-hour shelters the city has promised, more safe, affordable housing for people, and ultimately, to see the development of a national housing strategy. 
What drew you to nursing, and how did you find your way to Street Health?
I have never wanted to be anything but a nurse. Even after 25 years, I look forward to my work every day. I am also fortunate to have had incredible mentors through all of my education. My obstetrics instructor in my college program, Nancy Barber, was so passionate about nursing, and Francine Wynn at Bloomberg Nursing was a leader who forced me to think about nursing in a whole new way, a skill I value today. Doug Hyatt, from the Rotman School of Management, was (and still is) one of the most inspiring professors I have met. Most importantly, my nursing friends continue to influence me. The friends I made during my first job at Mount Sinai in 1988 are still my closest friends. They worked hard to support me in nursing, but also in my transition to a new city and new career.
I've volunteered with Street Health and organizations like it for many years. After establishing my career as a critical care nurse in hospital settings, I had the opportunity to volunteer with these organizations more, which has grown into a full-time job with Street Health. I love the fact that I can work intensely to support colleagues working with the very marginalized in our society, and work with them to advocate all levels of government to support people and help them get out of poverty. We are constantly challenged, but the work we do is rewarding, and most of all, important.
If you see someone in need during extreme weather, contact 311 or 911 immediately.