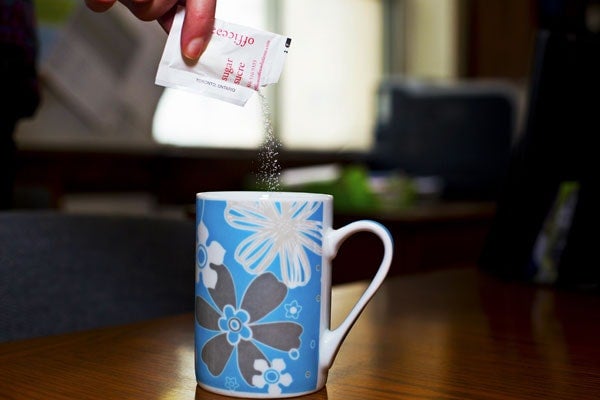 One Sweet App: leading nutrition researcher helps consumers check sugar level of food – for free
She's known around the world for her scholarly research on the dangerous levels of sugar and salt creeping into North American diets.
Now, University of Toronto Professor Mary L'Abbé has helped develop a mobile app so anyone can avoid excess sugar consumption. 
"The goal of my research is to help improve the health of Canadians," says L'Abbé, "and what better way is there to get important health information quite literally into the hands of the people we're trying to reach?"
One Sweet App is the first mobile application that identifies the 'free sugar' content within food products – sugars that are not currently listed on tables that list nutrition facts on food packaging. 
Free sugar includes all sugar except what's naturally found in whole fruit, whole vegetables and unsweetened dairy. Think of 'added sugar' plus a bunch of stuff you didn't know you were supposed to be worried about: fruit juices (even 100% fruit juice), purees, concentrates, honey, and all syrups.
Using the app, a consumer standing in the beverage aisle in a supermarket could compare the sugar content of juices or beverages by brand to learn how much free sugar is packed into a single serving. For example, the app shows 29 grams of free sugar per serving of the President's Choice brand of cranberry and concord grape juice and a whopping 43 grams of free sugar per serving of the Compliments brand can of pink grapefruit drink.
The app will also allow users to record and track their sugar consumption – so, after drinking that beverage, you might choose Astro Original two per cent plain yoghurt (zero free sugars, four grams of naturally occuring sugar) over Activia Plain Sweetened yoghurt (12 grams of free sugar, six grams of naturally occurring sugar).
The app was launched as part of the documentary film Sugar Coated which has its TV debut May 27 on TVO.The award-winning documentary, which exposes an industry believed to responsible for skyrocketing rates of obesity, diabetes and heart disease, recently sold out its four screenings at the Hot Docs film festival. 
"Right now nutrition labels tell us about total sugars but recent guidelines from the World Health Organization have shown that most health dangers actually come from free sugars," says L'Abbé (pictured at right with PhD student Jodi Bernstein.) 
There is currently no information available to Canadians on the amount of free sugars in packaged foods, something L'Abbé and the producers of Sugar Coated hope to change. 
L'Abbé, the Earle W. McHenry Professor and chair of U of T's department of nutritional sciences, is renowned for her research around Canada's food and nutrition policies. Her background includes roles as chair of the Canadian Sodium Working Group, co-chair of the Canadian Trans Fat Task Force and advisory positions with Health Canada, the World Health Organization and the Heart and Stroke Foundation.
(Read about L'Abbé's research into sugar in restaurant meals; read about her studies on salt in restaurant meals.)
After learning about L'Abbé's extensive research around Canada's food and nutrition policy, the documentary's producers approached the distinguished scientist about using her food database and research as the engine underpinning a new mobile app. 
"They knew they wanted their app to be based on credible data that's grounded in good science, and that's why they approached U of T's department of nutritional sciences," L'Abbé said. 
According to the World Health Organization, people should limit their intake of free sugar to less than 10 per cent of daily energy intake – and less than five per cent whenever possible. That's a feat many may find challenging, considering a single can of pop will put you over your recommended daily intake. 
"The app aims to sensitize users to be aware of sugars and where they are found," says L'Abbé. "And it allows consumers to identify foods that are high in free sugar, which I absolutely believe will translate to an increased awareness of sugar and its health-related issues." 
Soon, L'Abbé, working with Bernstein, hopes to expand the app to include a consumer research component with a focus on knowledge translation. 
"Because we're scientists and health researchers, we want to know whether this actually helps Canadians make informed decisions about their diet," says L'Abbé.
They plan to introduce a brief questionnaire to gauge whether people really understand sugar. Through a new feature on the app that allows users to track their daily sugar intake, researchers will be able to measure how useful the app is and whether people are using it to make healthy decisions that change their diets. 
"This is a platform that allows us to do research on a scale that is appropriate to the tool," says L'Abbé. "And although not as intensive as the regular research we do at U of T, the platform allows for very broad distribution." 
L'Abbé says that working with the app's developers was one of the most interesting and untraditional research opportunities she has ever had.
"As app developers they're able to tell a scientific message in pictures that don't require a lot of text," says L'Abbé. "As scientists we can write you all kinds of paragraphs and supporting evidence but an infographic or visual representation is so much more impactful."  
The app is available online and free of charge from the Sugar Coated website and through iTunes. 
Michael Kennedy writes about health and wellness for U of T News.