OISE hosts Indigenous graduate student mentorship summit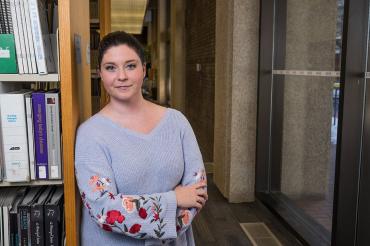 While Lindsay DuPré was working toward a master's in social work, she recalls facing institutional barriers that left her feeling isolated as an Indigenous student. "It was important for me to seek out mentors and role models who could fill in the gaps I felt existed in my program," she says. 
Now as the Indigenous education liaison at the University of Toronto's Ontario Institute for Studies in Education, DuPré is helping to organize a summit on Feb. 5 for students, staff and faculty about improving teaching, supervision and support for Indigenous graduate students. The conference, featuring scholars from U of T and several other Canadian universities, is sold out. 
DuPré says the summit dovetails with the recommendations of the Truth and Reconciliation Commission, which urged post-secondary institutions to make its spaces safer for Indigenous students.
Last year, U of T released a report based on the TRC's conclusions with 34 short- and long-term calls to action, ranging from hiring more Indigenous faculty across the university to creating dedicated spaces for Indigenous students. OISE drew up its own TRC report, which included the recommendation to create DuPré's position. 
A lack of Indigenous professors was one of the single biggest challenges that Sandi Wemigwase encountered before coming to U of T for a PhD at OISE under the supervision of Eve Tuck, an associate professor and Canada Research Chair in Indigenous Methodologies with Youth and Communities.
Wemigwase, a member of the Little Traverse Bay Bands of the Odawa Indians, says in the past she would have to teach a non-Indigenous supervisor about Indigenous history to get her points across. 
"It's hard for them to help me because I have to educate them first," she says, "and that makes more work for me and it doesn't push my studies any further."
She's been organizing the summit for two months with the Indigenous Education Network, a group of students, faculty and community members dedicated to Indigenous education and research. The group includes fellow graduate student Erica Violet Lee, DuPré, Julie Blair, and Wemigwase's supervisor and mentor Tuck. 
The Summit for Mentoring Indigenous Graduate Students is happening at OISE on February 5. Hear from Prof. Eve Tuck on why it so critical that we improve our practices of supporting Indigenous graduate students. Watch below & register at https://t.co/kWscXkZOz6 pic.twitter.com/70X1EqOS3k

— OISEUofT (@OISEUofT) January 27, 2018
Eve Tuck, associate professor of critical race and Indigenous studies at OISE, describes the upcoming summit on Indigenous graduate mentorship summit at OISE Library.
The keynote speakers are Zoe Todd, of the department of sociology and anthropology at Carleton University, Stephanie Waterman, an associate professor at OISE, and Rob Innes from the University of Saskatchewan, a U of T alumnus whose research focuses on Indigenous masculinities and contemporary kinship roles.
Todd says the crux of her talk will be about "what academia would look like if it required that we look out for one another, celebrated our collaborative achievements, and strove to ensure people had enough financial, intellectual and moral support to achieve all of their dreams."
Todd, who is Métis, says her mentors made the difference in helping her complete her studies, especially since she obtained her PhD in Scotland in a program without any Indigenous students. "Indigenous mentors here at home were really integral to my ability to finish my PhD," she says. "I owe it to students to offer them the same kind of care and support."
UTC