'That object has a story': Alexandra Gillespie on CBC's Metro Morning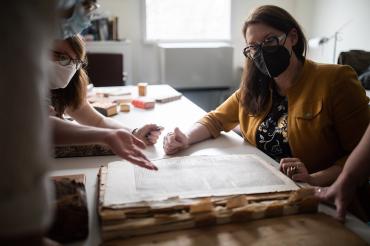 At first glance, the dusty and worn pages of an old book from centuries ago might not seem to reveal more than their written content. But a closer look unlocks a treasure trove of knowledge, Professor Alexandra Gillespie told CBC Radio's Metro Morning on Dec. 8. 
Hidden Stories: New Approaches to the Local and Global History of the Book is the latest in a series of projects co-ordinated by the research team at the University of Toronto Mississauga's Old Books New Science Lab, led by Gillespie, who is also a U of T vice-president and the principal of U of T Mississauga. It aims to explore the systems, peoples and cultures that make a book, including its physical and biological properties that reveal new knowledge. 
"When you love books, you don't only love the thing that you're reading, you also love the object that's in your hands, and that object has a story to tell," Gillespie told host Ismaila Alfa. "We're also really interested in the books whose stories haven't been told…The story of media is not a straight line from Gutenberg to Zuckerburg. On the contrary, it's a rich line with many forking paths that takes in all parts of the world." 
The Hidden Stories project examines manuscripts in the Thomas Fisher Rare Book Library and across the world including China, Ethiopia, east Africa, North America, Tunisia and Nepal.  
UTM