Nursing graduate finds guidance, support – and her calling – through mentorship program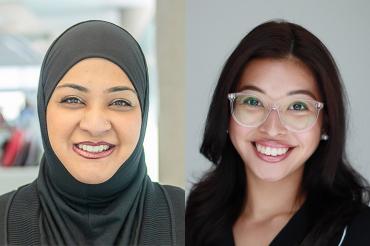 Anika Andal wasn't sure what her next step should be after graduating from the University of Toronto with a master of nursing degree.
Farah Khan, an adjunct professor in the Lawrence S. Bloomberg Faculty of Nursing and Andal's mentor, had an idea: she suggested Andal follow her passion for education by becoming a nurse educator, who provides clinical education for point-of-care staff. The job description can include translating research, disseminating practice changes or teaching new clinical procedures.
Andal wasn't sure she was qualified since nurse educators often have years of experience, but Khan explained that Trillium Health Partners – a hospital system in Mississauga and western Toronto – was looking for innovative young leaders. 
"That really shifted my perspective on what possibilities were available to me," Andal says. "It was fantastic how Farah not only pointed me in the direction of the right door, but she opened it for me."
Andal says Khan's mentorship was nothing short of life-changing. "The immediate investment in my personal growth really stood out to me," she says. "Farah's willingness to be supportive and believe in me in ways I had not considered, was so rewarding."
Khan, an alumna of U of T nursing and director of quality, risk and patient safety at Trillium Health Partners, says she relied on her own mentors and professional network throughout her academic and professional career.
"Knowing the impact mentorship had on my own life made me leap at the opportunity to be a mentor for Bloomberg Nursing and give back to the faculty, because it is not a unilateral relationship, there is also a unique chance to learn from your mentees," she says. 
The Alumni-Graduate Student Mentorship Program launched late last year as a means of connecting graduate students with nursing leaders in a variety of fields across the health-care spectrum. With many graduate programs taking place mostly online during the pandemic, the faculty was eager to create opportunities like the mentorship program that engage students and foster a sense of community. 
In its first year, the program paired 18 mentors and mentees. Following the initial success of the program, the pairings for the 2022-23 academic year are expected to grow to more than 50.
Khan and Andal say a highlight of their mentor-mentee relationship was to forge a connection as women of colour in nursing. Andal says it was extremely valuable to learn about the lived experience of a woman of colour in a leadership role in the field.
"Being matched with Farah was a real testament to the mentorship program making space for these important relationships and reflection on being a person of colour in leadership and in nursing," says Andal. "It was something I needed and has helped me immensely as I progress in my career."
Khan agrees. "Since our mentorship journey began, I've made a more formal attempt at better understanding concepts of diversity, equity and inclusion as it pertains to nursing, health care and leadership," she says. "I want to better inform my ability to mentor others and seek out mentorship in this area for myself, too."
Throughout the mentorship program, Andal was not only able to pursue new career paths, but she also received advice to navigate tricky situations at work. 
Still early in her career, Andal says there are times when she feels imposter syndrome, leading herself to question herself and her abilities. In these and other challenging moments, she's often turned to Khan for guidance and support.
"What is unique about my relationship with Farah," says Andal, "is that she can help me personally identify when she sees that something is not benefitting my personal growth. I had a challenging situation and wasn't sure how to manage it in a leadership context. It was Farah who said 'You can't always please everyone. You need to focus on your work and yourself and that is what will help those around you.'"
Andal says she's grateful for the career opportunities she obtained through the master's program and Khan's mentorship. She notes that the way in which the nursing profession is structured does not always allow for nurses to be able to continue their clinical roles while exploring alternatives, like research or leadership. It is something she hopes will change to allow more innovation in nursing as more nurses pursue education to bring about change in the health system.
Khan, too, sees the importance of nurses pursuing leadership opportunities in the context of the changing health-care landscape, and notes the significance of the continued presence of the Alumni-Graduate Mentorship Program.
"With the evolution of the pandemic, the nursing profession has dynamically changed. Now more than ever, nurses aspiring to advance their professional leadership skills need access to a diverse cadre of nurse leaders through mentorship," Khan says. "But those of us in leadership can also benefit from learning from our mentees too."
Nursing