Nobel laureate Derek Walcott dies: U of T's Fisher library has 160 boxes of his drafts, notes and sketches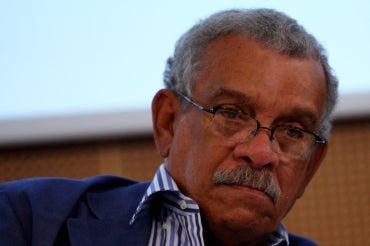 Archives belonging to Saint Lucian poet and playwright Derek Walcott, who won the Nobel Prize in Literature in 1992, are housed at the University of Toronto's Thomas Fisher Rare Book Library.
Walcott, who died Friday, had connections with Toronto's Caribbean community, says Professor George Elliott Clarke, and today U of T is home to more than 160 boxes of his material from the 1980s to the present, including drafts and notes for his many poetical, theatrical and prose writings, drawings, sketches, photographs and correspondence.
Fisher began acquiring the material in 1996 when J. Edward Chamberlin, now a University Professor Emeritus of English and comparative literature at U of T, and his wife, West Indian poet and writer Lorna Goodison, helped the university obtain the collection through fundraising work with the international community, including Toronto's Caribbean community, says Jennifer Toews, modern manuscripts and reference librarian. 
Best known for his epic poem Omeros, a Caribbean reimagining of The Odyssey, Walcott wrote and directed more than 80 plays.
Clarke, Canada's Parliamentary Poet Laureate, not only considers Walcott to be the greatest poet of the 21st and 20th centuries, but says he had immeasurable influence on writers of his generation, especially those exploring decolonization.
"Derek Walcott in my opinion was the first non-British born poet of English to remake the English language in his own tongue in a decolonized fashion," Clarke says, "in other words to take the former imperialist and oppressive language that was forced upon black, brown, yellow and red folks from all over the planet, through the British empire, and to use that language better than the imperialist and the oppressors themselves were able to. He was a symbol for all decolonizing writers of English and other languages. He blazed the trail for all of us."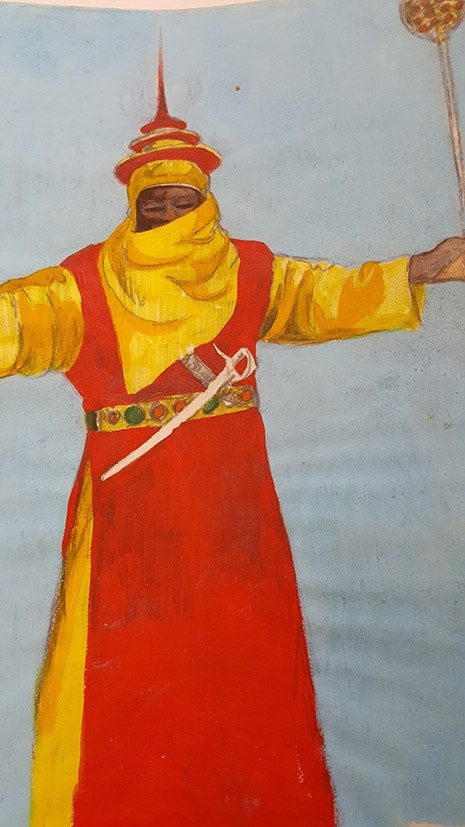 Watercolour painting by Walcott for his musical O Baylon! (courtesy of Fisher library)
Clarke says having Walcott's archives at U of T is "a real feather in our cap."
"He could've gone to Oxford or Yale, but he chose U of T," Clarke says. "That's partly because of the long-standing historical connections – culturally, economically, politically – between Canada and the Caribbean. There's also the fact that there's a sizeable Canadian Caribbean community in the GTA, many of whom are poets are writers. And the fact that Canada doesn't have as much of an imperialist history as Britain or America, certainly they haven't been as obviously aggressive."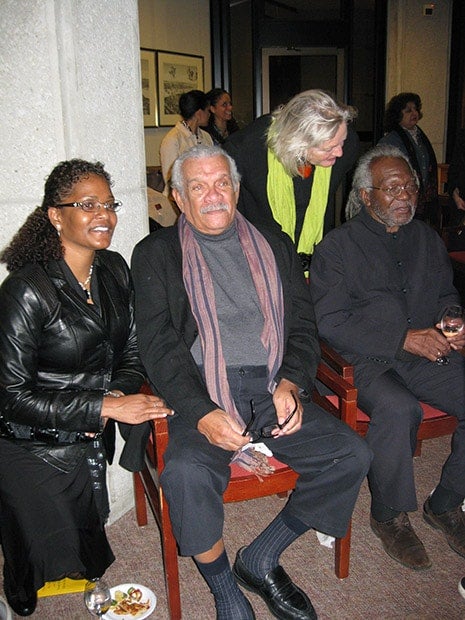 At a 2011 exhibition featuring his work at Fisher, Walcott (second from left) with his niece (left), his wife Sigrid Nama (standing), and writer Austin Clarke (photo courtesy of Fisher)
But Walcott never expressed any hatred or dislike in his poetry, Clarke says.
"Rather, it was a grand humanitarian embrace of the culture and letters of England, of Britain, of the west in general. He maintained a very powerful, political and aesthetic balance between never forgetting the crimes of imperialism while at the same time, always recognizing the humanity of the victims as well as the humanity of the perpetrators of those crimes."
Neil ten Kortenaar, professor of comparative literature at U of T Scarborough, says Walcott was the first writer from the Caribbean to win the Nobel Prize.
"But he was also one of the most important poets in English of the second half of the 20th century," he says. "In his lyric poetry, he made his own experience significant for all readers of poetry. In the process, he made the Caribbean into an imaginative centre for the world. He wrote about Caribbean history as world history: its history of conquest and colonization. Great migrations of people and slavery are subjects that became immensely important as the British Empire broke up in the decades after the Second World War."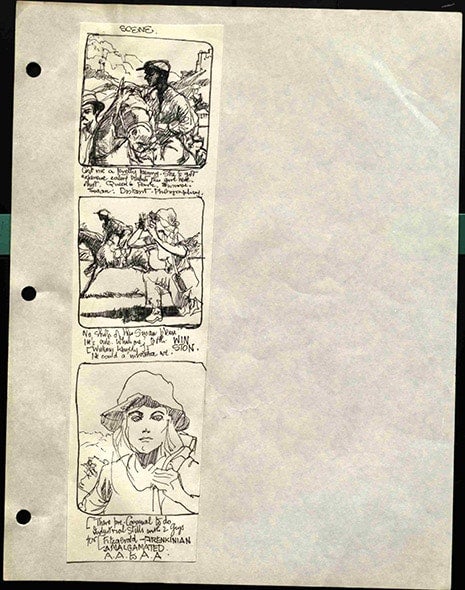 Walcott's original ink drawings for his musical play, Steel (courtesy of Fisher)
As for Walcott's literary style, Clarke notes Walcott's ability to interchangeably use patois, vernacular English, cockney English and Trinidadian, Jamaican or Saint Lucian English.
"He was very much an Aristotelian poet," Clarke says. "He wrote lyric poetry, comic plays, tragic plays, and as Aristotle argued that the greatest poets have to write epic poetry, he did that with Omeros."
Walcott's twin brother also a playwright lived in Toronto. Walcott visited often, and one of the cantos of Omeros is set in Toronto, ten Kortenaar says.
"Many West Indian poets have made Toronto their home: Louise Bennett, Lorna Goodison, Olive Senior, Dionne Brand, NourbeSe Philip, Lillian Allen. It is fitting therefore that anyone who wants to study Walcott has to come here, to one of the centres where West Indian poetry is produced," he says.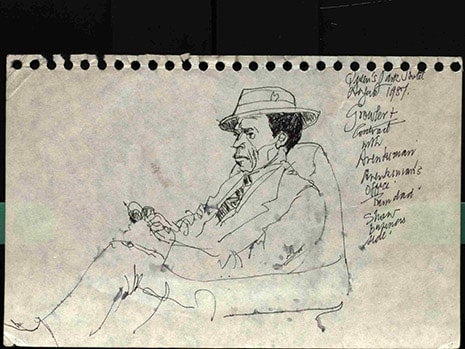 Ink drawings by Walcott for his musical play, Steel (courtesy of Fisher library)
UTC