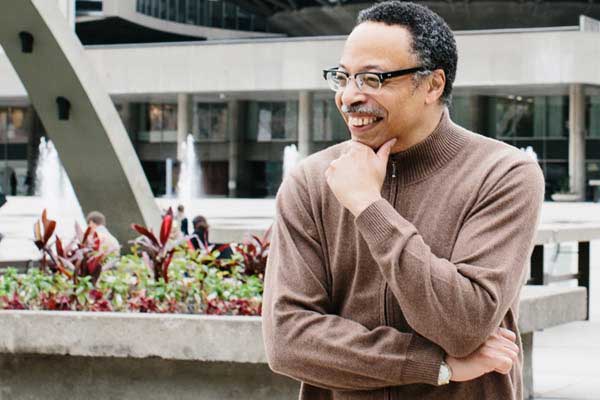 Professor George Elliott Clarke named parliamentary poet laureate
Professor Richard Greene: "Our students will see in him how poetry can matter in a world larger than classrooms or coffee shops"
The University of Toronto's George Elliott Clarke is Canada's seventh parliamentary poet laureate.
"George Elliot Clarke is an inspired choice for this role," said Professor David Cameron, dean of the Faculty of Arts & Science. "He is truly a people's poet whose award-winning work is renowned and whose passion for verse is absolutely contagious."
The appointment, which was announced on Jan. 5, took effect on New Year's Day. It comes just months after Clarke, the E.J. Pratt Professor of Canadian Literature at U of T, stepped down as Toronto's poet laureate, handing over that role to Anne Michaels, an adjunct professor of English and former Barker Fairley Distinguished Visitor in Canadian Studies at University College.
"I'm humbled and honoured, inspired and eager, to follow previous parliamentary poets laureate in valuing in verse our super-natural nation's exemplary experiments in democratized humanism," Clarke said. "The significance of the parliamentary poet laureate is to remind parliamentarians – and all Canadians – of the critical importance of masterful language use in communicating ideas beautifully and emotions movingly.
"There continues to be a need to reclaim the art of rhetoric as being not innately Machiavellian, but as being essential to memorable articulation of common concerns and democratic resolutions."
The renowned poet, playwright and novelist was selected by a committee that included the librarian and archivist of Canada, the official languages commissioner and the chair of the Canada Council for the Arts. His responsibilities will include composing poetry for occasions of state, advising the parliamentary librarian and sponsoring readings.
"His talent as poet, playwright and literary critic is undeniable," Speaker of the House of Commons Geoff Regan said. "He is an immensely versatile and engaging writer and will bring great honour to the position."
Professor Richard Greene said, "George Elliott Clarke is one of my favorite people at the University of Toronto. He is a major figure in contemporary Canadian literature. He has a  warm-hearted gregarious personality, and is endlessly encouraging to students at all levels."
Greene, a biographer and editor who is also one of Canada's leading poets, called Clarke "a superb undergraduate teacher of creative writing and a treasured member of the faculty for the MA in the Field of Creative Writing."
Clarke "has always had a way of bridging private and public experiences in his poetry, and now that he is Parliamentary Poet Laureate, that dimension of his work will stand out all the more," Greene said.
"Our students will see in him how poetry can matter in a world larger than classrooms or coffee shops. He will speak beauty to power, and if nothing else that will be a lesson to the young poets in our midst."
It's the latest in a series of honours for Clarke, who is an Officer of the Order of Canada and received the Governor General's Award in 2001 for his book of poetry, Execution Poems. Among his other awards are: the Dr. Martin Luther King Jr. Achievement Award, the Portia White Prize for Artistic Achievement, the National Magazine Gold Medal for Poetry, the Pierre Elliott Trudeau Fellowship Prize and the Order of Nova Scotia.
Created in 2001, the position is intended to honour Canada's poets and highlight the role of poetry in society. In a statement announcing the appointment, Senate Speaker George Furey said "George Elliott Clarke has been a true ambassador of the work of Canadian poets. His contribution to Canada's cultural fabric is exceptional."
Toronto poet Kateri Lanthier, who teaches an undergraduate class in creative writing at the University of Toronto Mississauga, called the appointment inspired.
"He has done a superb job as Toronto's poet laureate, initiating community-building projects such as the Toronto Public Library's online Poetry Map," Lanthier said.
"He's a splendid and dramatic poet, a deeply knowledgeable and impassioned advocate for poetry, a fine professor and a rivetting performer of his own work, which often foregrounds and brings vividly to life hitherto neglected voices from the long history of Nova Scotia's Black community," said Lanthier. "He is also a tremendously warm and generous person. 
"I read with him in New York last year (with other poets whose work had appeared in Best Canadian Poetry 2014) in the series at Bryant Park and at storied KGB bar, as well as in Toronto with a group of poets writing in Chinese and English, at Riverdale library. On each occasion, his signature vivacity, empathy and enthusiasm lit up the gathering.
"We are lucky to have him in this new role."
Below, see a Storify of social media posts about the appointment, curated by Sarah Khan:
UTC