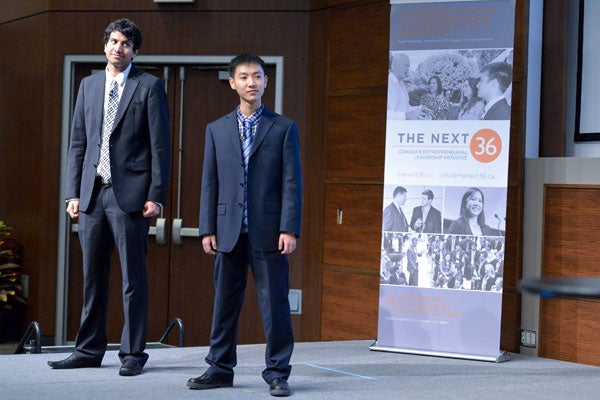 The Next 36 selects 11 U of T students and alumni
Eleven members of the U of T community are among the entrepreneurs selected from across North America for The Next 36 program – including 10 students from U of T's Faculty of Applied Science & Engineering.
This increasingly popular program is designed to train Canada's next generation of innovators and business leaders. Competition this year was tough, with close to 1,000 applicants, said Jon French, spokesperson for The Next 36.
Those who are selected are given the opportunity to develop their business ideas and put them into action with help from Canadian business leaders, with mentorship and lectures from world-class faculty over a nine-month period. The entrepreneurship-immersion program also provides those selected with up to $95,000 in seed investment for new ventures.
"I applied to The Next 36 because I wanted to make a positive impact in the world, and I believe entrepreneurship is one way to do so," said Mingyuan Li, a human biology major who graduated from University of Toronto Scarborough this year. "Entrepreneurship is an opportunity for me to bring my innovations to the world, and in so doing, I hope that it will improve the quality of life of others."
Now researching cystic fibrosis at Toronto's Hospital for Sick Kids, Li will join teammates from U of T engineering and McGill University's commerce program to develop an app for parents of small children.
"We would use existing devices such as smartphone or wearable technology to help them keep track of the whereabouts of the child," said Li. "Our app can also extend to ensure the safety of the elderly and those with neurodegenerative diseases – to ensure that they are always safe and at a location where they can be protected."
Having so many U of T engineering students on this year's list is rewarding, said Joseph Orozco, executive director of entrepreneurship at the Entrepreneurship Hatchery and adjunct professor of the Centre for Management of Technology and Entrepreneurship.
"Seeing 10 of our students among The Next 36 shows the message of innovation and an understanding of business is coming through," Orozco said, adding that one of The Next 36 students has applied to the Hatchery program, which offers similar services, and he hopes to see more.
"I personally believe we all have an entrepreneurial seed inside of us. What we do here is allow that seed to flourish. It's not always about creating your own business but being able to work in any environment, any company. These students are going to be better members of society."
Nine of those selected from U of T came from engineering's enriched program of engineering science and five of the students are either enrolled in, or have completed engineering entrepreneurship courses.
"There is a renewed emphasis on design and innovation in the Faculty of Applied Science and Engineering, and this is contributing to a culture of entrepreneurship in our students," said Professor Mark Kortschot, chair of engineering science and himself an experienced entrepreneur. "Needless to say, I am extremely pleased with the performance of our students in this year's The Next 36 competition and confident that they will make the most of this outstanding opportunity," 
Engineering's Timothy Ahong and James Schuback (pictured above) are on a team developing a wearable motion sensor which provides feedback on athletic technique and motion for a variety of sports. The device compares a person's motion, whether it's a tennis or golf swing, or other motions, to that of the pros. Now infected with the entrepreneurship bug, Ahong plans to take an engineering entrepreneurship course later.
"The Next 36 is an amazing opportunity and I still can't believe I'm doing this," said Schuback. "Entrepreneurship is the path I've chosen after graduation, and I plan to pursue this or a related project."
U of T alumni and students in The Next 36 will be building their startups along with their co-founders (small teams applied) and mentors. Other ideas presented by students included: a motorized blimp for filming events and a fashion consulting platform. 
Projects may change from the initial idea over the course of the program as Venture Day in mid-August 2014 gets closer. That's the program's annual Capstone Event where ventures are showcased to investors and business leaders from across North America. It is also when the students officially graduate from The Next 36 program.
The Next 36 began as a way to address Canada's shortage of high-impact entrepreneurs. The organization provides a resource-rich program to a select group of promising undergraduates, and was founded by a small group of entrepreneurs, business leaders and academics, a number of whom are U of T engineering alumni.
This year's roster of U of T participants also includes: Amir-Hossein Karimi; Shums Kassam; Vivek Kesarwani; Drew MacNeil; Tejas Mehta; Jonathan Yam; Victor Zhang and Cheng Zhao.

Pippa Wysong is a writer with the Faculty of Applied Science & Engineering.