Newborns of women with disabilities more likely to experience health complications, study finds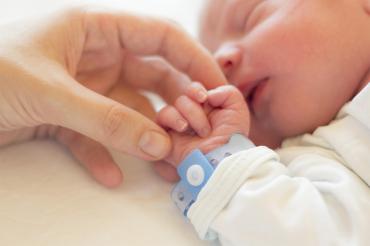 Babies of women with disabilities have a greater chance of experiencing rare health complications and requiring intensive care – though many of the health issues are preventable, according to a new study.
"There's good evidence that, especially for preterm birth and low-birth-weight babies, better access to prenatal care can make a big difference," says Hilary Brown, co-author of the paper and assistant professor in the department of health and society at the University of Toronto Scarborough.
Published by the American Academy of Pediatrics, the study – one of the largest of its kind –found the greatest risks were in newborns of women with intellectual or developmental disabilities, and multiple disabilities. 
Researchers used data from the non-profit research institute ICES to look at all births in Ontario from 2003 to 2018. They compared the newborns of about 200,000 women diagnosed with a disability to the 1.5 million babies of women without disabilities. They also classified four types of disability in the mothers: physical; sensory; intellectual or developmental; and multiple disabilities. 
"Looking at different types of disabilities is important because when we think about making perinatal care more accessible, there's broad recommendations that can be made around physician training, but there's more specific recommendations we can make depending on the type of disability, such as making sure newborn intensive care units (NICUs) are physically accessible," says Brown, who holds a cross appointment at the Dalla Lana School of Public Health and is an adjunct scientist at ICES and the Women's College Research Institute at Women's College Hospital.
Newborns of women with disabilities had higher rates of NICU admission, along with health complications and preterm birth. Except for those born to women with a physical disability, all were also more likely to be small for their gestational age.  
Aspects of mothers' lives key to understanding impact of disability
There are several reasons why a baby may have health complications and many risk factors are more common in mothers with disabilities. The study found women with intellectual or developmental disabilities tended to live in the lowest income neighbourhoods; they and those with multiple disabilities also had higher rates of substance use. Women with disabilities were more likely to have unstable chronic health conditions and mental illness, and to smoke during pregnancy. 
"In addition to these medical factors, there are also important social or structural factors that may explain the risks we observed," says Brown. "For example, we know that people with intellectual or developmental disabilities are particularly marginalized and experience big barriers in socioeconomic status and access to care."
Researchers had to account for these risk factors and the odds that they were the cause of a newborn's health condition. After factoring these into their analysis, there was still a moderately higher risk of health complications in newborns of mothers with disabilities. 
"There are other things, such as quality of care, that could explain the remaining risk," Brown says. "This will be an important area for future research." 
Pregnancy in women with disabilities and their newborns largely unexplored
Funded by the U.S. National Institutes of Health and the Canada Research Chairs Program, the study paints a limited picture since Ontario doesn't collect patient data on race, ethnicity or individual income. Researchers also had little past work to draw on because the reasons why newborns of women with disabilities are more likely to have these health complications remain largely unexplored.
Brown says the lack of research is part of a problematic larger belief that pregnancy in those with disabilities is rare. By contrast, her 2020 study found one in eight pregnancies in Ontario were to a person with a disability.
That number is also rising. About 12 per cent of women of child-bearing age live with a disability, and fertility rates among the group are rising due to advancements in medicine and human rights. Brown notes that up until the 1970s, involuntary sterilization of people with disabilities was legal in Canada. While laws have reformed, these women still often face barriers to reproductive health care.
"We know that a lot of disparities in maternal and newborn outcomes really are driven by socioeconomic factors, and that speaks to the importance of all sorts of social programs."
Accessible transportation, for example, can impact the ability to make it to prenatal care appointments. Physicians' knowledge and attitudes can also significantly shape one's experience in the health-care system.
"Physicians also need more resources and training on disability and pregnancy so they can provide high-quality care," Brown says. "Structural changes need to happen across the system."
UTSC