New U of T Scarborough building a greener, more efficient way to foster innovation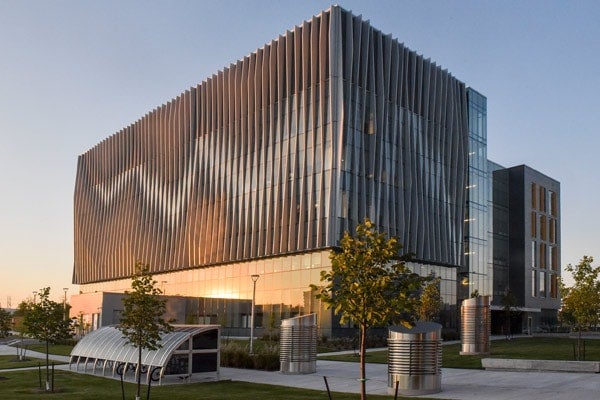 The Environmental Science & Chemistry Building embraces sustainable design elements aimed at reducing energy consumption. (Photo by Ken Jones)
The new home for the University of Toronto Scarborough's Environmental Science and Chemistry programs means undergrads will be doing research in a facility built to the highest of environmental standards.
"Beyond being a beautiful building, this is an environmentally-friendly and energy-efficient place to do cutting-edge research," U of T Scarborough Principal Bruce Kidd said.
"We're putting our motivation to be better global citizens into action by committing to sustainable building practices and providing a world-class facility for our faculty and students." 
The Environmental Science and Chemistry Building (ESCB) will add 1,838 sq. m of research laboratories and 1,052 sq. m of teaching laboratories to U of T Scarborough. Designed by Diamond Schmitt Architects and built by EllisDon, the $65-million research facility will house faculty, students and staff of the environmental science and chemistry programs.
"The building provides state-of-the-art facilities to support our brilliant faculty, staff, and students in Environmental Science and Chemistry," said U of T President Meric Gertler. 
"It demonstrates a passionate commitment to the highest standards of sustainability. And it is a further illustration of UTSC's exemplary engagement in the community and the world around us."
It's only fitting that a building dedicated to research on the physical environment embraces sustainable design elements aimed at reducing energy consumption, Kidd said. The result is a facility on track for LEED gold certification and will achieve an annual energy reduction of 54 per cent compared to standard buildings. 
A new kind of lab opens at University of Toronto from DiamondSchmittArchitects on Vimeo.
"The design elements for this building use existing technology or were modified and expanded to meet our requirements," says Bernie Kraatz, U of T Scarborough vice-principal of research.
"More importantly having both environmental science and chemistry under one roof will help with collaboration in addressing some important research questions."  
The research being done at ESCB will focus on pressing environmental issues including climate change, groundwater pollution in urban settings, restoration of environmental systems, and rising sea levels, to name a few.
The exterior of the building uses an extensive earth tube system to help with heating and cooling the building. A geothermal heat pump system using more than 60 boreholes extending 210 metres deep in the ground will help cool and heat the building. During the summer the exchanger transfers heat from the building into the ground and likewise the system draws stored heat from the ground to help heat the building during winter.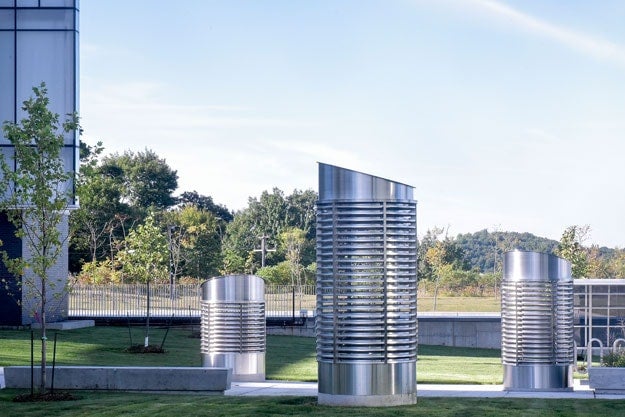 A geothermal heat pump and a system of earth tubes will help to heat and cool the building. Photo by Ken Jones.
The glazing on the exterior of the building uses thermal breaks in the frame to cut down on heat gain from the sun. Even the roof is specially designed to recycle rainwater by funneling it to underground cisterns used to irrigate the surrounding landscape during dryer months.
The inside of the building is lit entirely with LED fixtures and a high performance lab ventilation system monitors not only monitors air quality but equipment energy consumption. Only materials low in Volatile Organic Compounds (VOCs) – like those found in adhesives, sealants, paints and coatings – were used in the construction of the interior, while the use of low-flow plumbing reduces water consumption throughout the building.  
Adding space will also result in greater opportunities for students to do research, something undergraduate environmental science student Jeanny Yao is relishing. 
The new Environmental Science and Chemistry Building at UTSC will create greater research opportunities for students in environmental science and chemistry. Photo by Ken Jones.
"My experience so far at U of T Scarborough has allowed me to connect with researchers from different disciplines and come up with unique solutions to environmental challenges," says Yao, who as a teenager started her own company aimed at reducing waste from plastic containers. 
"This facility really embraces our sense of community by allowing us to build relationships with top researchers as we progress and mature as students." 
The sustainability of the building was extended to the community as well. Partnering with Hammerheads, a program that gives construction training and apprenticeship opportunities to youth in Neighbourhood Improvement Areas, resulted in opportunities for valuable work experience.
"We had participants from the program help install the mechanical systems, which are critically important because it's such a complex building," adds U of T Scarborough CAO Andrew Arifuzzaman.  
Another benefit of the building is its modular and open design concept. Not only will it offer both programs greater flexibility to start new research projects, it will also foster collaboration among faculty and students. The building uses transparent and semi-transparent glass to section off space, while there are open meeting areas interspersed for greater interaction.   
"We work in a very interdisciplinary field to begin with, so having chemists able to interact easily with colleagues in environmental science can be a spark for innovation," says Associate Professor Carl Mitchell.
"Some of the best collaborations I've ever taken part in started with a simple conversation."