New U of T patent targets brain fog left behind by anesthesia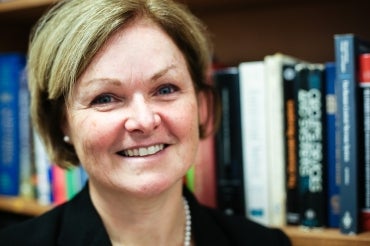 Twenty years of meticulous research has led to a new United States patent for a University of Toronto anesthesiology expert.
The patent, "Methods for the prevention and/or treatment of memory impairment," is for a class of drugs that may help mitigate troubling and costly disorders such as delirium and cognitive dysfunction that plague some patients after surgeries requiring general anesthesia.
It's like patients – both young and old – wake up but they're "not working on all cylinders," explains Dr. Beverley Orser, a professor at U of T's Faculty of Medicine and staff anesthesiologist at Sunnybrook Hospital.
"They are not themselves," she says. "Sometimes it's really overt such as when they have delirium [hallucinations, frequent mood changes], and sometimes it's more subtle – like when suddenly in the postoperative period Grandma just isn't getting it [when people are telling her new information]." 
On Monday, Orser will share the news of her patent and the importance of funding basic research during a talk on Parliament Hill with federal Science Minister Kirsty Duncan and 40 members of Parliament in attendance.
Orser's patent (no. 9,517,265) is for a class of drugs that target a receptor in the brain that blocks the ability to make new memories. It's one of more than 100 U.S. patents awarded to U of T researchers since 2011 with the help of U of T's Innovations & Partnerships Office (IPO).
"We're very excited by Bev's accomplishment," says Jennifer Fraser, U of T's director of innovations. "Getting a U.S. patent issued helps attract commercial interest and will hopefully lead to industry engagement."
Already, patents issued to U of T researchers have generated more than $49 million through such agreements.
When asked if she may spin her patent off into her own company, Orser laughs but doesn't dismiss the possibility out right.
"I have a twin sister who is a professor involved in entrepreneurship, and she's been pushing me to think about it," she says.
Her goal is to just see her research make the leap from the lab to the operating room as soon as possible to help people most at risk.
"We are still focused on celebrating that people just survive surgery," she says. "That's not enough. They need to be thriving and surviving."
Interest in Orser's patent should be promising since the ability to curtail postoperative delirium and cognitive dysfunction would mean huge savings for the health-care system, as well as peace of mind for families who are often bewildered the condition lasts long after a loved one's hospital stay has ended.
A study by the University Health Network (UHN) found post-op disorders is costing its four centres alone $17 million annually because of longer hospital stays and additional treatment required by patients.
The length of time the cognitive disability can last varies, and it's hotly debated whether the deficits are permanent.  In fact, one in three patients diagnosed are still suffering when discharged from hospital. One in 10 still have symptoms three months after their surgery, she says.
The culprit is strong drugs such as inhaled anesthetics that are similar to ether or propofol – the drug involved in singer Michael Jackson's death – which induce unconsciousness during surgery.
Orser's team has found anesthesia and inflammation caused by surgery can increase the activity of a receptor in the brain that blocks the ability to make new memories. She describes the post-op condition as a residual "footprint" on the brain from general anesthesia.
And it's surprisingly common. For reasons that aren't exactly clear, patients are at a higher risk if they're undergoing cardiac or major vascular surgery (such as a cardiac bypass), are placed in intensive care for surgery, or are elderly patients undergoing hip-fracture surgery, Orser says.
In fact, a third of hip-fracture surgeries results in these post-op conditions, she says.
Avoiding anesthesia is not an option for patients undergoing these surgeries. Until her patent leads to new drugs that are widely available, she encourages people to always practice "good brain hygiene" by exercising, getting a good night's sleep, treating hypertension and liming alcohol and recreational drug consumption to limit their risk.