New U of T measure calls for non-medical masks or face coverings in indoor public spaces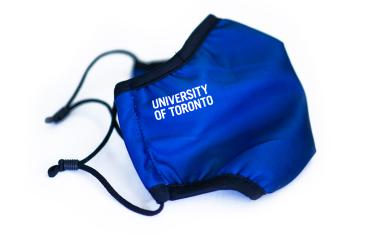 To further help limit the spread of COVID-19, the University of Toronto is implementing a temporary measure that calls for non-medical masks or face coverings to be worn inside buildings that are normally publicly accessible.
As of July 7, individuals who are in an indoor space that is normally publicly accessible will be required to wear masks or face coverings when measures such as physical barriers are not available. This includes hallways, lobbies, elevators and other common use facilities.
Exemptions are provided for people with underlying medical conditions that inhibit their ability to wear masks and individuals in areas that are not intended for public use. Masks may also be removed when taking part in athletic or fitness activities and in situations where wearing a mask impedes delivery and receiving of services.
"As U of T prepares for a safe and gradual return to our campuses, we recognize the importance of doing all we can to protect our students, staff, faculty and librarians while following public health guidance regarding COVID-19," said Vivek Goel, a professor in the Dalla Lana School of Public Health who is helping guide U of T's pandemic response as a special adviser to the president and provost.
"Using a non-medical mask in indoor spaces that are normally accessible to the public is another way we can do our part."
The measures come on the heels of a new City of Toronto bylaw that also requires the wearing of masks or face coverings in enclosed public spaces and is scheduled to come into effect today. While the bylaw does not apply to post-secondary institutions, Goel said U of T decided to enact similar measures to protect the safety and well-being of the university community, bearing in mind advice from Toronto's Medical Officer of Health that wearing masks or face coverings is "a necessary, recognized, practical and effective method" to limit the spread of the virus. 
The Toronto Transit Commission also made masks mandatory for riders earlier this month.  
Other municipalities in the Greater Toronto Area, including Peel Region, have signalled an intention to implement similar measures. If Peel Region's measures differ materially from U of T's measures, members of the U of T Mississauga community will be provided with updates, according to Goel.
U of T has already arranged to procure 250,000 non-medical, reusable face masks in order to provide two to every student, staff, faculty and librarian (information about how to use and take care of your U of T-provided mask can be found here).
In addition, the university will determine whether medical masks will be provided to people in specific settings like research labs and health-care facilities. Employees conducting work in environments where an Environmental Health & Safety (EHS) assessment determines that personal protective equipment is required will be provided with the appropriate masks.
Requiring the temporary use of masks in indoor public spaces is just one of the many steps U of T is taking to help mitigate the spread of the virus. Others include rearranging classrooms, residence facilities and other common use areas to allow for physical distancing, increasing the frequency of cleaning and disinfecting of surfaces, more signage, installing thousands of hand sanitizer stations and installing protective barriers where appropriate.
"Taking steps to limit the spread of COVID-19 is a responsibility we all share in order to protect vulnerable members of our community," Goel said.
UTC