New U of T FinHub part of effort to make Toronto a 'world leader in financial innovation'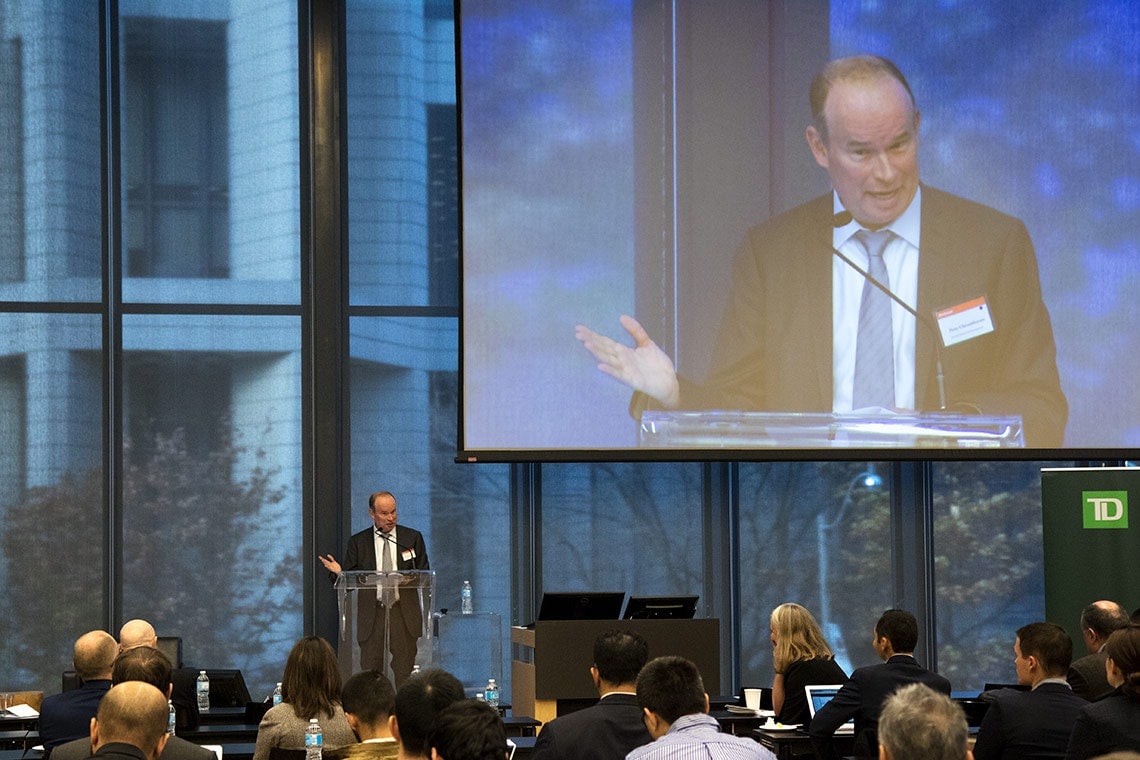 The University of Toronto's Rotman School of Management is getting into the technology game.
The business school today launched the Rotman Financial Innovation Hub in Advanced Analytics, or FinHub, in an effort to spur financial innovation and entrepreneurship using potentially disruptive technologies like machine learning and blockchain.
In addition to creating new classes for students, FinHub will encourage research into financial innovation in parternership with U of T's Faculty of Applied Science & Engineering and department of computer science, as well as promote engagement with the financial industry. 
"There's a lot of disruption in the financial services industry," said Peter Christoffersen, a Rotman professor of finance and the TMX Chair in Capital Markets.  
"More and more, banking and financial services is becoming more like a technology industry, so we as a business school felt we had to respond."
The FinHub initiative, supported by a $1 million donation from TD Bank, could also help establish Toronto, the second biggest financial services hub in North America, as a global centre for financial services innovation. That includes everything using machine learning to better assess insurance companies' risks to the development of robo-advisors to manage people's money.
Christoffersen added the effort was very much a collaborative one, drawing on the research expertise across U of T and the real-world experience of Toronto's financial services industry. 
"That includes the traditional players like the big banks and insurance companies, but also this new industry of fintech startups," he said.
Christian Nelissen, TD's senior vice-president, head of enterprise data and analytics, said in a statement that "Toronto's FinTech ecosystem is among the best in the world and Rotman and the University of Toronto are leading financial educators – we think that's a powerful combination."
To kick off FinHub, Rotman today hosted a one-day conference that featured talks from bankers, U of T researchers and fintech entrepreneurs.
Rotman University Professor John Hull provided attendees with an overview of the impact technology is having on the financial sector, while Alex LaPlante, the managing director of research for the Global Risk Institute in Financial Services, another FinHub supporter, suggested initiatives like FinHub were necessary to "cement Toronto's place as a world leader in financial innovation." 
One example of an area where Rotman researchers believe there are significant opportunities for technological innovation is trade settlements. 
Mariana Khapko, an assistant professor of finance at U of T Scarborough's department of management, said blockchain, the distributed ledger technology that underpins cryptocurrencies like Bitcoin, could eliminate the massive gap between the length of time it takes to sell a stock, measured in milliseconds, and the two or three days needed to actually settle the trade. 
"There's significant capital and liquidity costs as a result of these delays and inefficiencies," Khapko said, noting that some trade settlements don't get completed at all.
Mariana Khapko, an assistant professor of finance at U of T Scarborough's department of management, talks about "smart settlement" using blockchain (photo by Chris Sorensen)
Joseph Paradi, professor emeritus in the Faculty of Applied Science & Engineering, said the partnership model FinHub is pursuing with engineering and computer science is key to driving innovation. "We believe that collaboration across disciplines really is the future," said Paradi, who is also the executive director for the Centre for Management of Technology and Entrepreneurship.
Christoffersen said he also envisions FinHub working hand-in-hand with Rotman's Creative Destruction Lab, or CDL, one of several U of T entrepreneurship hubs.
"CDL takes companies that already exist and tries to scale them up in size," Christoffersen said. 
"So where we see ourselves is as an incubator for CDL: starting with research and business ideas and then developing them into business plans and getting things started."
UTC