A new model for innovation? How Elizabeth and Aled Edwards are driving an open science revolution
When the COVID-19 pandemic struck, scientists, corporations and governments around the world scrambled to share research data and ideas to advance the understanding of the disease and produce life-saving vaccines and therapies in record time.
For many, it was a crash course in "open science" – the practice of freely sharing research information and, often, eschewing intellectual property protections on early-stage inventions for the sake of accelerating discovery.
But for the University of Toronto's Elizabeth and Aled Edwards, it was little more than a well-publicized example of an approach for which they've long been advocates (and an example Aled argued should have been extended by making access to COVID-19 vaccines more equitable globally). Over the course of their careers, the two researchers – who are married – have attracted numerous industry partners to open science initiatives in medicine (Aled) and engineering (Elizabeth), helping establish U of T as a hotbed of what could be described as a new model of innovation.
Each has been made an Officer of the Order of Canada for their industry partnership work. Elizabeth received the honour in 2020 for her contributions to bioremediation, while Aled was honoured earlier this year for his efforts in advancing Canada as a leader in open science research through his leadership of the Structural Genomics Consortium (SGC), which he founded in 2003.
"Society's big problems – such as how AI can help drug discovery, how we're going to create bio-manufacturing capabilities that can provide medicine to the world affordably, how we're going to tackle climate change and how we prevent the next pandemic – can't be solved by any single actor," says Aled, a professor in the departments of medical biophysics and molecular genetics and the Temerty Nexus Chair of Health Innovation and Technology in the Temerty Faculty of Medicine. "They require spaces to focus purely on innovation – the science, engineering and other research – in which ideas are freely shared and worries about patenting are set aside.
"We believe that universities in general, and U of T specifically, are ideally positioned to host these spaces."
While some critics fear a sharing-first approach will dampen incentives and scare off industry, SGC's open science policy, which expressly forbids patenting on its research, has so far had precisely the opposite effect. Over the past 15 years, the expansion of SGC's open science remit has only served to bring more industry partners to the table.
A more recent SGC project – Critical Assessment of Computational Hit-Finding Experiments (CACHE) – was organized with several partners from Big Pharma and aims to accelerate development of AI methods in drug discovery. It invites experts to participate in "challenges" around predicting which small molecules bind to specific target proteins implicated in diseases including Parkinson's disease and COVID-19, and placing the drug starting points in the public domain. In an interview for the CACHE website, Alexander Hillisch, vice-president and head of computational molecular design at Bayer AG in Wüppertal, Germany – one of the companies supporting CACHE – said the incentive for companies lies in being able to access quality experimental data and get to know the most skilled scientists for potential future collaborations.  
Beyond his stewardship of SGC, Aled has founded and led numerous companies including the more traditional Affinium Pharmaceuticals, a venture-backed company that developed and sold a new antibiotic, and the more unusual M4K Pharma, which is developing new, but affordable, therapeutics for rare children's cancers using an open science business model.
Aled sums it up: "To me, in my work, open science is not an end – it's a business tactic to reach an end, which is to help us understand more about the human genome and human biology, and to allow this knowledge to be translated as rapidly as possible to drive new treatments."
Elizabeth, meanwhile, traces her early forays into open science to when she worked with industry partners to develop a microbial culture, KB-1, that can dechlorinate pollutants in groundwater. That invention led to the creation of the spinoff company SiREM.
Since KB-1 was a collaborative discovery, patenting it became more of a headache than it was worth.
"When we started working together, we weren't thinking about IP – it wasn't even on the radar," says Elizabeth, a University Professor in the department of chemical engineering and applied chemistry in the Faculty of Applied Sciences & Engineering who is cross-appointed to the department of cell and systems biology in the Faculty of Arts & Science.
"So, we just negotiated a royalty and have kept working together ever since, with students going back and forth."
KB-1 has since been deployed at some 900 sites around the world by organizations ranging from Fortune 500 companies to NASA, with SiREM continuing to collaborate with Elizabeth and her students to develop cultures that can degrade other contaminants.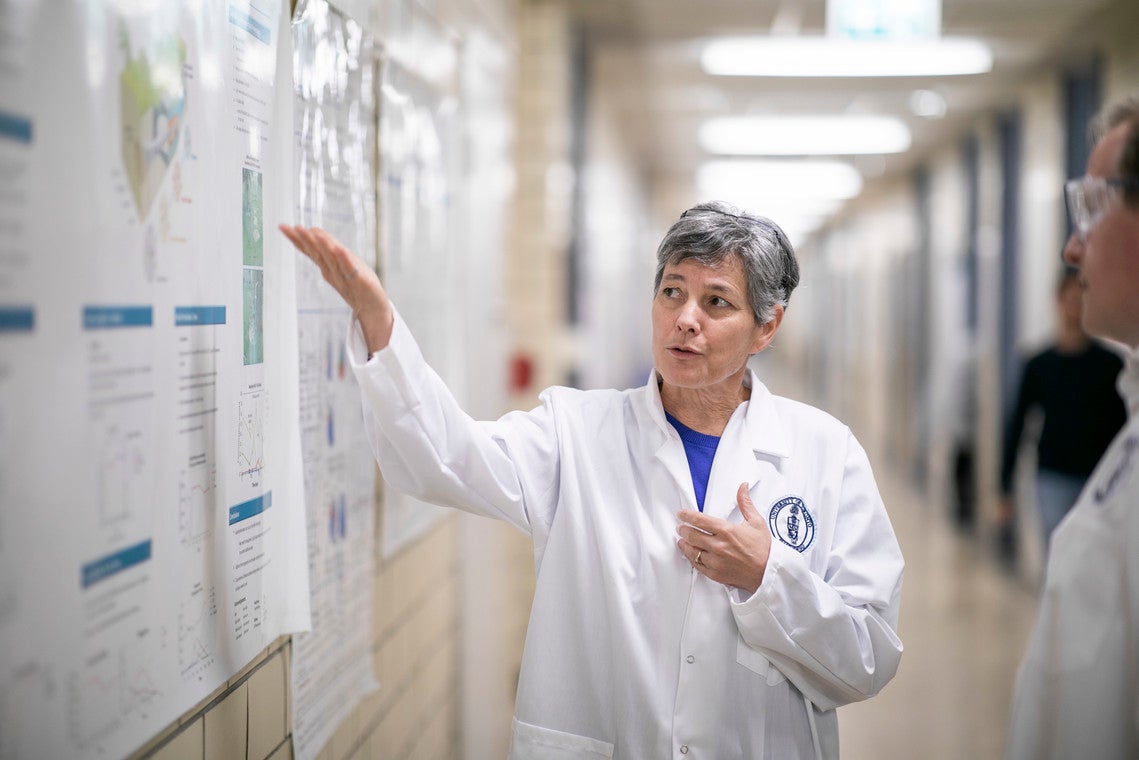 Elizabeth Edwards gives a tour of U of T's BioZone research centre, which has freely disseminated nearly all of its research (photo by Nick Iwanyshyn)
Elizabeth is also the founding director of BioZone, an interdisciplinary research centre that is dedicated to developing biotechnologies that address sustainability challenges. Nearly all of of BioZone's past research output has been disseminated freely, and all new industry partnerships are being pursued using the no-patent, open science approach – including Elements of Bio-Mining, which aims to harness microbial science to stabilize waste tailings from mining. Industry partners include mining giant Vale and commodity trader Glencore.
The U of T open science industry partnership roadmap is also driving similar projects across Canada. That includes "Open Plastic," led by Queen's University assistant professor and U of T alumnus Laurence Yang, which focuses on the discovery of enzymes that can break down plastics in the environment – and has attracted partners including chemicals giant DuPont; Star Produce, a distributor of fruits and vegetables; and Carbios, the first industrial-scale foray into enzymatic PET recycling.
Elizabeth says the long list of corporate partners that have collaborated on open science ventures proves that IP isn't the main motivating factor for companies looking to work with universities. With the help of student interns from the Faculty of Law, Elizabeth, Aled and colleagues at BioZone rebutted common misconceptions about industry partnerships in an article titled "Could open science stimulate industry partnerships in chemical engineering university research?" published in the Canadian Journal of Chemical Engineering.
"The people who work in companies read the same literature as professors do, and they're just as smart and capable – but they have a different mandate," she says.
"If something interesting happens in their labs but it's a little bit sideways, they're not allowed to pursue it because they have a core business to stick to. So, these companies love [open science partnerships] because it helps them find out more about the things they wish they could do, but don't have time for."
Aled agrees.
"Industry loves the clarity of the policy; they know exactly what they're going into the collaboration for – to talk science, to engage with brilliant young people, to do science they would not have the time to do internally, and to get excited about the latest scientific developments," he says.
"Elizabeth and I see the university's role in the innovation economy as being a vehicle for industry to ask far-out questions, while allowing them a way to engage and attract students to their problems – and students really enjoy tackling real-world problems."
He adds that U of T's support of his and Elizabeth's open science initiatives has placed the university in a leadership position in industry engagement worldwide.
"In supporting us to explore this radical way to innovate, U of T has painted a picture of how the Canadian university of the future can work with the private sector and others to tackle big problems and more effectively move ideas from the lab to the market.
"It's an innovation on innovation, and we hope U of T continues to lead the way."
UTC