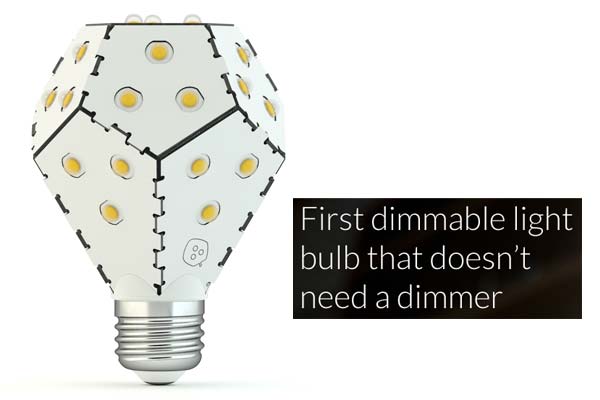 This new dimming bulb doesn't need a special light switch - and it's still the world's most energy efficient
U of T alumni startup Nanoleaf beat funding goal for new bulb in 90 minutes
The U of T engineering alumni behind Nanoleaf, a startup which they say makes 'the world's most energy-efficient lightbulb,' blasted well beyond their latest funding goal in under two hours.
Fuelling the excitement: the debut of their latest product: a new LED bulb design called Bloom, which "transforms" any on/off light switch into a dimmable switch with the team's innovative green technology.
"In the past, with regular light switches people had no choice but to use their lights either at full power, or completely off. With our latest innovation, we not only give people the convenience of having the ability to adjust the brightness without the need for a dimmer but more importantly we enable them to save a significant amount of energy," said Nanoleaf co-founder Gimmy Chu. The team estimates the new bulb will cost approximately $1.53 in energy per year. (Read more about Nanoleaf)
"One of the coolest parts about our bulb is that at half brightness, it only uses a quarter of the full power. At the lowest brightness, the Nanoleaf Bloom only uses half a watt of electricity. This is definitely one of the coolest parts of the product—and it is still the world's most energy efficient."
Nanoleaf was first profiled by U of T News in February of 2013. That's when a Kickstarter campaign for the first efficient and stylishly designed bulb from Chu and his co-founders, fellow engineering alumni Christian Yan and Tom Rodinger, began to draw investments well beyond their original $20,000 goal. (Read more about Nanoleaf's beginnings)

Since then, the team scored influential global funding from the likes of Li Ka Shing (dubbed "Asia's richest man" by Bloomberg news) while keeping the U of T connection alive, adding three new team members from the university and name-checking the support of President Meric Gertler when speaking with international media. (Watch Nanoleaf's interview with Bloomberg Asia)
"I think people are drawn to the high energy efficiency design of our bulb as well as our story – a David vs. Goliath sort of thing – you know, just three entrepreneurs with no funding and just a bright idea," Chu told U of T News in an article about the global funding. (Read a Q&A with Chu on the global funding)
"We used our passion for efficiency to build a light bulb that was well ahead of the competition. I'm actually surprised that the bigger companies haven't hit our efficiency rates yet, but sadly I don't think efficiency is their primary focus."
Chu shared plans for the dimmable bulb in the U of T News story in March. Now that it's launched, their latest product continues to rack up Kickstarter funding as they surpassed their original target of $30,000 in less than two hours.
"We want to inspire people to adopt more energy efficient technology into their everyday lives," said co-founder Christian Yan. "The best way to do that is by making products that are simple and convenient to use."