Nada Ristich, champion of corporate philanthropy, receives honorary degree
In her senior role with the Bank of Montreal, Nada Ristich has helped reshape the practice of corporate philanthropy in Canada. Her innovative and collaborative approach to the bank's giving program has supported a variety of organizations in the arts and humanities, as well as access to higher education.
Today, for her service to the local community and her advocacy for the arts in corporate philanthropy, Nada Ristich is being awarded a Doctor of Laws, honoris causa, from the University of Toronto.
Born and raised in Toronto, Ristich earned a degree in French literature from U of T's Victoria College in 1977, thinking she might become a teacher. But teaching jobs were scarce at that time, so she cast her net more broadly and ended up landing a position at Sears Canada – even though, as she says, she "knew nothing about the business and corporate world."
Before long, a mentor encouraged her to apply for a job in the company's public affairs department, where she was introduced to corporate philanthropy. She spent several years in that area at Sears and Kraft Foods before joining BMO in 1994.
Now, Ristich oversees the bank's community giving programs across Canada and the U.S.
Philanthropy has been part of BMO's activities almost since its inception (its first recorded donation was in 1835) and Ristich says it remains an important piece of the bank's strategy. "We remain at heart a community bank serving community needs," she told BCBusiness.ca.
In 2018, BMO Financial Group made donations totalling $63.5 million in Canada and the United States to support charities, not-for-profit organizations and community-based programs.
Thriving neighbourhoods are good for the community – and for the bank, Ristich said in an article posted at the BMO website. "We believe economic activity brings resilience to a neighbourhood, forming an important part of its stability – along with schools, health care providers and community connections, among other things," she says.
She noted that the bank places an emphasis on collaboration with people and organizations that have local knowledge, and on generating economic activity that is sustainable in the long term. To this end, Ristich is a passionate believer in the arts to sustain both jobs and community resilience.
In a talk at the Centennial College Story Arts Centre in Toronto in 2016, Ristich noted that cultural industries in Canada had become a significant employer and a key driver of the "innovation economy."
"For too long, the arts have been viewed as nice but not really important – a frill you pay attention to when times are good," she told the audience. "The reality is far different, of course. The cultural industries are now one of the major sectors of Canada's economy."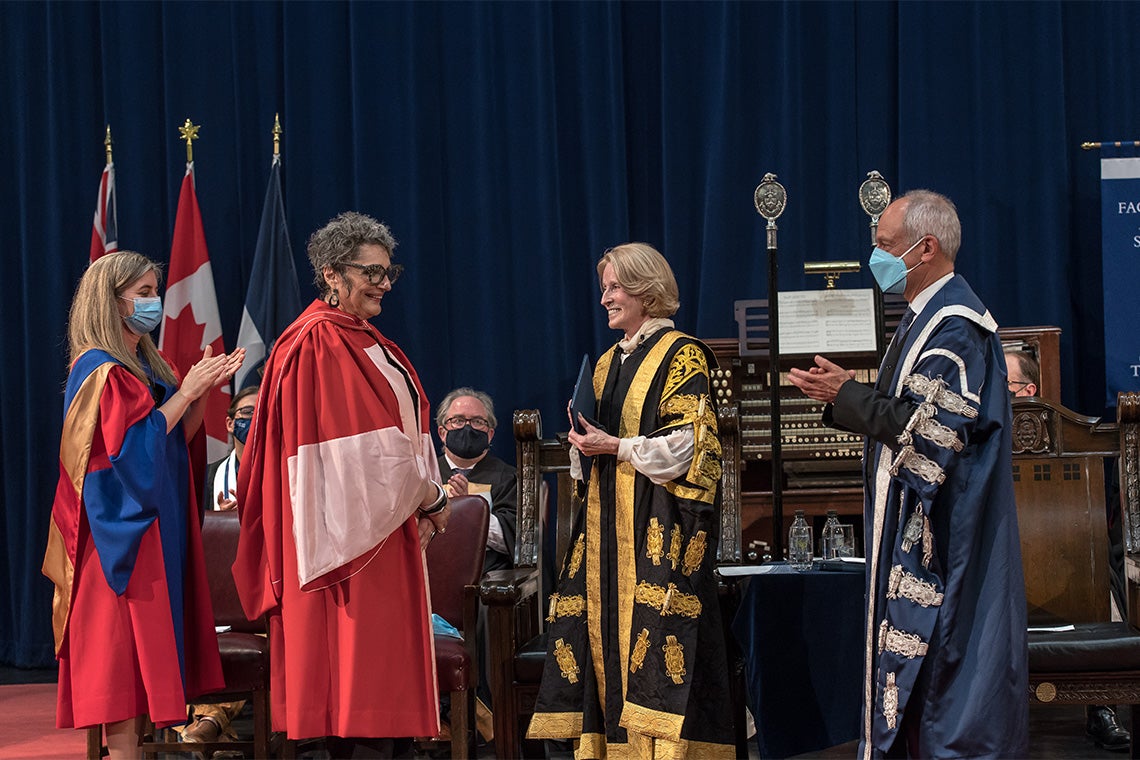 (photo by Lisa Sakulensky)
Ristich also stressed the importance of collaboration in advancing innovation. "There's an old saying if you want to go fast, go alone. But if you want to go far, go together. Innovation doesn't exist these days unless it's driven by collaboration."
She said the bank looks for "thinking outside the box" in the organizations it supports, and a willingness to collaborate. Quoting author Don Tapscott, she advised the students that, in a constantly changing, networked economy, "learning to collaborate is part of equipping yourself for effectiveness, problem solving, innovation and lifelong learning."
Ristich has taken this message to U of T as well, regularly lecturing students, mentoring graduates and serving as the principal architect of the BMO-supported National Scholarship Program. In recognition of her volunteer contributions, she received the university's Arbor Award in 1999.
In her address to U of T graduates today, Ristich planned to emphasize the importance of lifelong learning – and of treating curiosity about the world as a skill that can be developed and refined. "So how do you do that? Two ways. The first is to get fluent fast in things you don't like or feel confident doing. Hate math, accounting and finance? Rotman offers a course called 'Finance for Non-Financial Executives.' The law school has a one-year master's degree that teaches you how to think like a lawyer. As I've learned, the higher you rise in large organizations, and especially international organizations, the more that law and finance play a role in the really big decisions.
"Another way to turn curiosity into a … well, into a superpower …  is to take what you're already good at – activism, faith, sports, woodworking, open-source intelligence gathering – and delve even more truly, madly and deeply into that world."
Throughout her career, Ristich has served on numerous boards, including the Museum of Contemporary Art in Toronto, the Toronto Alliance for the Performing Arts, and the Canadian Foundation for AIDS Research. She is a recipient of the Queen's Diamond Jubilee Medal.
As a result of Ristich's leadership, BMO has won numerous awards in Canada and the United States for its philanthropy, including the Globe and Mail Business for the Arts Award for Most Effective Corporate Program (twice), and Award for Outstanding Corporation from the Greater Toronto chapter of the Association of Fundraising Professionals.
UTC