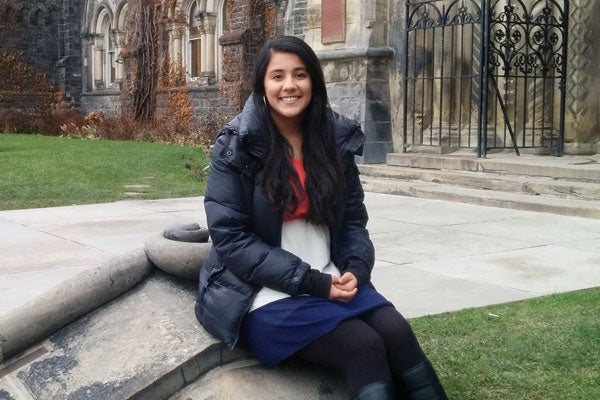 From Mumbai to Kensington Market: an Indian student's journey
University of Toronto president Meric Gertler is visiting India from January 27 to 31, on his first visit to south Asia since becoming president. 
While in India, Gertler will co-host a workshop on Universities in Urbanization: Building Healthy, Sustainable & Innovative Cities with the Indian Institute of Technology-Bombay, discuss cities and urbanization with India's largest and oldest business organization, and sign a Memorandum of Understanding with Tata Consulting Services, the second largest IT service provider in the world.
U of T has strong ties with India. More than 600 students from India are studying at U of T – the second largest number of international students after China. Hundreds of U of T alumni live in India and U of T researchers collaborate both formally and informally with Indian colleagues.
U of T News has been exploring some of the many connections between the University of Toronto and India. (Read about Professor Dilip Soman and the India Innovation Institute.) (Read about U of T's Indian Students Society.)
Below, Alison Colpitts of U of T's International Relations Office asks student Sheena Singh what it's like to travel more than 12,000 kilometres to study at U of T. Singh, who was 18 when she arrived at Trinity College from the Dhirubhai Ambani International School in Mumbai, is now now 21 and in her fourth year, studying political science and international relations as a double major.
Why political science and international relations?
Since high school I was interested in history and economics. These were the things that I studied anyway. Then I took a few introductory courses at U of T – POL101, you know, what everyone kind of takes. And I tried to experiment a little bit – I'll try Sociology 101 and this, that – but I was really just interested in political science and international relations and stuck with it since first year. 
Why did you choose the University of Toronto?
I suppose it was probably grade 10 or 11 that I first became aware of the University of Toronto. I applied to a lot of places. There was a combination of factors, including a Jon S. Dellandrea scholarship that I received from U of T. That scholarship is currently paying for everything – tuition, fees, residence, flight tickets. There was a girl one year older than me who came to U of T on the same scholarship, so when I was applying I talked to her a lot. And she gave me the most glowing picture of U of T. And other than that, my parents were very, very much in favour of me going to Canada. They thought it would be so welcoming, much more comfortable, much more safe, all of that kind of stuff.  The other thing is that U of T has the biggest PoliSci department in North America. 
How are you enjoying it at U of T?
I really liked the courses I've had to take for both my majors. All my courses have really complemented each other. And the more and more I've gone through years at U of T the more and more my subjects have started intersecting. I think that might be the thing I like the best. That I can look at a reading now and be like "I recognize this author from first year when I read them." It seems like everything is really coming together. 
The other thing at U of T is that I've personally found a really good community here. I love the residential college system. The friends I made in first year are still the friends I live with now. And it's sort of interesting as well because I have my Trinity friends and then I have an Indian community here. And that's a pretty strong community in Toronto as well, which is awesome – quite a good support system. Also the multiculturalism – that is a real thing that I'm very happy about.
As an international student, do you think you bring a unique perspective to your courses?
As much as I love U of T, definitely the focus in a lot of my classes, especially in PoliSci and IR, a lot of it is taught from a very Western perspective. Sometimes I find that I do have a perspective to offer that thinks a bit more about, like, colonialism, which isn't often accounted for. The theories are focusing on certain countries as the core and these other countries as developing but the reasons and institutional factors behind that aren't always addressed. 
What do you do outside class?
This is my busiest year ever. This is my first year living off residence so that's new. I'm a little further away; I'm living in the Kensington Market neighbourhood with my friends, which is really nice. I'm also doing a virtual internship with this organization that's based in New York. I'm doing a lot of stuff for Munk One – going to campus days and trying to promote the program. Other than that, I'm applying to law school and grad school. In previous years I was also doing a lot of publicity work with the Trinity College Dramatic Society. Oh yeah, I'm also a political science peer counsellor at Trinity College, which is not the most time-consuming job but if anyone has questions, I can help.
I spend a lot of time with my friends, with my roommates. I also like to bounce between friend groups. So I end up doing a lot of things. I love to travel, so any excuse is welcome. I just got back from Montreal where I was visiting my sister at McGill. I'm maybe going to Boston later. I like to read, which I don't get to do a lot of in the school year.
You recently went on an exchange to Paris. How was that?
I went to Sciences-Po and I really enjoyed it. It was both very different and very similar to U of T in a lot of ways. Academic wise, it was absolutely amazing – so many great professors and talks and a lot of really interesting international students as well, which actually was really different because a lot of my friends here are Torontonians, and at Sciences-Po, there was someone from Palestine, someone from Ireland, someone from Norway. It was also my first experience living off res, technically, because they didn't have a residence. So I was living alone which was good and bad, but I got a lot of travelling in, which was the best part by far. And I started aching for U of T by the end of it, which was very bizarre. I didn't realize how much I was going to miss it, but I did.
Do you think you'll go back to India to live?
I don't know. In second year when all my friends from high school started thinking about this, I just didn't know what I was going to do. And my parents were like "Oh, so you're going to stay, right? You're going to find a job, you're going to go to school, like, you're staying there." I don't really see myself going back to India in the near future. But maybe I'll retire there one day. I don't know.
Would you recommend U of T to other students from India?
I think that U of T is the best value-for-money university among a lot of schools in North America. A lot of people will go to a less good school in the United States and pay some exorbitant amount. 
Any problems with being an Indian student abroad?
As much as I have been welcomed and I have a fantastic group of friends – I love them all so much – in a way I am constantly defined by being not from here. I wasn't ready to be like, "I'm Canadian," because I'm not, but somehow I've been in flux during the last few years. But when I was in Paris I often said that I was from Toronto, because I felt like I was from Toronto. And then I'll go home to India and my parents will say "You have a Canadian accent." But when I come here, everyone says "you're so Indian!" I guess it's just a larger question about where I fit in in the world.